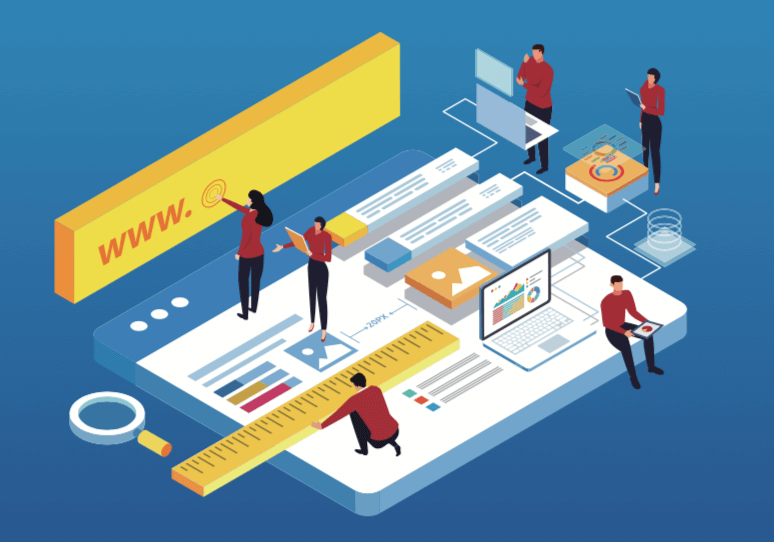 Technology is one of the determinants of success and productivity in today's workplace, and accessibility enables total interaction with technology by all users. While technology fosters developmental opportunities for all, accessibility limits these opportunities for people with disabilities. As a result, the possibility of getting hired or to excel and progress to a higher organizational level is hindered when workplace technology isn't accessible. And people with disabilities would be at the receiving end because, due to inaccessibility, they cannot access essential workplace tools in most cases. Improving Website Accessibility at the workplace is key.
Positive results when improving web accessibility
On the other hand, individuals and organizations can become more efficient at their workplace when their technological infrastructure is accessible. This will foster inclusion and give their disabled colleagues the allowance for showcasing their knowledge, skills, and experience, especially in areas involving web-based internet information and applications. Accessibility remains essential for businesses, individuals, and society. Web accessibility is enabled when websites, technologies, and tools, are designed and built for people with disabilities use. It is peculiar that, so long they can understand, perceive, navigate, and interact with the web, every other user without a disability can do the same.
Following the World Content Accessibility Guidelines (WCAG), Americans w/ Disabilities Act (ADA), Section 508 of the Rehabilitation Act, and other standards are a surefire way of incorporating accessibility in technological infrastructure for the over one billion people who are living with some form of disability.
Technology and Website Accessibility
Website accessibility technology allows interaction in ways that work best for the user. However, it can either be directly accessible -usable without additional assistive technology. This is true for a mobile smartphone with a built-in screen reader.
Besides, the accessibility of a technological device can be indirectly, in this case, compatible with assistive technology. An example of such is a website that allows screen readers to use screen readers so that people with visual impairments can navigate effectively.
Overall, ensuring that all users or employees can navigate and access the technologies needed to perform their jobs at their best will bring forth the following benefits;
Improved productivity
Reduction in operational costs
Reduction in legal suits and costs
Improved corporate image
Areas where technological accessibility needs to be addressed
Technological accessibility is relevant in the following areas:
Web-based internet and intranet information and applications
Electronic mail (email) and other (electronic) correspondence
Multimedia products
Software applications and operating systems
Online job applications
Self-contained and closed products -calculators, printers, and copy machines
Telecommunications products
Improving web accessibility: Apps
The concept of accessibility is not limited to websites only. There is also a need to make mobile apps accessible to users with disabilities. According to World Content Accessibility Guidelines, this concept includes more than just tablets and smartphones. Others are:
Car dashboards
Household appliances
Smart TVs
Smart Watches and other wearables
Airplane seat back monitors
When phone apps are accessible, they boost download rates, which would, in turn, reach the broadest possible audience. It thus makes a difference, such as captioning helps increases video engagement. Besides, there are common categories of people with disabilities that can benefit from accessible mobile apps. These categories include people with;
Cognitive impairments
Inability to move dexterously
Inability to process sight and sound
For apps to meet up with the WCAG guidelines, the following accessibility features should be considered:
Text-to-speech compatibility with images or video
Adjustable time for visual processing handicaps
Aids for content and information navigation
Adjustable text size, color, and brightness
Avoid seizure-inducing flashlights
Improving Web Accessibility: Google
Improving Website Accessibility for Google, every user should be able to access and enjoy the web. As such, there are accessibility resources for:
Developers and publishers
Customers and partners
Initiatives and research
The features for developers and publishers, however, allow easy design and test for accessibility. It is available for Android, Chrome, and YouTube. Overall, these features perform the following functions:
Android Accessibility Layers augment users' experience by providing text-to-speech, directional pad navigation, and haptic feedback features. It thus aids easy navigation for blind and low vision users.
Android Accessibility Testing Tools allow developers to detect common mistakes including, insufficient contrasts, undersized touch targets, and missing content descriptions.
Chrome supports assistive technology with screen readers and magnifiers through the ChromeVox. This allows developers to experience the product as a blind user before launch. Besides, Chrome extensions are another way of making the browser-accessible. This time, it doesn't need any external software installation.
YouTube captioning ensures videos have close captioning in numerous ways. This is done either by uploading a caption file or creating a new one. Also, YouTube Data API allows uploading and easy interaction with captions.
Improving Website Accessibility: Apple
The accessibility support for Apple products allows users to get varying support concerning their disabilities. Generally, Apple accessibility features include:
Using voice control to tap, type, and swipe, for easy navigation and interaction with devices
Vision accessibility features such as RTT calls live listens, and visual alerts, for users who are blind or have low vision
Switch control navigation for selection of item or location on the screen
Braille user guide
However, other accessibility features are peculiar to the different Apple products. For example, Mac has accessibility shortcuts for voice control, audio descriptions, close caption, and subtitles. iPhone and iPad accessibility include:
Display and text size settings
Braille command for voiceover navigation
Assistive touch
Also, there is Apple watch accessibility that has options for wheelchair users and voiceover compatibility. Lastly, suppose you have an Apple TV. In that case, you can turn on close captions and subtitles, use voiceover to control your TV without seeing the screen, and see a more accurate display by modifying the color filter, brightness, and color intensity.
Improving Website Accessibility: Microsoft Adjustments to Laptops and Software
Microsoft's mission to empower all users to achieve more is seen in the consistent adjustments of the company's computing products to foster inclusion. For example, in the windows ten computer software, there are built-in and third part accessibility features that allow simplified interaction with your screen. Overall, you can use:
Screen reading app, Narrator, for easy navigation and descriptions of all images displayed on the screen.
Color filters to get rid of colors in their entirety or boost contrast.
Magnifier to enlarge words and images
Cursor and pointer adjustments to customize your mouse and cursor size.
Contrast themes for easy identification of texts and images on your screen
In conclusion, technology is made to ease individual and organizational functions for all. Users with disabilities should perform the same tasks as others when exploring the web using these technologies.