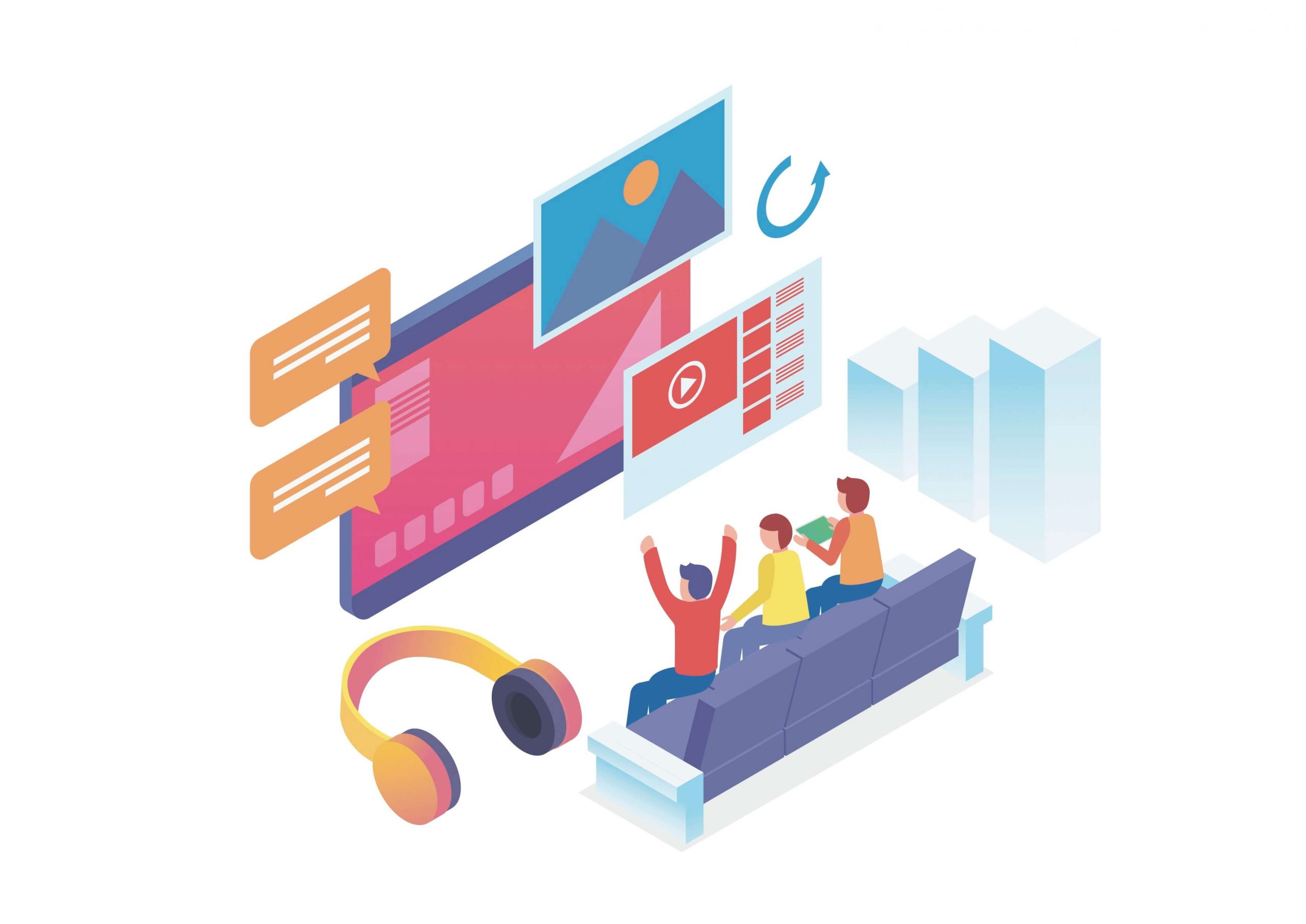 Businesses in the Media and Entertainment industry need to be aware of web accessibility. More and more businesses are still not focussed on the importance of updating their inaccessible website. There are many lawsuits about web accessibility nowadays, even Beyoncé has been sued. But we dive into that lawsuit later. Many website users visit websites that are not accessible at all. There are many different compliance guidelines nowadays and one of the leading ones is the World Content Accessibility Guidelines (WCAG). The WCAG aims to make the web more accessible to all. To ensure compliance, the Americans with Disabilities Act (ADA) was enforced to prohibit any discrimination, including excluding disabled users from public accommodations. While most of the available websites still fail to meet these standards, the hindrances caused to users might probably be overlooked, though illegally. However, media and entertainment web accessibility are quite different as every user is entitled to enjoy.
The Need for Web Accessibility in the Media and Entertainment Industry
Thus, in the digital economy of the 21st century, media and entertainment web accessibility is recommended in all media and entertainment companies. This ensures that the web's available contents are accessible, with no barriers to people with disabilities. In effect, the Communications and Video Accessibility Act (CVAA) was passed in 2010 to allow people with disabilities to consume entertainment and media like other beneficiaries.
The Federal Communications Commission (FCC) also set accuracy, timing, completeness, and placement standards for TV content producers, distributors, and broadcasters in the United States. But sadly, most media and entertainment companies are not cooperating with these available web accessibility laws. The following, however, shows the necessaries and necessities of media and entertainment web accessibility.
Historical Background of Web Accessibility
The purpose of the W3C WCAG standards is to define how to make web content more accessible to users with disabilities. This includes visual, auditory, physical, speech, cognitive, language, learning, and neurological disability. All the available versions complement one another to sustain this definitive world standard.
To ensure your media and entertainment company website meets these standards of media and entertainment web accessibility, it must follow the following POUR design principles:
Perceivable: information must be presented in a manner that a user can perceive.
Operable: Navigation must be in an operable way.
Understandable: Information must be understood.
Robust: Each content should be strong to be interpreted reliably by a wide range of users.
Making Audio and Video Media Accessible
Users should be able to get entertained and informed anywhere, anytime, and within a few clicks. Thus, media and entertainment companies must address the following components to make their website contents accessible to all to be free from litigation of any sort.
User Benefits and Experiences Organizations
Try to understand what the needs of people with disabilities are. Also, learn about benefits to organizations and benefits to everyone in a variety of situations.

Availability of Audio and Video Media
Web accessibility should be made from the start of your project to save money and time. For instance, the integrated description is easier for accessibility, and it needs to be incorporated into the script before filming.

Audio-visual Video Content
Making new audio and video content accessible should be taken seriously. Try to avoid accessibility barriers when scripting, storyboarding, planning, and recording your media.

Auditory Description of Visual Information
Get a necessary description so that people who have visual disabilities get the visual information needed to understand the content. It includes graphs, charts, and text such as speaker names, titles, and email addresses.

Captions
Provide captions (also known as "subtitles") so that people who have auditory disabilities get a written version of the speech and non-speech audio information needed to understand the content.

Transcripts
A text version of the speech and non-speech audio information is vital for accessibility. Preferably, make it a description of visual information. Descriptive transcripts are required to provide video content to people who are both deaf and blind.

Sign Languages
Make sign language available when your audience needs it so that those who have disabilities in hearing and whose language is sign get the content in their native language.
Accessibility laws for the media and entertainment industry
Earlier before 2010, existing laws having to do with media and entertainment were passed. However, with the revolutionary advancement in technology, these previous laws became insufficient. Thus, the 21st Century Communications and Video Accessibility Act (CVAA) was passed by the US Congress in 2010.
The CVAA, designed in two parts, caters to people with disabilities by making them access broadband, digital, and mobile technology — a necessity in the digital economy of the 21st century.
Each part applies to the ways society makes use of the media and entertainment daily. The first enables people with disabilities to access products and services using Broadband. This includes making smartphones usable and operable for disabled users. The second part centers on making people with disabilities watch video programming on television and the internet with ease. This extends to video streaming sites or channels that distribute TV shows online, for example, Netflix, Hulu, and Amazon.
The need for cooperation by Media Companies
A study revealed that people with disabilities said they are likely to be sidelined as non-disabled people twice. To ensure this sidelining does not spread over the internet, cooperation is most important in the following media and entertainment companies.
Television station: Media companies like television stations should make sure that their contents are on the website, available, and accessible to all and sundry. There should not be barriers. People with disabilities should be considered.
Radio station: There should be provision for people who have auditory disabilities. They should be able to have access to information on the website.
Companies' publicity section: Each company should make its press release accessible to people with disabilities.
Movie industry: films are supposed to be accessible to every dick, tom, and Harry. People with disabilities should not be denied access to watching films.
Newspapers: The print media sector should make provisions for people who have visual disabilities.
Social media: social media platforms like Facebook, Instagram, LinkedIn, and YouTube should make their contents available on their website to make people with disabilities have a sense of belonging.
Cinemas: Cinemas should try to make captioning bold so that people with sight disabilities can see clearly.
Media companies facing lawsuits
In non-compliance with the web accessibility web laws, some media companies have litigations filed against them. Also, while the disability laws struggle to keep up with advances in technology, companies battle it out in court to determine the scope of their legal responsibility to make the web-accessible. Here are two cases.
A great example is Beyoncé's website (Beyonce.com) that received a lawsuit in January 2019. The claim was that this website was violating the American with Disabilities Act (ADA) by failing to accommodate visually disabled users. Online accessibility necessitates the use of alt-text in images so that screen-readers can read the alternative text to visually disabled people.

"There are several essential pictures on beyonce.com that lack a text equivalent," said Dan Shaked, attorney for plaintiff Mary Conner. As a result, Plaintiff and blind users of beyonce.com are unable to determine what is on the website, browse it, or investigate and/or make purchases."

In 2010, the National Association of the Deaf (NAD) filed a lawsuit against Netflix, accusing Netflix of discriminating against deaf viewers because not every streaming video released had captions.

In 2015, Amazon made a deal with the National Association of the Deaf (NAD) to make sure that Amazon's library of over 190,000 TV shows and films would get closed captioning.

Again, in 2015, the National Association of the Deaf filed a lawsuit against both the Massachusetts Institute of Technology (MIT) and the Harvard University, quoting non-compliance of the ADA and the Rehabilitation Act for the universities' failure to make a provision for accurate and appropriate captioning for online course contents. With the lawsuits cited above, it is evident that people with hearing deficiencies are greatly affected by the non-compliance.
Web accessibility to the general public
Websites have been impactful as well as frustrating to users in so many ways. To leverage these opposite ends, it is vital to enable accessibility to the general users.
Each media and entertainment company is enjoined to consider not only the non-disabled but also users with disabilities when putting out content on the web. Necessary features must be adjusted to suit this purpose, such as; keyboard accessibility, font size and color, correct headers, accessibility forms, and resizable texts, to foster easy navigation.
Why you should make your media and entertainment web-accessible
First, the world revolves every day, so is everything therein. If you want to be relevant in your content delivery, you need to make media and entertainment web accessibility a priority for cognitive disabilities. People with disabilities should be considered before making content.
Second, litigations are not financially friendly. Imagine facing lawsuits all the time; it will make your business slow because you will lack focus. If you make your content to all, it will be like competition, thereby making many patronages because you stand out in your business.
Third, try to build bridges that connect every individual. If your website is not accessible to people with disabilities, it will be like discrimination. So it would help if you made your content accessible for all.
Conclusion
Website accessibility is not supposed to be an afterthought. It should be something that should be part of the formation of the company right from the outset. If doing it from the beginning is not feasible, companies should give a public opinion about carrying people with disabilities along. Media and entertainment web accessibility should be made available for all.
If your website is accessible, it should not be for just a particular environment. It should be extended to the wide range in such a way that it could reach a larger audience. Hence, media and entertainment companies should not design websites solely to achieve a particular region or individuals. Companies should not think that making websites accessible for people with disabilities is an arduous task. They should thus try to cater to the needs of people with disabilities.