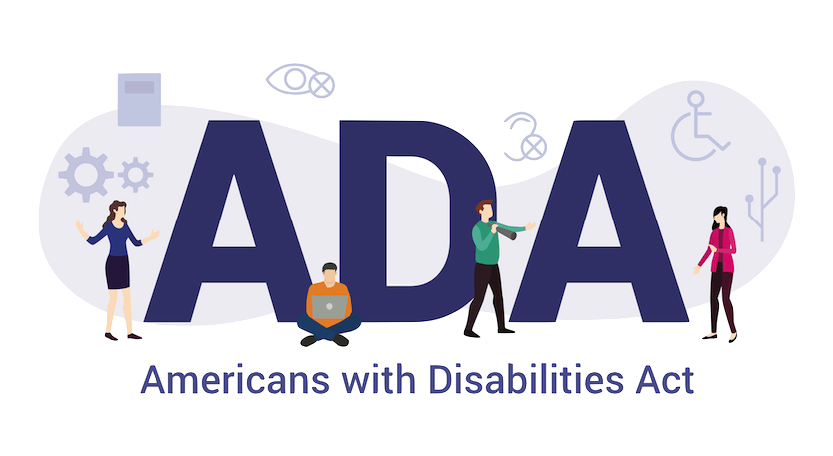 Americans with Disabilities Act (ADA) passed in 1990, is a civil rights law that prohibits discrimination among American citizens who live mainstream life and people with impairments. It all started in the 1980s when members and leaders of the U.S. Congress concluded that there is a need for a law that would protect the rights of disabled citizens and remove the differentiation in society. In September 2010, the Department of Justice (DOJ) published revised regulations called the ADA standards for accessible design. These standards establish the requirements for the design of public accommodation and state facilities. The idea of this regulation is to guarantee the same opportunities to people without disabilities and disabled people, as they should be able to access and use the same features of everyday life. Let's dive into the world of ADA Compliance for Web Accessibility.
ADA Compliance Explanation
The roots of ADA came from section 504, one of the civil rights provisions in the Rehabilitation Act 1973. Due to this section, governments and society looked at disabled people as a class for the first time. Before this, it was assumed that the differentiation exists because of their mental or physical limitations, a fact that is inevitable. Section 504 served as a model for many of the provisions in ADA. It shed light on the reality of removing discrepancies in the civil right of these people and not just a welfare benefit for them.
George H.W. Bush in his election campaign promised the nation that if he is elected, he will find a way to pass a bill for the people with disabilities to have a much easier and 'normal' American life. After he became President, many business and religious groups opposed the law, and with many impediments in the period, the House of Representatives finally passed the law in July 1990. Later in the same month, it was signed by the President with 3000 people attending the historic ceremony.

Title I, II, III Compliance
Title I: Employment
Title I of ADA prohibits employers from discriminating such as firing or not hiring someone because they have a disability despite being a qualified individual. It applies to employment agencies and labor organizations having 15 or more full-time employees. A charge of discrimination can be filed within 180 days of the alleged discrimination with the U.S. Equal Employment Opportunity Commission (EEOC).
Title II: State and Local Governments
Title II of ADA prohibits unfairness based on disability in the services and facilities offered by state and local government entities. In the case of complaints, one can use email or send regular mail to the address of the Department of Justice.
Title III: Public Accommodations and Commercial Facilities
Titles III of ADA prohibits discrimination based on disability in the places of public accommodations and businesses that are operating for the benefit of the public. These places include hotels, restaurants, schools, recreation facilities, etc. Websites are also interpreted as places of public accommodations.
Complaints about Title III can also be filed with DOJ through a letter containing necessary information.
Services provided
ADA Guidelines 2021 states that the Department of Justice provides regulation for this Act. Apart from regulation, ADA has an ADA checklist to monitor the compliance that all digital content is accessible by every citizen with impairments. This helps them remove any barriers so that the content is readily accessible.
The Act protects people with disabilities by giving them the right to file lawsuits in case of violations. These lawsuits can be filed with the Federal court, or you can also obtain Federal court orders in case of violations.
There is also a web course named ADA Basics Building Blocks that spreads awareness by teaching knowledge and general ideas to people about this Act. In this way, they can understand the rights of disabled people.
For further learning, several training opportunities are provided by ADA National Network to people who want to increase their understanding and learn more about it. 2021 ADA Guidelines training is available both in-person and online through different platforms.
Updates in the ADA Compliance Act since last year
Covid-19 has created a severe impact on this Act, as we all know that wearing masks is mandatory in these circumstances. But what about those who have trouble breathing such as people having asthma? Well, ADA protects them by allowing reasonable modifications such as loose face coverings and face shields.
Due to disabilities, these citizens were at a greater risk of contracting the virus. Employers during job screening were looking to hire people who were free from medical conditions. This once again was creating discrimination, and laws like ADA & EEO protect the people.
Moreover, almost everything turned to the web as an alternative way of carrying out jobs. Websites were not up to the standards of accessible design. Hence, resulting in a higher number of lawsuits being filed. We will discuss more parts of the ADA compliance below, but to go straight to the current ADA regulations.
Compliance requirements
Disabilities under the Act
In ADA Guidelines 2022, ADA does not provide a list of disabilities that are specific to this Act. Disability is explained as a mental or physical limitation that limits a major life activity. For more in-depth information about disabilities and the barriers people with specific disabilities face, you can take a look at our Disabilities page. Some common limitations interpreted as disabilities are:
Visual impairments including complete blindness, color blindness and types of visibility issues.
Auditory impairments such as deafness or having difficulty to hear.
Neurological impairments caused by seizures and strokes limiting the functions of the person.
Cognitive impairments, including learning difficulties such as dyslexia and other cognitive issues affecting memory.
Physical limitations, such as having permanent or temporary injuries.
Industries where compliance is compulsory
For more information about different industries in ADA Guidelines 2022, you can see our articles on the different industries. Some of them where it is necessary to comply with the requirements of the law are:
Countries compliance
ADA law covers the citizens of the U.S. only, according to ADA Guidelines 2022. However, foreign employers in America having more than 15 employees are entertained in this Act as an exception. Unless they are limited by a treaty between the U.S. and the other country whose national the employees are, they will be protected.
In contrast to what 2022 ADA Guidelines, Web Accessibility Legislation applies in many countries since the usage of the internet has grown significantly. These countries include the United States, United Kingdom, Australia, Brazil, Canada, Ireland, Israel, Italy, Japan, Norway, Malta, Philippines, Spain, and Sweden. For more information about the locations of the web, accessibility takes a look at the different locations.
Compliance solution
There are two fundamental questions for the ADA Guidelines 2022. What if the website is not complying with the standards? And how to achieve that compliance? The answer to the first question is a lawsuit will be filed against you in case of non-compliance resulting in heavy penalties. Looking at the trends, each year, the number of lawsuits filed has increased. There were 11,53 lawsuits filed last year with California leading the chart.
Now to the second question. There are no specific guidelines for web accessibility by the ADA. However, to achieve compliance and to develop ADA-compliant websites, Web Content Accessibility Guidelines (WCAG) provide instructions for it.
WCAG ranks accessibility at three different levels. The minimum level is A; the medium level is AA, while AAA is the highest level. This ranking helps web developers, page authors, and web accessibility tool developers assess their websites based on user accessibility. Several guidelines are comprised of 4 principles that every website needs to achieve. These are:
Perceivable, meaning it can be easily perceived and the content is presentable.
Operable, meaning that the content is user friendly.
Understandable, meaning that the content is not very complicated that it goes beyond the user's understanding.
Robust, meaning that a wide variety of users can access it.
Several websites help people in achieving web accessibility in accordance with WCAG latest guidelines. Some common names that fulfill the ADA Guidelines 2022 are, AccessiBe, Userway, EqualWeb, HikeOrders, etc.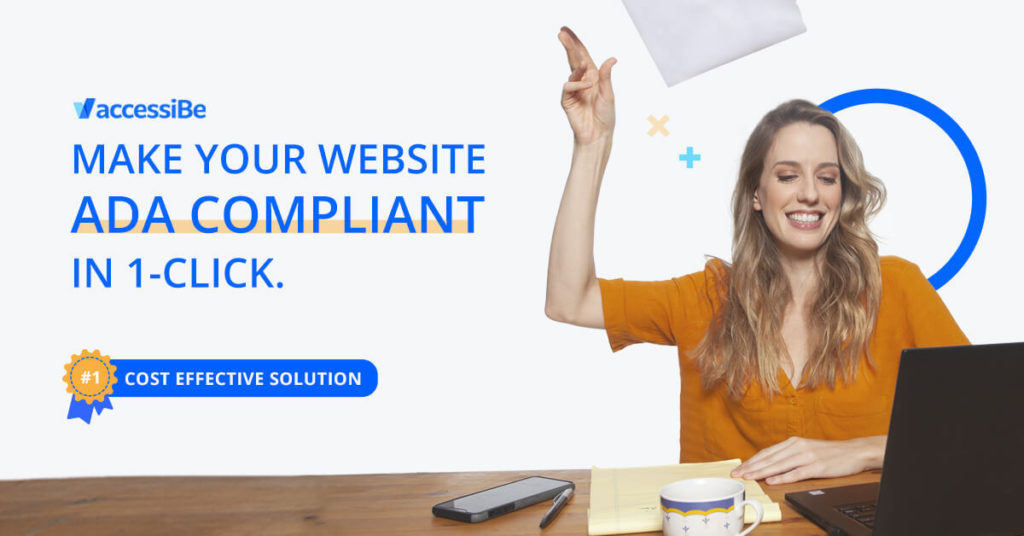 List of solutions to achieve ADA compliance accessibility
Use alt text with images
Use assistive technologies such as using screen magnifiers for people with low vision
Use adaptive strategies such as increasing the text size in headings
Insert caption in videos
Check if your webpage can be accessed using the keyboard only
Test webpages on mobile devices
Provide transcript in the content
Have sufficient blank space in content so that it becomes easier to access
Use proper color contrast
Use accessible PDFs for your content
The latest news on ADA
July 2020 was the 30th anniversary of the 2021 ADA Guidelines. Without the law, the situation today in a time of the pandemic would be much worse.
The latest news related to ADA is that an employee with a disability who gets fired before providing a return-to-work date can go to trial on their ADA claims.
Another highlight in ADA Guidelines 2021 regarding this is, a Middlebury-based soap company in Vermont has been awarded as Spirit of the ADA Award.
Conclusion
ADA and in extension the 2022 ADA Guidelines compliance is necessary as this prohibits being biased based on disability. The government ensures that the disabled have access to a conventional American life, including all digital content.
Websites must be in accordance with the standards of accessibility design, or some severe lawsuits could be filed against you, resulting in heavy fines. If you are a website owner, keep a proper check on its accessibility. This could save you some bills.