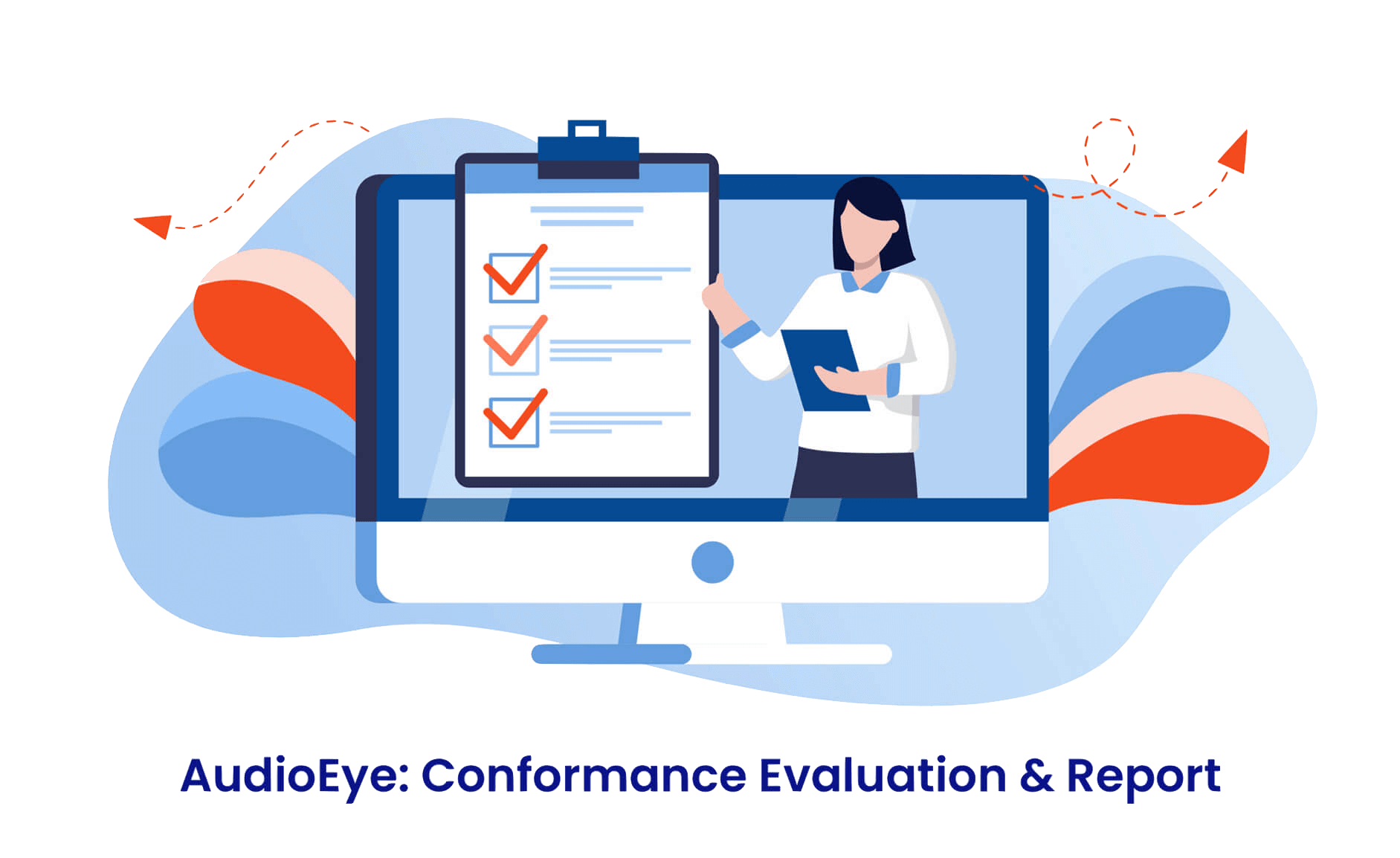 Web accessibility is very important for businesses and organizations to be successful today and in the future. A variety of procedures are necessary to evaluate the level to which your website complies with particular accessibility requirements. One of the organizations is the W3C Web Content Accessibility Guidelines (WCAG). There are different ways to get insight information into the status of your website. One of the options is an Accessibility Conformance Evaluation and Report. For WCAG, the activities carried out within these procedures are determined by many specific features, which include:
The type of website: static, dynamic, responsive, or mobile.
The size, complexity, and technology used in creating the website: HTML, WAI-ARIA, PDF.
The evaluation's primary purpose is to issue an accessibility statement, plan a redesign process, and perform research.
Knowledge of evaluators about the website design and development processes.
Conformance evaluation determines how your web pages or applications meet these standards. Which can extensively help you for any of the following three reasons:
Providing product information to potential buyers of your products before release
Regularly tracking of the accessibility level of your website
Listing accessibility issues that you need to address when you start accessibility checks on your website.
Web Accessibility Conformance Evaluation Methodology Report Tool
For a smooth and efficient evaluation process, the Web Accessibility Conformance Evaluation Methodology (WCAG EM) Report Tool helps you generate a structured report for your evaluation process. While this tool does not perform any accessibility checks, it has a specific design for an expert evaluator whose desire is to follow a standard website evaluation approach in the WCAG and the WCAG EM guidelines.
However, to further ease the process for you, the best website accessibility solutions also provide you with the best tools. These tools conform to international standards for an all-encompassing website evaluation process. This includes the use of a combination of AI to identify and correct the most common problems automatically. Additionally, with actual human intervention – with an expert touch to ensure that any new mistakes are handled appropriately. AudioEye will introduce you to a digital accessibility solution that you can rely on for compliance and certification of your website.
The Reality of Web Accessibility
Between 110 million and 190 million people are individuals with significant disabilities. That's one-fifth of the estimated one billion people. Also, 15% of the world's population that experience some form of disability. However, they are more likely to experience adverse socioeconomic inclusion. Adverse socioeconomic include gaps in service delivery, inaccessible physical location, transportation, non-adapted means of communication, unavailability of assistive devices and technologies, and web inaccessibility.
This group of 15% of the world's population has some form of disability, the most common disability age group remains adults over the age of 65. There are guidelines that align with the international standard goals for the Internet to make web content accessible for people with disabilities. With different acts to ensure these guidelines are put into place. AudioEye remains the trusted accessibility solutions provider with compliance with ADA, Section 508, AODA, and conformance to WCAG 2.1 AA.
Disabilities
In truth, we all might probably experience some form of disability, eventually. With this growing rate of people with disabilities – whether from birth, injury, illness, or aging – you would probably know people who are experiencing any kind of disability. Should their disabilities deprive them of enjoying the same benefits as individuals without disabilities in all walks of life? This tells you that while accessibility is useful for all individuals, it is essential for some individuals to keep pace.
You would agree some 30 years ago; when the Americans with Disabilities Act was passed, there were not too many expectations as they are today. Besides, defendants in the various web accessibility lawsuits always found solace with the claim that the ADA does not include any apparent provisions for online platforms and websites when the law was passed.
However, the Internet is a public place and people with disabilities also have need equal opportunities. Digital inclusion is the future for online businesses.
Is AudioEye part of a solution or an independent testing program?
AudioEye is an independent testing program that combines AI-automated testing and experts' quality assurance testing approaches to provide you with a comprehensive assessment of your site's accessibility. It takes your website through an accessibility journey of the following four stages: Testing, Reporting, Remediation, and Monitoring. These stages ensure the entire accessibility issues are adequately solved.
Extensively, the advanced AI approach allows your site to benefit from more than 400 automated tests, smart fixes to errors, immediate compliance to ADA, and patented accessibility software, that AudioEye offers. Besides, AudioEye's expert touch implies your site is subjected to manual evaluation by certified accessibility experts using quality assurance testing. What's more, you will get a Sustainable Testing and Remediation (STAR) report that equips you with an action plan if you face a legal challenge.
The first step, of course, is to activate the AudioEye platform on your site by installing a risk-free single line of code here. This easy-to-download embedded JavaScript paves the way for AudioEye's team and technology to take over your site for full protection. Onwards, there is continuous monitoring and updating of the website to ensure compliance with and conformance to the required international standards. The standards are written in an Accessibility Conformance Evaluation Report.
Since when is AudioEye operable?
The start was an R&D company that was founded in 2005. AudioEye launch was in 2013 to help companies make accessible websites for the blind and other individuals with disabilities using AI and machine learning. With the belief that equal access to digital content is the right of every person and the responsibility of all. Its range of products and services is to enable equal access and provide result-driven and sustainable accessibility solutions for any company with an online presence.
AudioEye offices are located in Arizona, New York, Marietta, and Portland in the US, with a specialty in website accessibility solutions for all disability issues and enhanced usability, done efficiently and economically using automated and engineering-generated solutions to immediately ensure full compliance with accessibility standards.
AudioEye's three plans
To that effect, the company has the following three plans in their digital marketplace: AudioEye free, AudioEye Enterprise, and AudioEye Managed plans.
AudioEye free plan enables you to use a browser-agnostic tool to detect, evaluate, and correct WCAG violations. This will help you make smart fixes to your website pages without editing the source code, thus, saving you a lot of time and resources.
AudioEye Managed plan grants your website access to a suite of AI-powered tests and fixes, with access to certified accessibility pros. It also gives a toolbar with a 24/7 helpdesk for easy communication with legal support and warranty, just in case, while ensuring compliance for ADA, Sec 509, AODA, and more, as well as conformance WCAG 2.1AA. Also, AudioEye managed plans include: Simple, Advanced, and Commerce plans.
Onwards, the AudioEye Enterprise plan is a comprehensive and customized accessibility solution for your company. It comprises every offer in AudioEye managed plans. Besides, it includes a live monitoring offer for the whole 365 days in a year, dedicated account management for your website, customized site-specific fixes, on-demand training, and support, with PDF and mobile app services.
Overall, AudioEye gives an in-depth accessibility check on your website with its real-time monitoring system that runs over 360 core accessibility tests against more than 1.5 million unique pages every week. This system tracks the delivery of nearly 40 million individual remediations while evaluating and adjusting website content to be accessible.
AudioEye's USP's (unique features)
AudioEye unique features include:
A risk-free single line of code that activates the AudioEye platform on your site to monitor errors and fixes the most frequent accessibility issues the moment you install it.
AudioEye STAR plan (Sustainable Testing and Remediation Plan) provides you with an essential report and recommendations in case you face a legal challenge.
Toolbar gives all your site visitors easy access to various tools essential to the overall usability of your site, without the need for any design adjustments.
Patented AI puts your site to a set of tests and fixes to identify and address the accessibility errors and problems that hinder your site from falling into compliance.
AudioEye professional touch from certified accessibility experts provides you an opportunity to access the depth of knowledge required to create a smoother accessibility path for your website.
Focus on all disability barriers?
AudioEye began with a focus on disability barriers for the blind. However, it also discusses the need for the deaf and others with issues with mobility, dyslexia, color blindness, and epilepsy, and all other accessibility requirements, thus removing all barriers to accessibility problems. Trusted by companies of all sizes, including; KIA, FCC, GameStop, ADP, FILA, SSA, and Uber, AudioEye provides sustainable solutions following the ADA/Section 508 compliance and WCAG 2.1 AA international standards.
Free Scan?
AudioEye offers a free scan that helps you to immediately identify, examine, and make necessary accessibility changes to your website. You get this offer after providing some basic information to create an AudioEye account, and this will make most of the tools used by their experts for free. However, there are other plans with their respective pricing modes you can opt-in for, ranging from Simple, with up to 2,000 page views; Advanced, with up to 20,000 page views; and Commerce, with up to 200,000 page views, at the prices of $399, $999, and $5,999 per year, respectively.
Integrations
AudioEye integrates into various software, including BigCommerce, Drupal, Duda, GoDaddy, Google Tag Manager, Hubspot, Magento, Shopify, WooCommerce, WordPress, Webflow, Wix, and Squarespace. While you can reduce your risk of a digital accessibility lawsuit with AudioEye, you can also get support if you have already been sued with a legal protection plan used by AudioEye customers to achieve a 100% successful legal defense.
Verdict
AudioEye ensures compliance with the WCAG guidelines and conducts quarterly penetration (PEN) tests and security sensitization to provide the highest level of security possible. The digital accessibility solution recognizes – following the compliance standards – that AI cannot do the overall testing and fixing alone. Hence, the need for the intervention of their certified team of experts to continuously monitor and fix remediate errors and combine them in an Accessibility Conformance Evaluation Report. While advancing accessibility with patented technology, AudioEye expands access for people with disabilities and fosters User experience making it the most trusted and leading provider of digital accessibility. Let's make a good start with full compliance in 2021.