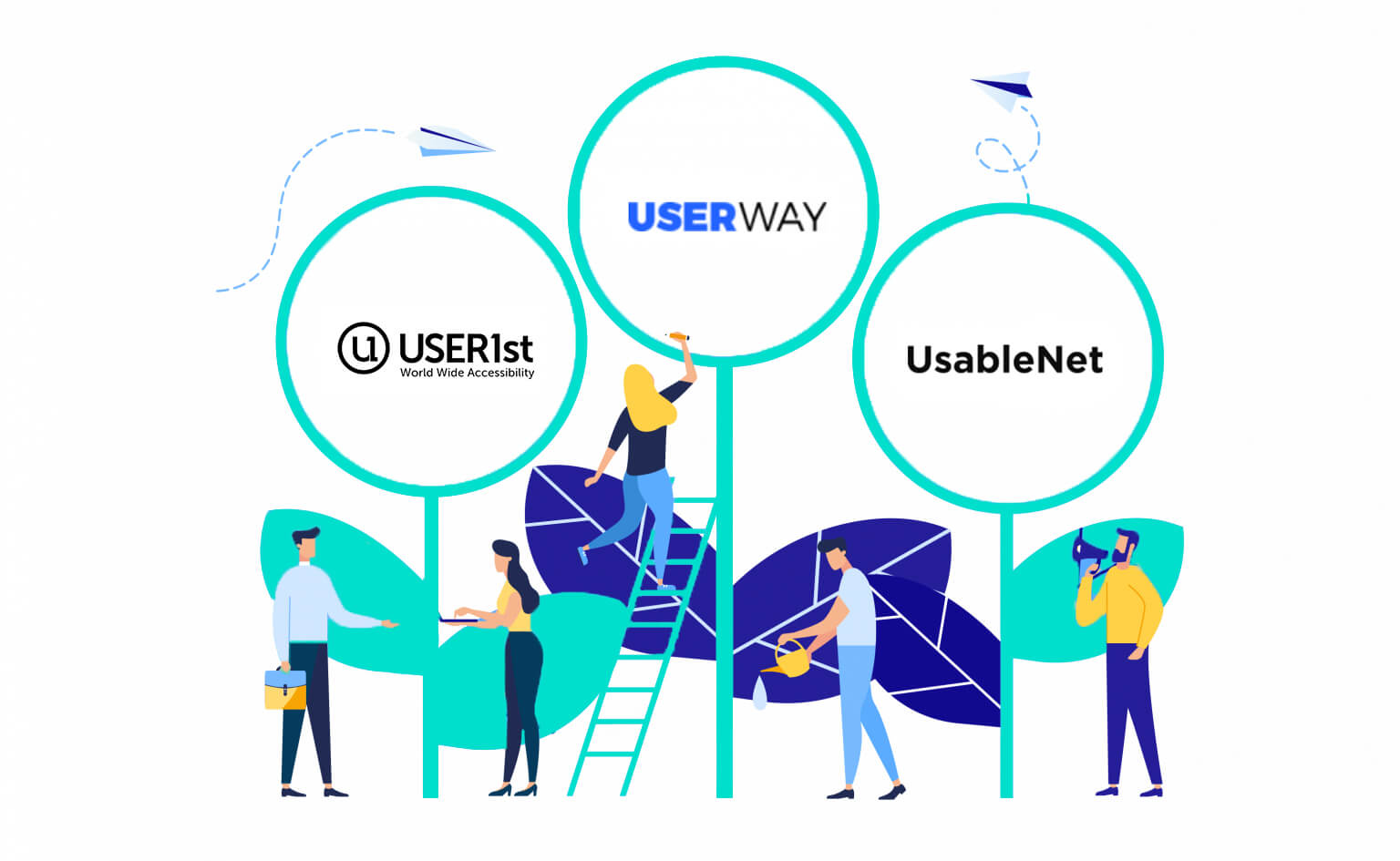 When you are responsible for a website, it is important to know the accessibility status. To find out the possible barriers that occur on your website, you can use an accessibility checker. After performing an accessibility check and finding all the accessibility barriers on your website, it is time to fix those problems. There are two options; you could either update them yourself or use a solution to help you. We have reviewed many web accessibility solutions for you. But it is also important to compare the different solutions to see which one fits to your requirements. You can take a look at our comparison table, but for a more in-depth information read this UsableNet, User1st, UserWay comparison article.
When you are new to web accessibility, making your website accessible can be a difficult task. This is why it is helpful to several companies that use companies that provide accessibility solutions so that your website can be following global accessibility guidelines such as those of WCAG. We discuss how to update your website's accessibility using accessibility solution tools.
Accessibility Solutions Comparison: UserWay, User1st, and UsableNet
There are several benefits of making your website accessible. Not only does making your website accessible save you from legal action, but it also increases the reach of your website.
There are many solutions available to fix your site's accessibility, and we'll be reviewing three of them in this article: UsableNet, User1st and UserWay.
UsableNet: UsableNet has been providing accessibility solutions for over 20 years. They've been providing solutions to websites, mobile apps, and other digital products to help clients become compliant with WCAG 2.0 and WCAG 2.1.
All three solution providers are working towards a similar goal to making websites more accessible for everyone with permanent or changing disabilities. Approximately one out of five people visiting your site needs help in using your site. UserWay, User1st, and UsableNet are working tirelessly to make digital assets accessible for everyone to help such individuals.
User1st
User1st is an all-in-one solution that uses manual and automatic accessibility updates. They help deliver a memorable user experience by overcoming compliance nightmares.
They don't believe in one size fits all, so they provide custom-made remedies to fix your website's issues and make them compliant. This helps in determining the right path to fixing your website's accessibility.
Each industry has its website accessibility standards to maintain. To maintain that standard and provide users with an amazing experience, it is mandatory to find the right path to take.
User1st aids you in achieving that level of accessibility required for your industry. This platform provides custom training required to equip you with the knowledge to make your website accessible and compliant with the necessary guidelines.
Features
It comes with several amazing features explained below:
Check1st
You can check if your website is accessible by using Check1st.
It is an automated testing platform and can be used by developers, content managers, and leadership as everyone is involved in the process of checking your website's accessibility.
There are several alternatives available but have several disadvantages to using them as well. Whereas, Check1st takes into account all of their flaws and provides a robust solution to testing accessibility.
uRemediate
uRemediate is a tool and a service used to make your website compliant by using automatic and manual methods.
The uRemediate feature uses Check1st's accessibility contingent of experts to make your website WCAG compliant.
uRemediate uses assistive technologies like JAWS to ensure the website is accessible for disabled people.
The second part of the solution is to deploy an AI overlay to tweak the website according to its ease. You can change the color contrast, magnify the screen, make it grayscale, stop moving elements, e.t.c.
Friendliness
User1st aims to provide the friendliest experience to visitors.
The solutions are custom made keeping your team in mind.
uRemediate allows users with varying disabilities to change the website according to their needs and gather feedback from users.
Pricing
It is remarkable that User1st hasn't revealed its prices, but it has several free solutions you can start using immediately. Check1st is a free tool, and the uRemediate basic plan is also free to use. These are free services that you can integrate as a Chrome extension.
Customer Support
User1st provides its customers numerous ways to contact them. You can reach out to them through email, telephone, online forms, address, and even though their social media channels.
The User1st platform is an extremely friendly and easy-to-use accessibility solution. No technical knowledge is required to use it. Check1st and uRemediate are great features that help diagnose and make websites accessible for disabled people. Their charges are unknown, but they do have some free versions which you can benefit from. Now we'll be discussing and comparing UsableNet with User1st.
UsableNet
UsableNet has been providing its services for over 20 years and is considered a pioneer in providing accessibility solutions. They provide accessibility consultation and also help with the manual or automated audit process of your website. UsableNet has several amazing features, which are discussed below.
Features
UsableNet comes with the following features:
AQA
The AQA feature is an all-in-one tool that shows how your website supports assistive technologies.
AQA helps in testing your website's accessibility and usability.
It comes with a built-in automated screen reader tester, so you don't have to spend money on getting third-party licenses.
You can easily integrate it into your development cycle.
UsableNet Assistive
UsableNet Assistive aids websites in achieving compliance with accessibility principles.
It is an assisted service in UsableNet's expert development, UI/UX, quality assurance testers, and project managers. All of the experts are responsible for handling different aspects of the website and complying with WCAG 2.0 at the AA level.
It aids in achieving compliance with a very short period.
UsableNet's expert team fixes the website without undertaking any web development process or integrating the backend processes.
UsableNet detects compliance violations that could be potential barriers in achieving accessibility compliance.
Numerous disabled people use assistive tools to test your website. Then the expert team considers their input while making your website accessibility compliant.
UsableNet Dashboard
AQA can't reach its full potential without a reporting tool like UsableNet's dashboard.
The UsableNet dashboard is an essential tool through which reports, testing activities, and accessibility trajectories are shown.
Users can view the detailed report of accessibility evaluation.
During the evaluation process, issues are marked and classified based on their intensity level, i.e., low, medium, or high. And the count of issues of each intensity level is also displayed.
Pricing
UsableNet has no fixed prices. They use an ADA Remediation Calculator to calculate their service charges. This gives you an approximate fee of what they'll be charging you.
They'll be asking you about your website and your website's complexity. After that, they ask you about your website's pages or the number of unique templates. The higher the number of pages, the higher the cost. They also ask how often do you plan to update your website. Then they give you the prices to provide an audit, the charges to fix it, and the cost of maintaining it throughout the year.
Customer Support
You can reach out to UsableNet through email, phone number, or a contact form. UsableNet is considered a pioneer in the field of providing accessibility solutions. Their team of experts can rapidly make your website accessible and help you achieve compliance. AQA is a great feature and works well with the dashboard to provide you reports. Now we'll be discussing UserWay and comparing it to User1st and UsableNet.
UserWay
The UserWay platform strives to free clients of their burden of making their websites accessible and making your website accessible with different guidelines like ADA, WCAG 2.1, EN301-549, AODA, HIPA, ATAG, CVAA, GDPR, FERPA, and many others UserWay promises to make your website compliant with these laws without making changes to your website. UserWay provides an AI-powered accessibility widget that is dedicated to making your website compliant with ADA and WCAG.
Features
The UserWay platform comes with the following features:
UserWay Accessibility Audit
UserWay Accessibility Audit is the cash cow of UserWay.
It is a free widget, but its charges vary from $1,850 – $9,850, depending on your website's size.
Its expert team performs a thorough audit, and they make suggestions to make your website compliant.
UserWay Accessibility Scanner
Manually finding accessibility issues can be a challenging task.
UserWay's Accessibility Scanner regularly checks for any accessibility compliance violations by monitoring your website in real-time.
It can scan large volumes of data within minutes.
It even explains how you can fix any violations.
Content Moderator
As the name suggests, the content moderator is responsible for finding any prejudicial or foul text on your website.
It can also find racist, sexist, homophobic, or xenophobic content
That can help in avoiding Anti Defamation League.
It can't change the content by itself; it can only make suggestions.
UserWay's Accessibility Widget
The Accessibility widget comes with a screen reader which reads out web content, and its speed can be increased or decreased depending on the user.
It can also alter the text size to enhance readability for those having trouble reading. Spaces can also be inserted to make text legible.
Alt-text for images is also generated.
It also has a Dyslexia Friendly Font for people with dyslexia.
Automation
It isn't fully automated, but it shows certain levels of automation while performing web audits.
UserWay can automatically detect compliance violations.
However, it takes 12 to 14 business days to form a report, so we can't call it fully automated. The number of days required to finalize the report may vary according to the website's number of pages.
Pricing
Pricing plans vary according to your site's traffic. You can also opt to get a custom plan according to your needs. They charge $49 per month depending on if your site's visitors are less than 300k. They charge $299 per month for websites having up to 30 million viewers. You can also get two months for free if you buy a year's plan.
Customer Support
Nevertheless, users can easily contact UserWay by filling out their forms. They also have a live chat window. Their customer support is rated highly by other users.
Final Verdict Comparison: User1st, UsableNet, and UserWay
User1st, UsableNet, and UserWay are all great accessibility solution providers with great features. When taking a look at all the pros and cons, our personal preference is UserWay.
| | | | |
| --- | --- | --- | --- |
| | User1st | UsableNet | UserWay |
| Pros | Manual and automated website accessibility audits. Customized accessibility audits and solutions. Manually rectify the problems with your website. | Manually make your website 100% compliant with WCAG and ADA.Make disabled people test your website's accessibility. Can contact them through email, phone, and live chatThey also provide a free consultation | Comes with an AI-powered accessibility widget (free).Easy to set up and can be configured quickly. The toolbar can be customized to the user's liking. |
| Cons | Pricing is hidden.User1st toolbar slows down your website. | UsableNet is very expensiveDoesn't have many unique tools for making a website accessible | Doesn't fix the errors but suggests ways to fix them.You have to be vigilant 24/7 to keep your website compliant in case an issue shows up.100% compliance is not guaranteed. |
Comparison table User1St, UsableNet and UserWay
We reached the conclusion that UserWay is the best accessibility solution. Its AI-powered accessibility widget can function as a screen reader, can enhance readability, and also provides support to dyslexics. Even though it does cost some money, it gets the job done. It is easy to configure and can be customized according to your needs which makes it stand out from its competitors.