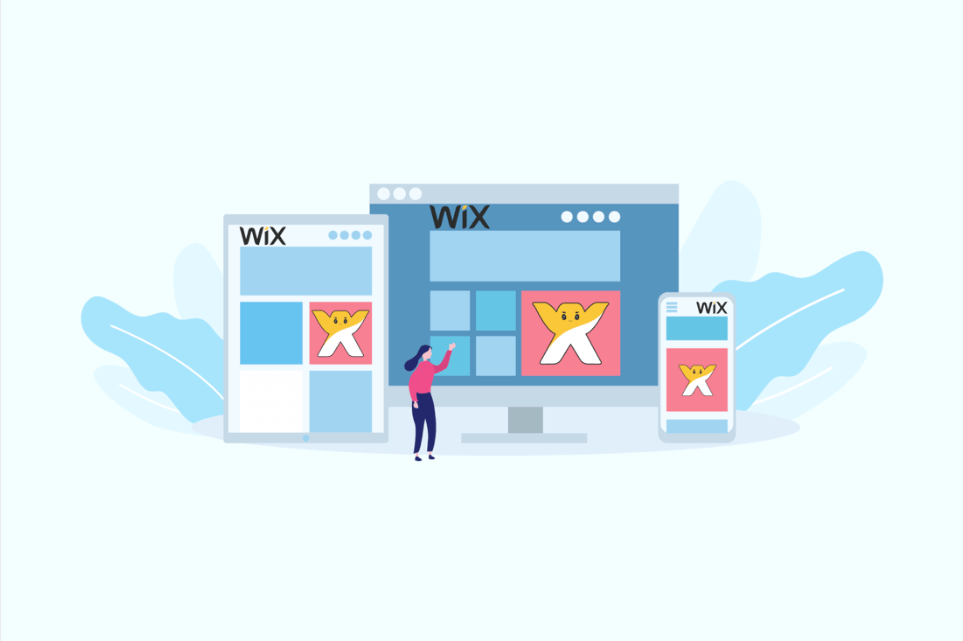 What is WIX exactly?
The internet has given businesses and brands a means to meet their clients' ever-changing needs and gain further exposure worldwide. If you ask any successful business today what the secret to their success is, there are chances that the first thing they will mention is the Internet. Through the internet, organizations can reach a lot more people. But to reach even more people, you need to focus on the web accessibility of your WIX website.
However, despite how advanced the world is, evidence has shown that the web is still not accessible for approximately one billion disabled people worldwide, primarily because most websites use plugins that are only suitable for people without disabilities. This is not only bad for the affected individuals but also the businesses.
To meet the web accessibility regulations that ensure disabled people can fully access the internet, some CMS's (Content Management Systems) like Wix and WordPress help you build unique websites that are also accessible for disabled people. This article will dive deeper into the Wix platform's functionalities and easy-to-use plugins that make the website accessible following the W3C WCAG standards.
Wix platform
Wix platform has been in existence since 2006 and has undergone several transformations to get to the point and quality it offers today. It is a drag and drop platform that provides you with two options when you want to design a website: you either start from scratch or you make use of one of the 500-plus designer-made templates. The advanced technology it uses allows you to use video backgrounds, animations, and scroll effects. However, these beautiful design features are great to look at but not always that accessible to everyone. Therefore Wix offers different plugins that will help make the platform both beautifully designed as accessible.
Furthermore, you get access to boundless opportunities regarding website creation, with awesome plugins that help reduce bounce rates on your page. So, no matter what your website's purpose, Wix can help you meet all of your needs. They are actively involved in giving top-notch design support.
Wix website updates
The platform provides up-to-date business solutions that stay relevant with the latest tech advancements, thus ensuring their clients' websites are always relevant to their various audiences. Wix is continuously updating its features, resulting in over 1000 creative plugins that include web accessibility features for people with a disability.
This way, website builders do not have a shortage of options regarding what to do to ensure that their website is highly suitable for persons with disabilities. Currently, the company has a coverage of 190 countries with over 180 million clients. Therefore, if you need a platform with a wide variety of customization options and ensure your website meets the W3C WCAG regulations, you can always rely on the Wix platform.
Is the Wix platform a type of CMS?
The Wix platform, like other CMS, is a platform that you can use to build a website. However, it has a unique mode of operation. The platform is design-driven, even though it has applications and components categorized as a portion of the CMS. It is, therefore, best described as a website builder rather than a pure-CMS.
However, web builders can create and store contents on the Wix platform in various collections using a content Manager. To display content collected from an external source, you have to enable the corvid feature to connect with an external database.
Difference between Wix and WordPress
The difference between Wix and WordPress is very elaborate, but we'll be listing out the three significant dissimilarities, which includes
WordPress is a full CMS, while Wix is a website builder.
The Wix editor uses a visual drag-and-drop, but the WordPress editor is away from the page; you would finish editing before implementing your changes on the page.
WordPress platform is open source, making it free to use, but you'll need to pay for some advanced plugins; meanwhile, Wix is a closed source with a monthly or yearly subscription.
Statistics of websites built using the Wix Platform
According to Web Technology research, a host of brands worldwide use the Wix platform for website creation. Out of all the popular websites, about 2.5 percent use the Wiz platform to design their websites. The platform has seen steady growth since December 2019 till date.
Most common problems related to web accessibility
Several problems have been discovered in connection with the use of the web for persons with disabilities; this is because web designers often ignore that different persons are using the internet, hence the accessibility issue. According to the research done to highlight the types of problems arising from programmatic accessibility and those from user-centric accessibility, some of the significant problems that occur for people with disabilities when using the internet are:
No alternate text to describe images
This is a common issue found in most web content. A study carried out by WebAIM showed that 68% of websites do not have alternative text for images. Although the WCAG 2.0 section 1.1.1 states an exception to the rule when using alt text, this exception is used regarding images (non-text) that are purely for decoration on your web content. However, for every non-text content that holds great relevance in passing your information better, it is highly advised that an alt text is used.
Every website makes use of functionalities like forms to interact with their audience. The forms could be as simple as requesting for customers to subscribe to the website newsletter or as complex as a form for filling out job application details, which usually requests a long list of information. Unfortunately, this functionality is also a significant factor for web accessibility issues. This is especially true when the form label is empty, leading to confusion regarding what to fill in that field.
The WCAG 2.0 has a standard for text contrast; this standard mandates that text contrast should not be below 4.5: when using a standard text. This way, every reader can easily discern and understand what is written, especially for persons with color blindness or low vision. Unfortunately, about 85% of web pages do not adhere to this instruction.
Other problems of web accessibility include
Numerous navigation links.
Uncontrollable time-outs for certain features.
Most effective solutions offered by Wix platform
To meet the WCAG guidelines, the site offers several solutions to use to address the problem of accessibility. The WIX platform offers plugins and features to update your website to the current accessibility standards.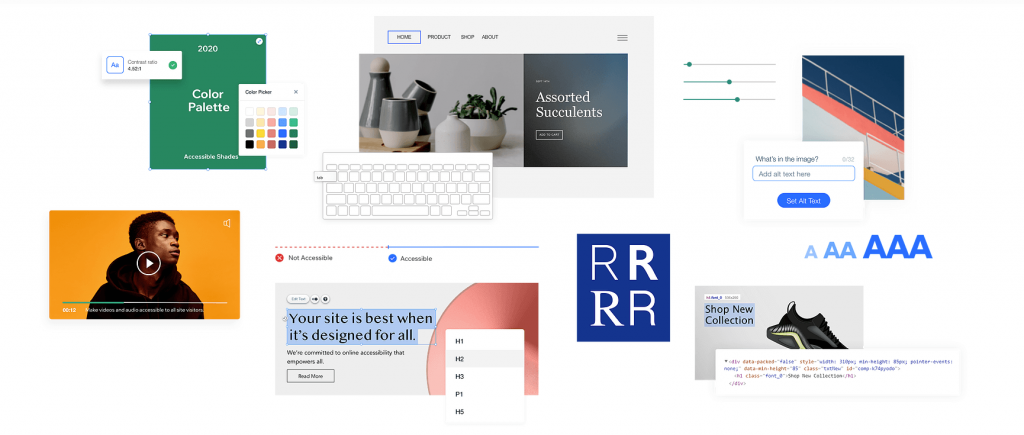 The platform offers you textual descriptions of images, otherwise called alt text. This would help persons with visual disabilities make meaning of the images added to your content.
Automatic document object model order
The automatic document object model (DOM) order enables you to create your website using drag-and-drop components in no particular order. After that, the DOM arranges itself automatically to allow visitors to use screen readers or the keyboard to navigate from one page to the other within the website.
Complete keyboard functionality
Every link on the websites can be operated using a keyboard. This is very important for persons with a cognitive disability.
These are visual indicators that appear when you make use of a keyboard. The plugin has dual colors, which ensures its visibility, irrespective of the color of the site's background.
This ensures the way and manner in which your site is organized is correctly understood by every user who makes use of screen readers. It is also key to improving your site's SEO.
The platform grants you access to several laid-down and ready-to-use templates with built-in accessibility features, making it easy to work with.
Other essential plugins used by the Wix website to aid accessibility are:
Sight language definition for screen readers.
Built-in correct semantics enable people with disabilities to understand the content better.
Aria attributes (built-in) provides a fantastic user experience.
Other web accessibility solutions for websites created with WIX
Besides these features on the WIX platform, you can also install web accessibility plugins from trustworthy solutions.
UserWay Accessibility Widget can be installed in only two minutes and is completely free to use on your WIX website. It doesn't matter how many web pages you have, this widget works on websites of all sizes. It offers features such as a free scan and recommends updates to make your website 100% compliant. For more details about UserWay and its features, read our comprehensive UserWay review.
AccessiBe is one of the leading web accessibility solutions today. It's easy to use solution runs on different different web building platforms, such as WIX. Besides, it is affordable and innovative.
To conclude
While the WCAG 2.0 code has been placed to direct website builders on how to develop web pages that are highly beneficial to every user of the web, the fact remains that some of this website still have issues with accessibility. This is why your CMS web builder is significant, as it would go a long way to determine how well your website would be responsive to its users.
For the Wix platform, accessibility for all persons with disabilities is important. They are always striving to come up with new regulations to ensure that everyone has an equal right and opportunity to use the internet irrespective of their makeup. When next you think of a website builder, think of one that solves your accessibility issues.