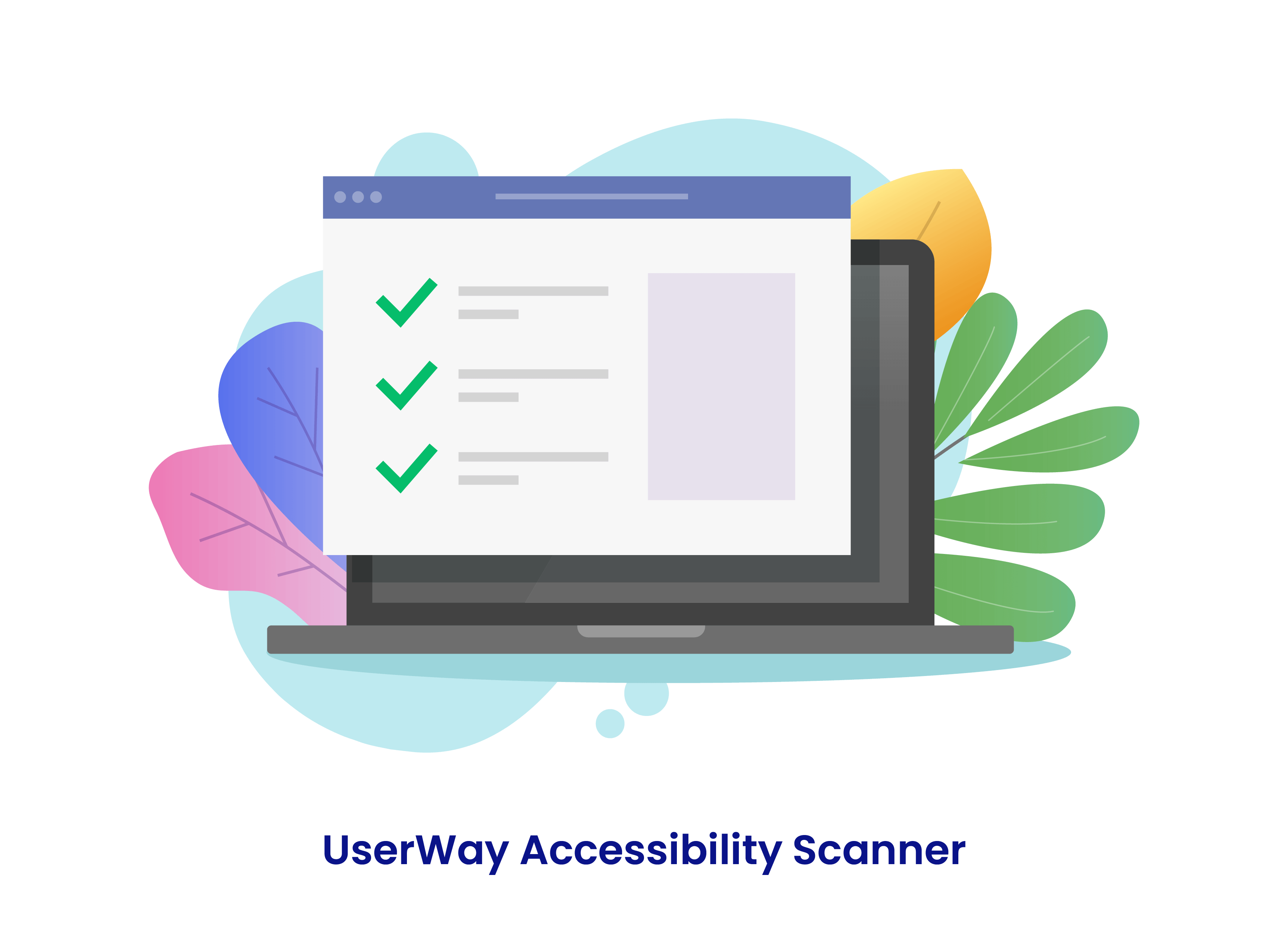 There is a rule of thumb in website accessibility: every accessibility effort begins with an accessibility audit. An initial compliance check is important because it reveals a website's state of compliance and clarifies the way forward. Accessibility audit means combining both manual and automated testing conducted by accessibility experts using assistive devices and technology in different test phases. In this article, we dive into testing, an initial accessibility audit and UserWay Accessibility Scanner; all parts explained.
Founded about two decades ago, UserWay is a software-as-a-service (SaaS) brand whose visions are to make website accessibility a collective experience, save businesses from exorbitant service costs, and help them avoid lawsuits. Over 700,000 websites and over 50 million users with disabilities trust Userway's solution.
The design of the UserWay platform is conformed to various national and international compliance regulations. This is including the World Content Accessibility Guidelines (WCAG) 2.1. But besides the well-known WCAG, there are other important web accessibility guidelines such as the American Disability Act (ADA) and the Authoring Tool Accessibility Guidelines (ATAG) 2.0. Communications and Video Accessibility Act (CVAA), EN301-549, and Section 508 are also part of the design. In addition to these well-known accessibility standards, UserWay goes the extra mile to satisfy several international regulations around customer privacy, including COPPA, GDPR, HIPAA, and FERPA. The headquarter is in Wilmington, Delaware, USA. Let's dive into the top features below. 
Features of UserWay Accessibility Scanner and Testing Tool
Website accessibility was a long, tedious, and expensive service until brands like UserWay decided to simplify the process through AI (Artificial Intelligence) and Machine Learning. Instead of waiting on manual accessibility audits, which may take weeks to be completed, UserWay provides a worthy alternative AI-powered accessibility scanner and monitoring system. UserWay's Pro Accessibility Scanner is a fully automated technology that checks for accessibility issues quickly and performs real-time monitoring by alerting the system each time a violation is detected. UserWay accessibility testing is one of the services offered by the leading accessibility brand.
UserWay Pro Accessibility Scanner
In running a full scan, there are two ways to go about it. One, you could scan all pages at once. You could also scan on a page-by-page basis or select a list of pages to scan as a batch in a single scanning session. UserWay's site mapping scanning feature makes this possible. When you click on the button, it slowly generates a total number of pages present on your site with a direct link to each of them without leaving a single page out. Subsequently, you may select the page to single out for a check. It may still be difficult for those with large websites to narrow down to a specific page out of thousands. To boycott this redundancy, there is a search feature staring at you on the scan page. Better still, you may copy the page link (manually) and paste it for a scan.
In the process of initiating your first scan, UserWay finds a way to get you on board. Compared to other scanners —whether standalone or affiliated to a more prominent solution. Which allows you to conduct a quick scan with only an email or even an ordinary URL, UserWay takes you through a full registration process at your very first instance.
Accessibility Scanner
When you select the Accessibility Scanner, the tab loads a page to run a free scan. As with other solutions we have reviewed, you must provide the link to the page you desire to scan, after which you punch the scan button. On the next page, you either sign in or register before you can run the scan. Your name, email, and company name are necessary, after which you create a password to complete the registration. Immediately, your UserWay dashboard pops up. From there, you can run your first scan, assess your test report, and manage other features. UserWay also sends mail to your mailbox to welcome you and to verify your email address.
It is important to note that UserWay's testing is together with its accessibility monitoring service. Therefore, you can think of its accessibility testing as part of a more comprehensive solution. Bear in mind that accessibility monitoring is a premium service and may not be enjoyed without a subscription, unlike the free initial scan.
An easy, elaborate, and compelling report
UserWay's inaugural compliance check focuses on the homepage. Which is the first contact every potential visitor will most likely make with your website. From our experience testing other checkers, the initial scan was relatively slow and took a long time. Perhaps this was to ensure that the system digs deep to unearth the minutest issues on the site. It took more than two minutes to complete the homepage check, which presented a similar report compared to other automated solutions.
While UserWay claims compliance with many international regulations, it primarily scans against the World Content Accessibility Guidelines (WCAG) 2.0 Level A, AA, and AAA. On the scan page, the system gives an understandable summary of the scan, which is categorized under Pass, Failed, and Not Applicable. Accessibility issues are further divided under the three levels of the WCAG and according to impact level on end-users. Each error comes with a full description of the problem accompanied by the relevant accessibility guideline. There is also a remediation guide for each violation.
Pro Accessibility Scanner
Testing with UserWay's Pro Accessibility Scanner is a simple process that anyone can carry out successfully. Even if they do not have technical expertise, they will still have a good idea of the testing process and result because everything is rendered in plain English. There is a code-level analysis of every error. Plus an HTML view of the location for those with coding knowledge.
There are two ways to assess the scan report on UserWay. The first is through the dashboard, while the second by using the export option. Both alternatives are plentiful. However, exporting to pdf makes it easier to comprehend the report thoroughly. Moreover, the pdf version of the scan appeared more detailed than the ones provided via the dashboard. For instance, our demo testing report came out as a two-hundred-fifty-page document.
UserWay Accessibility Widget
It is not possible to discuss UserWay testing without touching upon its accessibility widget. Both solutions are like two sides of a coin. The Pro Accessibility Scanner checks for compliance violations according to the WCAG guidelines and suggests recommendations behind the scene while the Accessibility Widget does the final job on screen. Having provided an underlying accessibility framework, it becomes easier for end-users to employ the widget to their preference.
Installation of the Accessibility Widget
The installation procedure for the Accessibility Widget is very similar to the scanning: you have to provide some details before getting you started. First things first, UserWay requests for your website URL. You would recall that the system is fully AI-driven, recognizing your hosting platform to provide a correct integration code. UserWay testing works with various platforms. Next, you select an accessibility icon that suits your taste out of four icon options: registered accessibility trademarks. You also have the luxury of choosing the icon bar size and color. These customization efforts are important to ensure that the new widget fits well into your website design. Subsequently, you select the location where you want the accessibility button to appear on your website. Here, you may want to consider a host of factors before deciding on the best location, including visibility and website content structure.
Multiple languages supported
UserWay supports different languages; therefore, you can specify your website language from the outset or leave the system to auto-detect. Then, the system asks whether you have an accessibility statement or not. Finally, a code is generated for your website based on your hosting platform (whether WordPress or other Content Management Systems). Just as the Accessibility Pro Scanner has a dashboard dedicated to it, the Accessibility Widget is also assessed from a different dashboard. Perhaps this is because of users who may be using the free version of the services.
Does UserWay offer free accessibility testing?
UserWay provides both free and paid accessibility testing services, depending on your needs and budget. Just before your page comes up, while it is setting up your account, UserWay asks whether you intend to run a one-page free scan or multiple pages with one of its plans. Depending on the option you select, the next page that pops will request your URL again before displaying your dashboard with the ongoing scan. The free scan is a thorough check which is limited to the homepage. Even with a free account, you can access a personalized dashboard where you monitor your site's state.
Verdict
UserWay 's fully automated accessibility scanner and testing is an easy, straightforward process for detecting accessibility violations. Millions of individuals with disabilities trust the solution. While there are claims that automated solutions and accessibility widgets do not assure compliance, Userway's growing fan base presents a new narrative. More and more customers have been registering positive remarks on the solution. It is not by accident that UserWay's widget is loaded 58 million times a day. That record figure shows something is going fine with the solution.
Moreover, UserWay provides compliance and accessibility services for top brands, including Disney, eBay, Toyota, Coca-Cola, FedEx, Alliance Health, and others. It is a big deal to have big names like this on your customer list. While UserWay has every category of accessibility in mind, its solution reflects a preference for people with visual impairments. Much of the customer reviews on its website are from blind users. UserWay's Accessibility Widget should be the next solution to complete your accessibility effort if you are testing with UserWay for compliance. The two make a perfect combination.