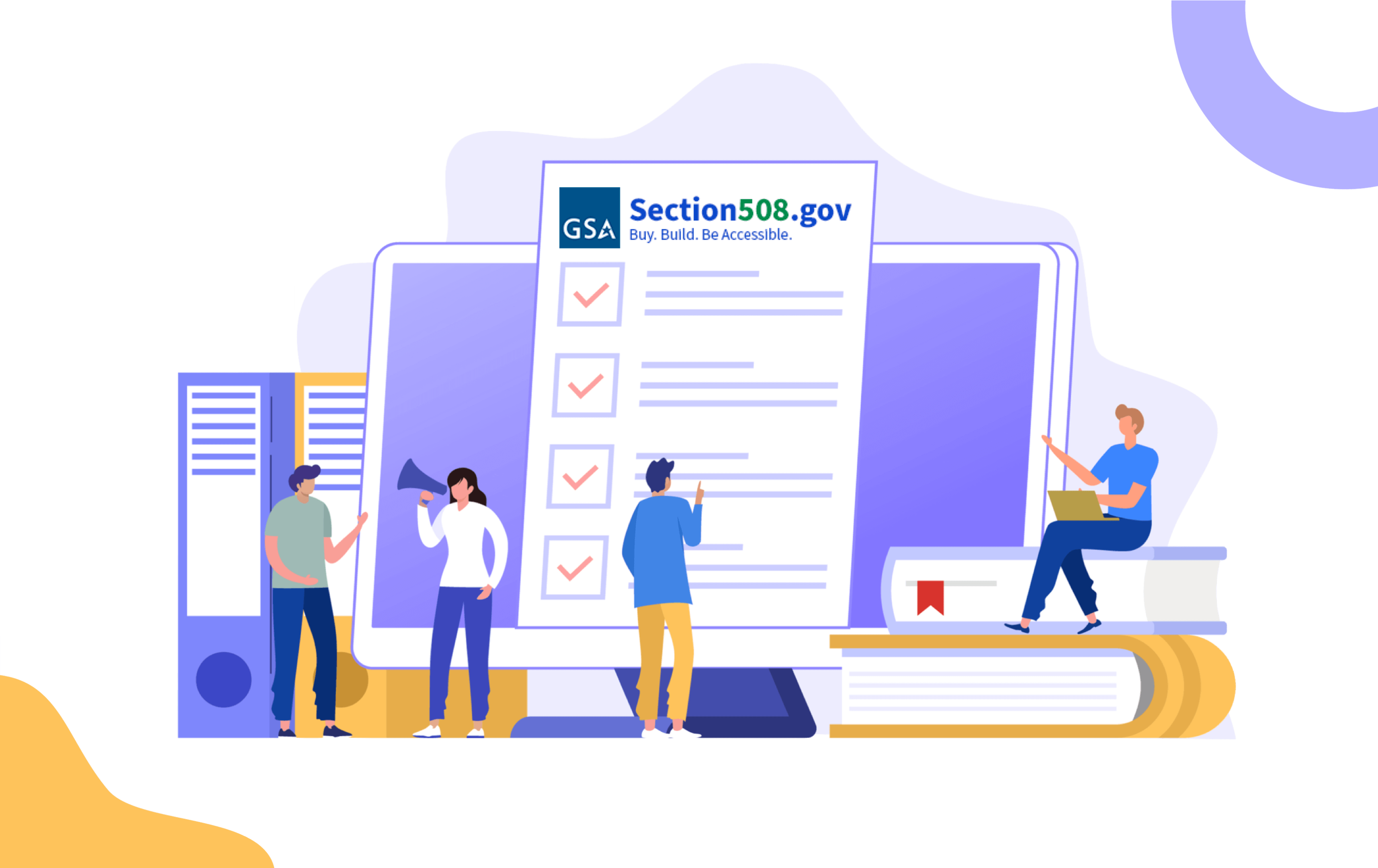 Section 508 Compliance
Section 508 of the Rehabilitation Act requires all data and information on federal government websites to be accessible, especially to people with disabilities. The scope and limitations of this section have continued to develop through various interpretations and revisions. It is a myth that Section 508 is a part of the American Disabilities Act 1990. ADA is a different law, and Section 508 is an amendment to the Rehabilitation Act of 1973. However, it did lay some of the foundations for ADA regarding the employment of disabled people. The goal is to make sure that all digital content is accessible. To make all digital content accessible, developing guidelines and tools that help in meeting accessibility criteria. Let's dive into Section 508 and get all compliance explained.
What is Section 508?
Section 508 was made part of the Rehabilitation Act of 1973 in 1998. Its purpose is to "…require Federal agencies to make their electronic and information technology (EIT) accessible to people with disabilities."
A brief history of Section 508 Compliance
The anti-discrimination provision of the Rehabilitation Act of 1973 came as an amendment in the law in 1988. It promotes giving equal opportunities to people with disabilities allowing them to live a mainstream life.
The word "section" in Section 508 indicates a division. It was updated in 2018 to ensure that access to technology and digital content has developed. Originally, this section dealt with information technologies and their growth.
Who regulates the law?
The Department of Justice regulates this law. It states that the American Disabilities Act requires effective communication with disabled people through websites. It is deemed that having accessibility is their civil right and not an additional welfare benefit. There should be equal opportunities for them in all dimensions of life. Be it; programs, services, activities, or information through digital media, people with disabilities should have access to it.
Key areas to focus on compliance
The scope of Section 508 compliance is limited and applies to national websites and others that have a contract with a federal agency. An exclusive list of areas is not available on which one can work to achieve compliance requirements. However, some of the key areas interpreted for accessibility compliance are:
Operating systems
All software applications
Web-based information
Telecommunication products
Portable technologies and devices
Multimedia based services
Mobile applications
Requirements of Section 508
Section 508 mandated the federal government to develop and maintain the best access to information and communication technology. Providing accessibility to persons with disabilities is mandatory.
There are three types of Section 508 requirements to comply with. First is the technical requirement, which comprises the development of technology. The second requirement is to meet the criteria for functional performance. The third and final requirement is for the accessibility of documentation, information, and data. All of these must be fulfilled to meet compliance with Section 508.
Some of the terms and conditions of this section regarding federal websites and organizations are:
Provide software that is necessary for the employees to be able to access the needed information.
There should be an assurance that all employees shall have the same privileges and benefits.
Essential adjustments should be made to allow disabled employees to carry out their tasks and objectives.
Courses and training should be offered to individuals with impairments to overcome their shortcomings.
Disabilities to focus and their solution
Disabilities under this section
Disability can be explained as a mental or physical impairment that limits one or more major life activities. Following are some of the disabilities that be hindrances for users while navigating and accessing digital information.
The solution to achieve web accessibility compliance
There are a lot of ways to make your website accessible to people with disabilities. These techniques can help in overcoming their access to content, which was limited due to certain deficiencies. A few alternatives that can help in achieving this section's need are as follows.
Websites should be made in such a way that they are accessible by screen readers. It reads the text from websites and turns it into speech. This solves most of the problems for people who are visually impaired.
Videos on websites should have alternative text with them. This helps the visually impaired to know what the content is about by using screen reading software.
Insert captions for videos and audios. Doing this will result in solving the problem for auditory impaired people. They can read what is being said.
Make websites keyboard accessible. This will ensure people with motor disabilities will have smooth interaction over the web without using high movement devices like a mouse.
Use a lot of blank space on your webpage. This makes it easier for users to absorb information. People with neurological disabilities will also get benefit in terms of understanding the content.
Try using proper color contrast and write information in legible fonts. People who are color blind will find it easier to navigate due to this technique.
Compliance testing
To verify whether your websites are complying with the requirements of Section 508 of the Rehabilitation act, you can do two types of checks.
The first one is a manual test. This can be done by testing numerous situations to ensure that the solutions implemented are working. Once you verify this, doing a self-audit at the end of the whole website will give a reasonable assurance about accessibility compliance.
The other method of assessment is to take automated accessibility tests. Several websites provide their services to check your website for compliance requirements. This might give you a dent in your wallet, but it sure does save a lot of time and effort.
Recent updates Section 508
The latest update of Section 508 came in 2017. The update came regarding the final rule of the requirements of the accessibility for the Information and Communication Technology.
This update became the most significant since it emphasized enhanced access to digital content for people with disabilities. The requirements have been made easier to understand and follow. Correlation between the given requirements and other standards has also been done in this update.
Conclusion
Section 508 may be a complex piece of legislation with limited scope. It is considered one of the most visible online accessibility regulations in the United States right now. It acted as the roots of many different laws and regulations.
These laws have created a significant impact on today's way of creating and using digital content. Equal rights and opportunities are now guaranteed for all. Following these regulations, the Web Accessibility Initiative (WAI) also acted and issued web accessibility guidelines. Continue reading about the history of Section 508.