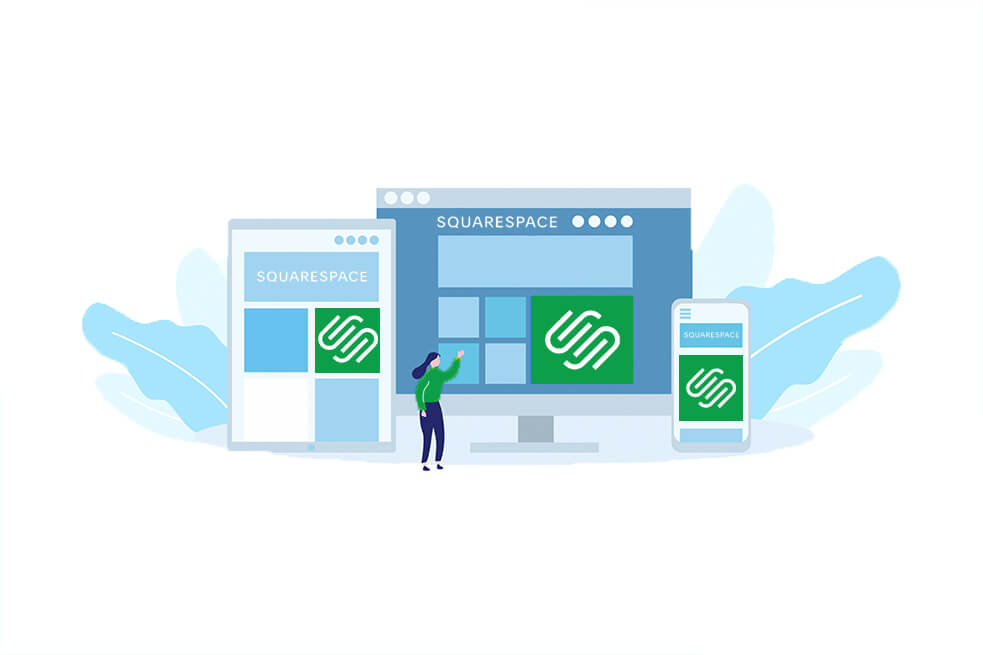 What is Squarespace exactly?
Squarespace was launched in 2003 with a promise to become the world's topmost web-building platform. 17 years later, it's fair to say they have lived up to that promise. Today, the platform hosts millions of websites worldwide. It is the leading content management system in countries like the USA, Hong Kong, Australia, Canada, and the United Kingdom. To put it simply, the platform has become synonymous with web building, and rightfully so. Squarespace is also a synonym for beautifully designed websites. The reason for the growing popularity of the platform is relatively easy to understand. Squarespace offers impeccable simplicity and ready-to-use templates for instant use. But what is the status of Squarespace website accessibility nowadays?

The Squarespace platform gives the best solution to deliver ready-to-use templates for business owners that require a beautiful web design without needing to code or develop. You can easily choose one of the more than sixty templates available on the Squarespace platform and tweak the template to reflect something more bespoke for your website design. The style editor gives you the power to alter most aspects of the templates to suit website layout preferences. These aspects include text, background, color, and many more. With a monthly subscription rate starting from $12, there is no doubt that the platform is relatively affordable. Nowadays web accessibility is a very important part of web design. But with a beautiful and interactive design, web accessibility is usually lacking. In this article, we will dive into the best website accessibility solutions for your Squarespace site and share all tips and tricks.  
Statistics of Squarespace Websites
Most web-building platforms are specific in the type of service they offer. For instance, Shopify's primary target is e-commerce, while Squarespace is more dynamic and offers different solutions. Currently, Squarespace is hosting over 4 million websites. Thus, this CMS accounts for 18% of hosted solution usage distribution on the entire Internet. While the platform has a reach covering over 250 countries, we have highlighted five major countries where most traffic comes from. Of Squarespace's total traffic every six months:
Squarespace is most used in specific sectors and small businesses seeking simple web design and ready-to-use web templates. These sectors include computer electronics and technology, news and media, graphics and web design, eCommerce, and programming and developer software domains.
Most Common Problems Related to Squarespace Website Accessibility
These numbers make it look like it is the best hosting platform, but are there also features you need to be aware of? The Internet offers people today the unique opportunity to utilize technology to its full advantage. Squarespace has multiple beautifully designed ready-to-use templates. However, these designs are not easy to personalize completely. While the platform has a helpful compliance guideline to ensure website owners personalize their web design to meet the Web Content Accessibility Guideline 2.0, you need skilled developers to implement these guidelines to their domains.
When taking a more detailed look at Squarespace's templates, it is noticeable that the current templates are not entirely compliant with standard accessibility policies. The new update on Squarespace, Squarespace 7.1, already addressed some of the accessibility issues of the older version. For instance, one of the core accessibility issues on the site was its Text.
Having the right text on your layout requires not just a legible font but also color and contrast. For instance, in the United States, 2% of the entire adult population struggles with different vision impairment forms. It becomes essential for websites to use legible text for their content. The Web Content Accessibility Guideline (WCAG 2.0) currently has detailed guidelines and requirements to help make your text conform to accessibility standards.
The latest version of Squarespace has made tremendous improvement in making sure their heading, subtitles, and available fonts come in various design options. Aside, the improvement in the text aspect, there are still some accessibility issues we noticed on Squarespace templates for domains, and these include:
Squarespace website accessibility: Navigation
Easy navigation is the most important aspect of web accessibility, but it's where most websites begin to fail. Navigation consists of two components, which are landmarks and tabs. The landmark simulates the purpose of real landmarks in the physical space. Hence, on an accessible website, a landmark works to ensure indicators on the context menu. Thus, it becomes easier for screen readers to navigate the content faster and better with special labels.
Also, a tab's importance is to remove the difficulty that sites, which are only navigable using the keyboard, pose. The tab becomes an intuitive feature of an accessible website that users can use to navigate a website's page without seeing the screen. The templates provided by Squarespace cannot adequately put in this feature unless additional plugins are installed.
Squarespace website accessibility: Semantic Markup
The text-to-speech feature makes content on websites much easier to use and understand for visually disabled users. Sadly, most templates on Squarespace lack the semantic markup that allows text to be converted to speech. Not having this feature means you take away an essential component of an accessible platform.
Web Content Accessibility
The content must conform to web accessibility standards without dealing with complex adjustments. This does not detract from Squarespace's efforts to ensure that their templates are all compliant with ADA. Essential compliance such as responsiveness, color, and texture options and text are available for all the templates. However, to ensure that every aspect of a custom Squarespace domain is fully adequate, there are well-known solutions that can be used.
Squarespace Compliance Solutions and Plugins
Userway Accessibility Widget
UserWay is one of the top three web accessibility solutions that came out of our in-depth research. The UserWay Accessibility Widget is one of the plugins that help to update the accessibility of websites hosted on Squarespace. This solution plugin covers over 800,000 websites and has continuously proven its worth in making sites fully compliant with accessibility requirements. This widget is an easy tool and powerful enhancement that caters to all the shortcomings of a website, making them fully compliant with all accessibility guidelines.
With this plugin, you can be assured that your website gets optimized to comply with all guidelines of WCAG 2.0, ADA, ATAG 2.0, and Section 508. You can audit websites to see their level of compliance using Userway. Also, users can utilize all of Userway's eight widget functions to make their websites fully accessible on all levels. These eight widgets include keyboard navigation, contrast adjustment, adjusting cursor, page screen reader, more notable text, highlight links, desaturation, and legible font functions.
Squarekicker
Squarekicker solution takes away all the SEO related accessibility mistakes from Squarespace websites. It improves your website's layout and content style by offering an instant display of the web layout construction on the Squarekicker editing interphase. With this plugin, you don't need to know how to code; it offers different options to change your website's design to meet the accessibility guidelines without writing a single code. The plugin has over a thousand fonts to choose from. It is simple to use the plugin, and they offer a free trial plan to try out efficiency and delivery.
SquareADA
SquareADA plugin is an accessibility solution that caters primarily to Squarespace websites. They utilize strategically measured goals derived from the Web Content Accessibility Guidelines to cater to your Squarespace website's compliance level. Thus, the plugin helps filter through text, color contrast, tab navigation, embedded media, linked documents, and so on to ensure that Squarespace websites have excellent accessibility for all users.
They also offer an audit tool to help website owners identify non-compliance issues. This plugin can add semantic markup, alt text, color, and so many wholesome features that make websites very accessible using custom codes.
Final Thoughts
With requests for "web accessibility" getting louder than ever in recent years, it's now an indispensable factor that every domain host or owner must keep in mind when designing a template or web layout. Thanks to excellent platforms like Squarespace, which offer beautiful, ready-to-use templates that can be personalized to fit any purpose, website owners receive all they need in ensuring that their content is accessible for everyone. However, you can't rely entirely on CMS platforms. Therefore, you may need to install an additional plugin to comply with all accessibility guidelines fully. When you have a Squarespace website, the Squarespace website accessibility should be your priority in 2021.