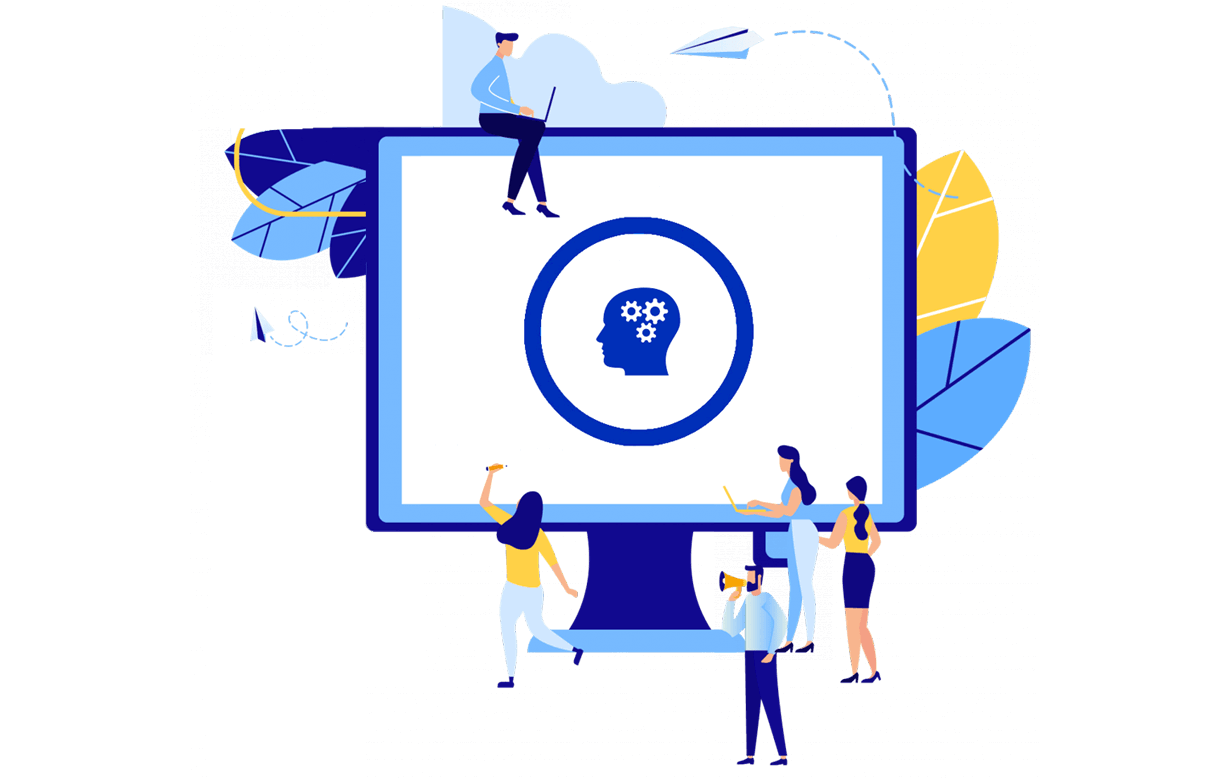 What are forms of Cognitive Disabilities?
A world where access to the Internet doesn't exist is, for most people, unthinkable. The Internet has become part of our everyday lives. But think about the barriers you sometimes experience. For example, when you do not have a good internet connection and the webpage doesn't load properly. Or when you can't watch a video because it is not accessible at your location. These are frustrating issues. But what if reading the content on the homepage is already a barrier? Even the smallest content items that most of us think are easy to use, are for some people barriers. Living with cognitive disabilities is for millions of people a reality.
Technologies, applications, and tools have mainly been designed for people without disabilities, primarily because it is commercially more interesting. But what if we tell you that this shouldn't have to influence anything? That you can have your website accessible to all, without any problems. Will that not be ideal? You are lucky because nowadays, more web accessibility solutions are on the market.
The rise of web accessibility
This movement came into existence when people started to speak up about web accessibility. Even though it is still a big problem in our digital day and age, the awareness of its importance is increasing. The Worldwide Web Consortium, the organization that is the foundation of the Internet, has set up some ground rules for web accessibility. Web accessibility compliance was formulated to ensure the Internet is accessible for everyone irrespective of their capabilities, level of hearing, vision, mobility, and cognitive ability.
Cognitive disability ranges from dyslexia to autism. People with cognitive impairments are limited in the way and manner they receive information from the web. This is why accessibility is seen as an essential factor when designing quality websites and tools for use. In this article, we'll look at people with cognitive disabilities and how to ensure that they can access the web according to the ADA, AODA, Section 508, EN 301 549, and WCAG 2.1 rules.
Causes of Cognitive Disabilities
We introduced cognitive disability to you, but let's go into the details. Cognitive Disability is a condition that affects the way an individual functions or socializes with others. Sometimes, the affected person develops slower than the average person without a mental disability. It can take longer to walk, speak, learn, eat, or care for themselves. It involves a diverse form of neurological disorders, mental health, and neurological issues. Unfortunately, people with this disability can experience barriers to accessing the web due to websites' default design. Several factors could cause this condition, amongst which are:
Pregnancy complications: This is a situation where babies have an issue growing before they are born. Such problems could stem from the incomplete division of the baby's cell as the baby grows internally. A pregnant woman may also use it.
Genetic: Cognitive impairment can also be caused by abnormal genes inherited. It can be from the wrong gene combination, abnormal genes, or other complications arising from the parent's genetic makeup.
Health problems: Diseases such as measles, whooping cough or meningitis, and even malnutrition encountered while growing up can lead to an individuals' cognitive disorders.
Problems during birth: Complications arising during a child's birth, such as insufficient oxygen, can result in cognitive impairments.
Types of Cognitive Disability
Cognitive disability usually occurs in different forms. The different types can be classified based on their symptoms.
This is one of the most common forms of cognitive impairment, a reading disability proven to be genetic. People with dyslexia have difficulties decode and interpret the information they are reading. We may see this in their inadequate phonological processing ability. They experience difficulties with reading, spelling, writing, or understanding different languages.
ADHD (Attention Deficit Hyperactivity Disorder)
This is a medical condition that affects the ability to sit still, focus, and pay attention to things around them; they tend to fidget or feel restless. This way, they quickly lose focus when given tasks and often act on impulse, which sometimes gets them in trouble. The condition usually develops during childhood, but sometimes it stays undiagnosed until adulthood or adolescence. I believe the main problem in situations as such is the lack of concentration. They may often experience difficulty in paying attention to details.
This could be caused by several factors such as illness, stroke, Traumatic Brain Injury (TBI), meningitis, tumors in the brain, and more. So far, there is no accurate way to decide how a person's brain reacts to a particular injury; hence brain injuries are different. The size of the brain plays a significant role to this also.
Other types of cognitive disorder are:
Aphasia.
Mental retardation.
Learning disabilities.
Language delay.
Statistics Cognitive Disabilities
The number of people suffering from cognitive disorders worldwide is extensive. Statistically speaking, about 3% to 19% of people above 65 are said to be prone to cognitive impairment. This number has probably something to do with age.
A closer look at world stats shows that 16 million people living in the USA have one cognitive impairment. The causes were critically examined to mitigate the prevalence. It was therefore discovered that the most significant mental risk factor is age, especially from age 65.
Statistics taken from persons suffering from a particular type of cognitive impairment have shown that about 50 million people worldwide are said to suffer from dementia. Approximately 10 million new cases each year (World Health Organization). 5.1 million Americans above the age of 65 are possibly having Alzheimer's disease, which is the most common form of cognitive impairment among elderly persons.
Most common accessibility design barriers faced by persons with Cognitive disorder while using the Internet
Accessible design is introduced for people with disabilities; this varies from hearing to visual and physical disabilities. Forgetting people with disabilities shows a lack of empathy, in my personal opinion. Besides easy to understand the content, cognitive accessibility design should receive as much attention because it is equally important.
Many web pages built without adhering to the W3C WCAG are challenging to navigate. This often prevents them from making fair use of the Internet and accessing needed information. Some of the barriers to web accessibility faced by people with cognitive disabilities are:
Navigation mechanisms are sometimes complicated: For most websites, the mechanisms to enable users to navigate between contents are usually very complex, as the page layouts are sometimes challenging to understand and use.
Complex language usage: Often time sentences are elaborate and difficult to understand. Is there a reason to write if the the message is not conveyed effectively?
Text that doesn't contain graphics: For people with dyslexia, a page filled with texts is difficult to understand correctly. Using long text pages without graphical illustrations, images, or graphs would be inefficient for people with dyslexia.
Inability to suppress or limit media content: Some web pages have media players that lack mechanisms for suppressing or stopping audio and animations when needed.
Unadaptable visual designs for pages: Another barrier faced by people with intellectual impairment is that some visual pages have unadaptable designs while using custom style sheets or web browser controls.
Important Web Accessibility Updates for People with Cognitive Disabilities
Efforts are made to ensure computer technologies provide feasible enhancements to help people with disabilities interact with the web content and understand the information.
There are currently existing guidelines by WCAG that contain requirements to be followed by web service providers to ensure that accessibility is possible. These requirements are jointly called "success criteria," and they include the following:
Adaptable – Guideline 1.3: contents should be created such that they are presentable in various ways, without losing the information or its structure.
Enough Time – Guideline 2.2: There should be enough time for users to read the web.
Navigable – Guideline 2.4: different ways to navigate the web pages should be provided for all web users, including those with cognitive disorders.
Readable – Guideline 3.1: The contents of the web should be readable and easily comprehended.
Predictable – Guideline 3.2: web pages should be designed such that they operate in predictable ways.
Input Assistance – Guideline 3.3: users of the web should help avoid, mitigate, and correct mistakes.
Making information on the web understandable
For persons with a cognitive disorder, they rely on certain factors to ensure they understand information on the web. These factors include:
Well-structured web content that helps facilitate orientation.
Consistent labeling of buttons and forms contained on the web.
Multiple ways of navigating websites, e.g., search and hierarchical menu.
Options to enable them to suppress distracting content, such as flashing or flickering.
Content text is simpler to understand with graphs, images, and other illustrations placed at regular intervals to explain better.
Functionality and link targets that are predictable and promotes better interaction.
Available technology
Some of the available technologies involve the use of different methods of browsing the web, such as the use of
Text-to-speech software that helps users hear information without actually reading it,
Use of captions that talk more about the data as it is readout.
Text resizing tools to help resize the fonts on the web page so it can suit the user.
Spacing or customization of colors to help read and understand it better.
Spelling and Grammar tools that help support them in writing.
Every web developer should understand these web accessibility factors when designing a web page or creating content.
To Conclude
Several guidelines have been set into place to provide access to the Internet for all, following the W3C WCAG code to access information. To ensure online accessibility for people with intellectual disabilities, these guidelines must be followed. Get your website ready for full accessibility today. To know which solutions to choose, you can read our in-depth reviews.