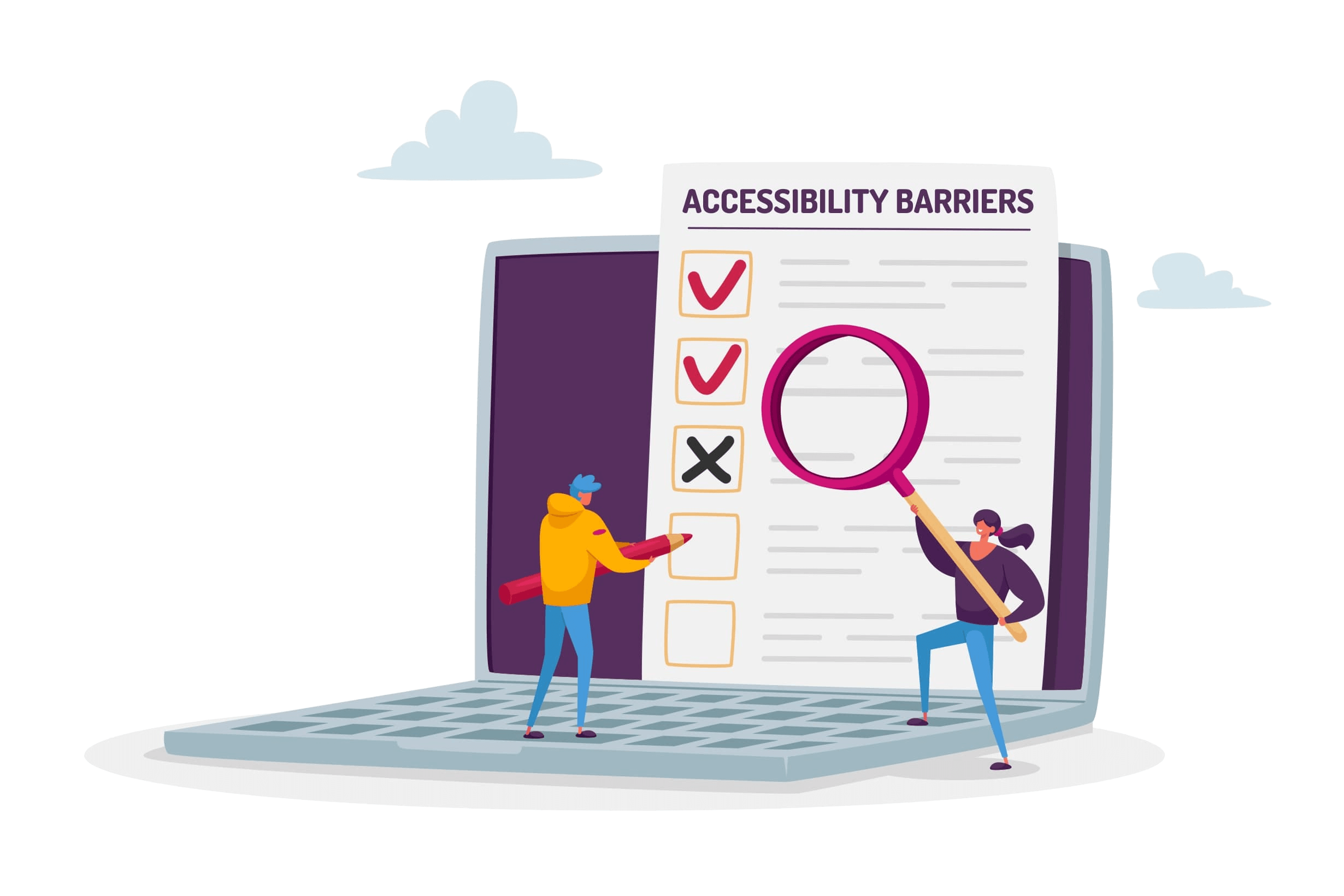 Each of us is unique, with different traits and a life that is distinct from that of others.
Web accessibility barriers that prohibit most people with disabilities from accessing the internet can be overcome. Many of us share a set of abilities and skills that we use in a variety of circumstances. Some people, on the other hand, lose or do not develop in the same way as the majority of the population. In theory, the Internet makes it simpler for individuals with disabilities to engage in self-determined social, cultural, and professional activity. In the long run, this translates to a far greater level of independence. Unfortunately, web accessibility is not as accessible as one might think. People with disabilities still face enormous difficulties in accessing the web.
Read through our guide, Web Accessibility Barriers and How to Overcome Them, to learn more as to the real-life difficulties people with disabilities face.
What are the different types of disabilities?
As previously stated, web accessibility barriers refer to any circumstance in which a person's involvement is limited. Just as the definition for a disabled person, having a limitation in an organ or intellectual ability, to a certain area of activity. It is the presence of a restriction in and of itself, rather than being a cause or a result. The same applies to web accessibility barriers.
When a person's functional skills fail to react correctly, they become disabled. The physical and social environment in which they reside may contribute to this. It places them in a disadvantageous and inequitable position. As a result, web accessibility barriers are a problem that we should all be concerned about.
The impact of Web Accessibility Barriers
People with disabilities have a difficult time navigating the Internet, which is primarily designed by and for able-bodied users. Individuals with visual impairments face tremendous obstacles in the visually focused medium of the Internet since they are unable to utilize optically sent information.
Hearing-impaired users are often blocked by obstacles linked to the absence of sufficient subtitles to comprehend audio and text without visual cues. Dyslexics and dyscalculics have difficulty understanding language and numbers. Those with attention deficit problems, on the other hand, have trouble focusing and comprehending information.
As we age, we go through several changes that may have an impact on our skills, just like impairments. For example, an elderly person with cataracts may face obstacles comparable to those faced by someone with poor eyesight.
Why is it Necessary to Eliminate Web Accessibility Barriers Globally?
Assume that technology makes life simpler for the majority of people, but not for someone with specific needs. In such a situation, technology may open up a world of new possibilities and opportunities that exist outside of any physical or social barriers. The Internet helps all people improve their quality of life and well-being. This implies that everyone should have access to new information technologies, but more importantly, everyone should be able to use them effectively.
As a result, we must guarantee that everyone has equal access to the Internet, without prejudice or exclusion. It is essential to take into account the features and demands of people having a disability. In this context, it is everyone's responsibility to guarantee that material made accessible on the Internet is understandable and searchable by people. Using today's technology we stand a chance in eliminating web accessibility barriers. This is what accessibility is all about.
To properly identify the challenges faced by handicapped people while using the computer, it is essential to examine its body, accurately establish the entire processes required for its usage and the issues they create, and then search for solutions.
Definition of Hearing Disability
Deafness is defined as the inability to hear. If the disability is inherent, the individual afflicted will be unable to acquire a spoken language as well, perhaps leading to the acquisition of no language abilities at all if proper treatment steps are not taken.
Hearing Disabilities and Web Accessibility Barriers
On the surface, individuals with hearing loss seem to encounter few obstacles while using the Internet. However, it ignores the reality that hearing loss may sometimes lead to language impairment. Particularly in individuals who have been deaf from birth. Complex sentence patterns and specialized terminology may be a difficulty for this user group.
Nonetheless, acoustic information is neither universally available nor limitless, but rather a restricted service supplied by a select few. Furthermore, with ever-increasing bandwidths and increased technological capabilities for processing data, the use of multimedia is on the rise. In most instances, the visual level is inadequate to properly communicate or comprehend the information without the auditory complement.
Adaptive methods and assistive technologies
There are few assistive devices available for the deaf to make information accessible on an auditory level. There are a few exceptions.
Cochlear implants are computer chips with an inbuilt microphone that take up acoustic data, convert it to electrical currents, and send it to the auditory nerve fibers.
Products that transform spoken words into written texts, transfer them and output them are known as speech conversion products. It allows individuals with hearing impairments to converse over the phone using TTY (teletypewriter) or TDD (telephone dialing device) Telecommunication Devices for the Deaf.
Optical signals (such as flashing, signal lights, and so on) may be used to substitute auditory indicators, such as those that indicate the arrival of a new email.
Definition of Visual Disabilities and Web Accessibility Barriers
The range of visual disabilities is extensive. Nearsightedness, farsightedness, and night blindness are all examples.
Blindness
On the one hand, this phrase includes individuals who are blind and those who can detect specific visual stimuli (e.g., a shift from light to dark) but are unable to benefit from them.
Visuals without alt text, complicated images (graphs or tables) that are not properly explained are some of the obstacles that blind people face on the internet.
Videos that aren't accompanied by a written or audio description.
Spreads that do not make sense when read aloud by a screen reader because they are not properly linearized
Browsers and authoring tools that don't allow keyboard input for all documents that don't follow a standard format may be difficult to read with screen reader software.
What is Color Blindness
This kind of vision loss is more prevalent than you would think, particularly among males. A color sensory problem, for example, affects approximately 8% of them. There is also a difference to be made between total color blindness (achromatopsia) and the loss of color perception of one (dichromacy) or two (monochromatism) of the three fundamental colors. Many color-blind people, contrary to common perception, can detect but not distinguish between hues.
Color-blind individuals face many web accessibility barriers
Use color to draw attention to a text on a website or to identify important information in the content. Informs are a good illustration of this since they are required fields with red text.
Text with poor contrast between the background and foreground colors
Browsers that prevent the user from altering the CSS style sheet
Adaptive methods and assistive technologies
Magnification software may, of course, be sufficient for individuals with poor vision to use a computer and access the Internet.
Screen magnifiers always display a portion of the screen that is magnified. Similar to a magnifying glass, the user may utilize this section to expand certain areas.
People who are blind depend on specific output devices. In this situation, screen readers and Braille displays are the most useful. All components, including images and text, may be sent to the user through loudspeakers in the form of speech.
The majority of visually impaired individuals utilize a keyboard for input. As an alternative, software solutions allow users to interact with computers and websites using voice commands.
Cognitive Disabilities and Web Accessibility Barriers
Definition
It denotes a set of substantial restrictions in a person's capacity to operate in everyday life, comprehend their surroundings, and communicate with them.
People with Cognitive Disabilities struggle with cognitive skills, which include everything related to information processing:
attention\sperception
establishing parallels
establishing memory problems
People with Cognitive Disabilities Face Several Obstacles
Dyslexia and dyscalculia are conditions in which people have difficulty understanding language and numbers. In these situations, it is essential to provide several options for accessing the same information.
Learning impairments cause people to take longer to acquire new ideas and have a harder time comprehending complicated topics.
The complicated wording on online pages, the absence of pictures to supplement textual content, and the lack of a clear and uniform website are all obstacles to access.
Short-term and long-term memory are both affected in people with memory disorders (recent or distant memories). The obstacles stem from the website's lack of clear and uniform structure.
Some individuals with compulsive disorders have epilepsy (photosensitive epilepsy), which causes pictures or sounds to flash at certain frequencies. Intermittent graphic components or unpleasant audio frequencies have the greatest effect since they induce seizures in users.
Adaptive methods and assistive technologies
When it comes to disabilities like these, the options for using assistive technology and systems to improve the situation are very restricted.
Learning software may help decrease the time it takes for a program to run.
It's typically enough to optimize the relevant page for printer output or provide a matching cascading style sheet to make the text simpler to read.
Monitors emit light rather than reflecting it, while paper simply reflects it. Because of the reduced contrast, it may be simpler for glare-sensitive and light users to read the material.
Definition of Physical Disabilities and Web Accessibility Barriers
Many people think of this word to refer to musculoskeletal problems. Think about individuals who use wheelchairs as an example. Instead, individuals who cannot use their hands or can only use them with specific assistance to control a computer and therefore a website are those who have motor impairment in their hands. Multiple sclerosis, arthritis, and muscular dystrophy are only a few of the causative illnesses.
Physically Handicapped People Face Obstacles
Users with motor impairments, in particular, are harmed the most by interface obstacles. This necessitates the usage of either a mouse or a keyboard. On the Internet, these individuals may face the following obstacles:
Automatically updating web pages
Browsers or writing tools that don't have enough keyboard or mouse command capability
Forms that cannot be completed in a logical sequence to input data
Small spaces for interaction
Adaptive methods and assistive technologies
People with limited mobility, for instance, are unable to utilize or can only use traditional input devices to a limited degree.
Special keyboards come in a variety of shapes and sizes. There are some with unusually big and tiny keys, unique key assignments, and those designed specifically for one-handed use, among other things.
Trackball systems may be used instead of a traditional mouse.
The mouse pointer may be controlled in many ways using electrical pointing devices, including utilizing ultrasound, eye movements, nerve impulses, and even brain waves.
Some people's motor abilities are extremely limited, and they are unable to move significant portions of their bodies in a controlled way. They may use technologies that allow them to control the computer with their breath.
Definition of Speech Disorders and Web Accessibility Barriers
In the intellectual realm, speech problems occur. Affected individuals are unable to construct or comprehend grammatically accurate phrases.
In theory, aphasia (loss of speech), which is also a language disease, may impact any area. In other instances, even if they comprehend what is being said, individuals afflicted have difficulty forming phrases or are missing particular words. Speech comprehension, on the other hand, may have been lost in part, even if speech production is flawless.
Speech-Language-Hearing-Disordered People Face Several Obstacles
Barriers that people with speech problems encounter include:
The use of voice-based functions is not possible.
Voice-activated hotlines and services
Websites that exclusively accept phone calls as a form of interaction Assistive technology and adaptable methods
Commands on the keyboard
Alternative means of communication (SMS, Chats, emails)
Feedback forms should be included in customer support services.
Conclusion
In countries with high social responsibility standards and technical progress, Internet accessibility must be treated as a social necessity, as well as a technological and commercial added benefit. But it has also evolved into a component of quality of life to which everyone should have access.
The idea of accessibility for users with disabilities, as well as the circumstances that they encounter and the context in which they use the Internet, as already discussed in this article. Users, manufacturers, and service providers must all work together to achieve this goal.