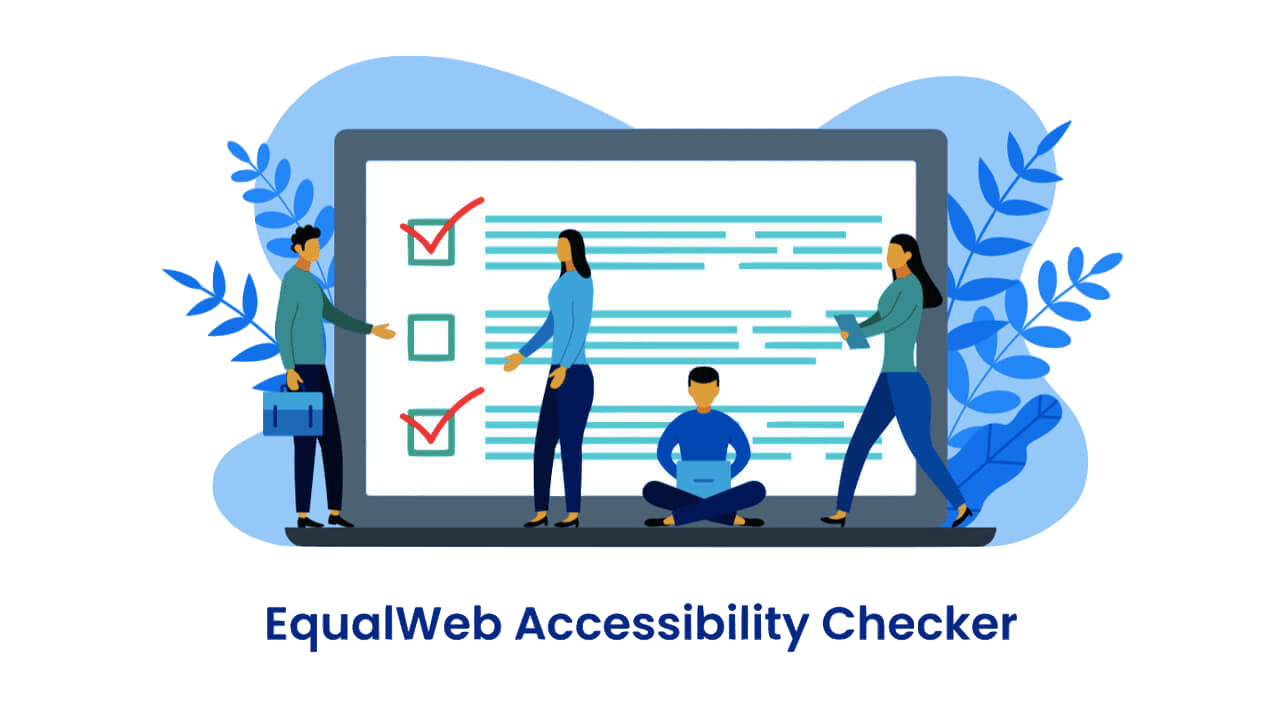 ​The way to full web accessibility is a journey, and every journey begins with a first step. When we speak of website accessibility, the first step to achieving full compliance is determining your compliance status. Due to its importance, an initial check could hardly be overemphasized. In addition to revealing your accessibility state, conducting an inaugural accessibility check shows your website's number of issues. Besides, employing an advanced accessibility scanner helps you make the right effort in the right direction. Several strategies for online accessibility offer website owners the ability to do an initial audit of their pages. Today, EqualWeb accessibility checker and solution system is installed on over 100 million web pages and trusted by thousands of SMEs and Fortune 500 companies. Let's take a look at ​EqualWeb accessibility checker to achieve full compliance.
EqualWeb is a hybrid solution that employs both automation and manual remediation to achieve 100% compliance. This renowned digital accessibility company is located in Israel and has been doing an excellent job since 2014. EqualWeb's vision is to help brands achieve compliance with the quickest and most cost-effective means. It does this through its Google Chrome Extension, WCAG 2.1 Website Monitor Scanner, and an on-screen accessibility widget. In addition to this, EqualWeb provides a fully automated accessibility audit and remediation. For brands who want to delegate all compliance efforts to a third party, EqualWeb also provides full manual accessibility services, including ongoing compliance monitoring and periodic accessibility audit by its team of experts.
EqualWeb Accessibility Checker
Incontrovertibly, the best way to begin accessibility is with a compliance check. Does EqualWeb boast that functionality? Yes, it does. ​EqualWeb accessibility testing empowers website owners to conduct a first-time audit of their website to understand their compliance level and determine what could be done to improve the status quo. There are two ways EqualWeb does this. First is through its in-browser accessibility checker. Second, through its 100-page free scan for users who subscribe to ​EqualWeb accessibility checker and monitoring service.
Google Chrome Checker
​EqualWeb Google Chrome Checker is a free automated accessibility testing tool that allows you to audit your website against the World Content Accessibility Guidelines (WCAG 2.1). The device functions in a similar way to the WAVE checker and works with incredible speed. Its scanning process happens so fast that you would think nothing had transpired. Impressively, the audit results are as accurate as other compliance scanners such as axe, Siteimprove, and WAVE.
Conducting a compliance check with EqualWeb begins with installing the free tool on your web browser. EqualWeb digital accessibility checker extension is available in the Chrome Store. Upon installing the plugin, you may go on to open a webpage in a different tab. When the page pops up, the next thing is to activate the EqualWeb extension by clicking on its icon. Before you know it, the accessibility sidebar opens up on the page you are checking for compliance. The next thing is to initiate a scan. Your scan result comes up vividly in an instant. Above all, the audit summary is so simple that anyone could tell the gist of the scan at a glance.
Web accessibility scan four headings
EqualWeb's audit report is displayed under four broad headings: Scan, Summary, Checklist, and Info. As you might suggest, the scan page is where you initiate the compliance check on the desired webpage. It is the default page that loads each time you activate your in-browser extension. Meanwhile, a condensed summary of your accessibility scan comes up under five segments:
(General) Errors
Contrast Errors
Notices
Warnings
Arial Attributes
Role Attributes
Errors are violations that the system has unearthed in line with the World Content Accessibility Guidelines. These may have some impact on users with disabilities, hence require urgent attention. As for Contrast Errors, the system has deficiencies in using color and contrast on the website. Warnings do not have consequential accessibility effects on end-users; however, the system wants you to look into them to make the right decision.
Every issue flagged during the scan comes with a brief title and a long description. You can click on an issue for a full description as well as a guide on fixing it. The remediation guide opens up on a new interface with elaborate information on the issue under review. It begins with a WCAG principle relevant to the issue at hand, followed by general information. Next is the element info and a link to the W3C Working Group Note. The W3C Working Group Note is a document that encompasses all techniques and Failures for Web Content Accessibility Guidelines 2.0.
Fix now button
Another functionality that accompanies the accessibility audit is automatic remediation. However, this feature is a paid feature. For premium users, the easiest way to go is to punch the Fix Now button to have a feel of EqualWeb's AI remediation magic. Viola, your website becomes about 95% compliant with the system's comprehensive automation.
Automatic remediation notwithstanding, there may be a need for a pair for human effort to complete the compliance procedure. Why? Because no automated solution boasts 100% compliance by relying exclusively on AI. Probably this is why EqualWeb blends manual remediation with automation.
EqualWeb 100-page scan
Aside from the Google Chrome accessibility audit, another way to test for accessibility on EqualWeb is by opting for EqualWeb's WCAG 2.1 Website Monitor Scanner. Essentially, the Website Monitor Scanner periodically scans the website to remediate issues that may occur on the website due to content updates. This feature combines both automated audits with manual remediation by EqualWeb experts to achieve ongoing compliance. When you get on this plan, EqualWeb rewards you with a free 100-page scan of your website.
Is EqualWeb Accessibility Checker Free?
Yes, a free EqualWeb accessibility checker is provided. You can enjoy this feature by installing the EqualWeb Google Chrome browser extension. Without a penny, you can get started with a compliance audit of your site. You can go far in your compliance journey with the free plugin if you would dedicate the time to implement the remediation prompts availed to you by the system.
Unfortunately, this free tool provides limited functionalities. For one, the Google Chrome checker does not display the full details of the audit report. Aside from issues categorized under Errors and Contrast Errors, users with the free version cannot access details of violations under Notices, Warnings, Arial Attributes, and Role Attributes. Also, using the free browser extension denies users access to automatic remediation. Furthermore, the free tool does not allow for the exportation of the audit report.
EqualWeb offers a premium accessibility audit
Meanwhile, EqualWeb also offers premium accessibility audit, which is more effective and efficient than the free version. This paid feature equally scans your website thoroughly, relying on AI algorithms. More importantly, the premium version supports automated remediation. In other words, EqualWeb, in addition to suggesting a manual remediation guide, automatically fixes these errors found on your website. What could be more interesting than having some technology do the remediation while you focus on something more productive?
Some features of EqualWeb's automated remediation include fixing role attributes automatically. The same thing goes for ARIA attributes, which the system supplies in every necessary location upon detection. As if that is not enough, the AI also fixes Access Key issues and accessibility errors related to Headings.
Compliance
Similar to other solutions, EqualWeb adopts the World Content Accessibility Guidelines as the standard for its accessibility checker. In other words, all web pages are scanned against the WCAG 2.1 requirements. Because some websites seldom have to conform to location-bound regulations, EqualWeb levels the playing field. Other than the WCAG, EqualWeb helps organizations and businesses achieve compliance with a couple of regulations. Some of these standards include the American Disabilities Act (ADA). In the Ontario area in Canada, the guidelines are noted in the Accessibility for Ontarians With Disabilities Act (AODA). In America, part of the Rehabilitation Act of 1973 in Section 508 for government websites. In Europe, countries need to ably by the guidelines noted in the EN 301 549 compliance. In Israel, businesses follow the 5568 AA guidelines.
Verdict
​EqualWeb accessibility checker yields loads of incentives. Its accessibility checker is one of the most straightforward tools we have encountered in our extensive research on compliance testing and checks. EqualWeb's free Chrome extension makes site inspection ridiculously easy. Every bit of information reported in the audit is clear and understandable. As if these positive attributes are not enough, this digital accessibility tool prioritizes convenience and efficiency. Meanwhile, the browser plugin does not provide users with all EqualWeb is capable of. Instead, it gives only the tip of the iceberg by suggesting recommendations for remediation after completing a thorough scan.
Until we came across EqualWeb, automatic compliance audits accompanied by automated remediation only existed in our imaginations. The majority of web accessibility brands could only go as far as providing a guide to fixing accessibility errors. Getting on the paid plan opens the door to automatic remediation in addition to thorough scanning. Through its AI-powered solution, EqualWeb will scan and retrofit your website to up to 95% compliance. With this in mind, it becomes easy to understand why its AI algorithm boasts up to a million accessibility rules.