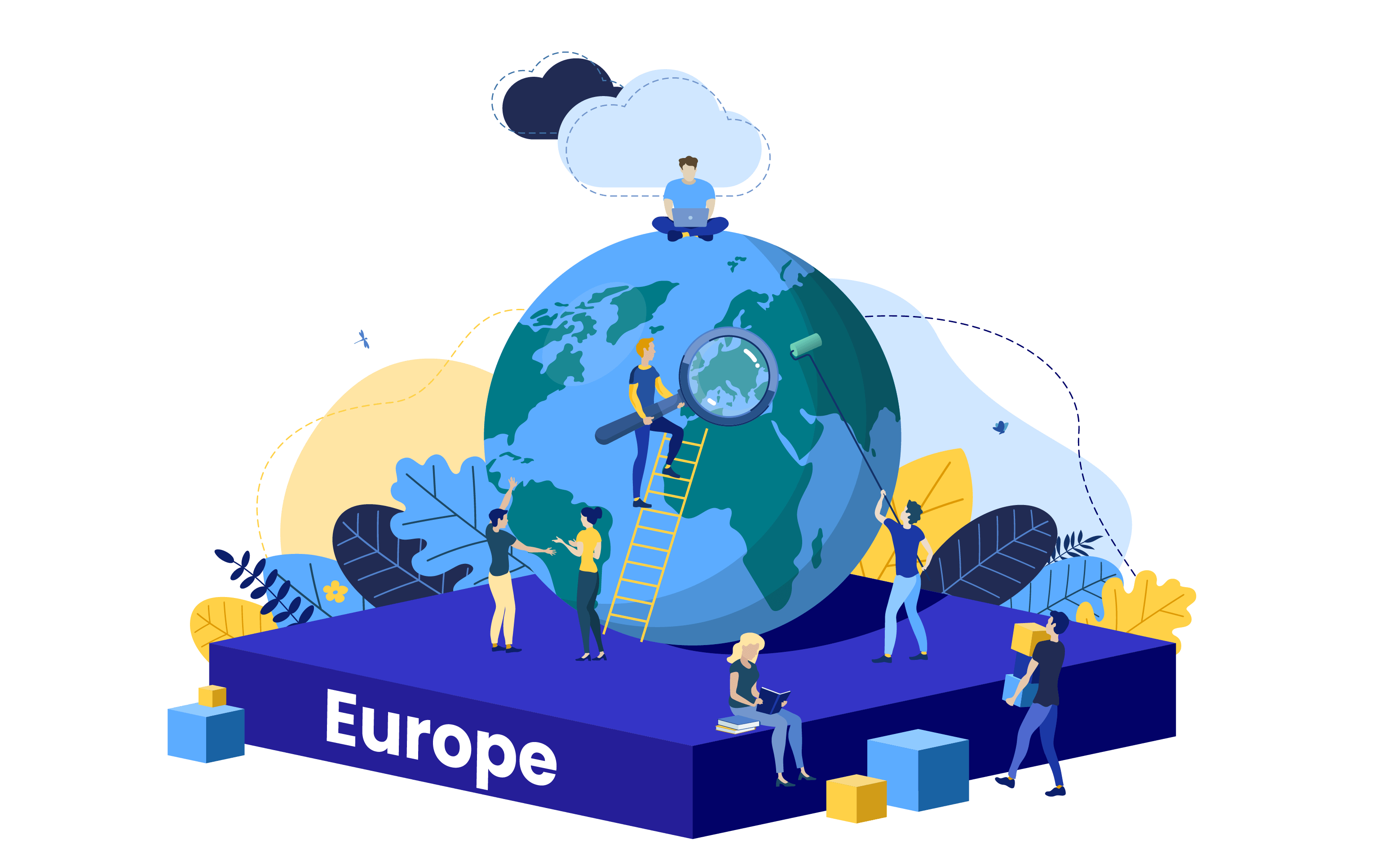 Web accessibility; the topic of most website owners, developers, and web designers today. How can you build or improve a website to comply with international standards? It is actually a conversation about making the internet a more accessible environment. It is clear that the conversation around online accessibility is about more than the inclusion of the world's disabled population. We all rely on the internet for day-to-day information and transactions. To make the internet a better place for all people, there are some web accessibility requirements set in Europe. To comply with these regulations there are some of the best solutions you can choose. But what are the Best Web Accessibility Solutions in Europe Today? Equally.ai, accessiBe, EqualWeb, and UserWay are leading the market in 2021. In this article, we will explain why.
You might have experienced an occasion where it was difficult to read a text, i.e. when there was insufficient light. Or you may experience the inability to hear sound in a noisy environment. On both occasions, you as a website user are looking for a quick solution. But think about someone living with a disability and whose impairment is irreversible. When quick solutions are not available. What can you do then? That's when web accessibility solutions are the way forward. What are Europe's best web usability solutions? Find out in the following paragraph.
Best Web Accessibility Europe
Brands and communication technology experts seek web accessibility solutions in Europe to make websites and software applications more user-friendly. This is also a bid to put every web-based infrastructure in tune with the European standard web accessibility practices. Which is preserved in Article 9 of the United Nations Convention on the Rights of Persons with Disabilities (UNCRPD).
Surmounting Accessibility Barriers in Europe
The European community has taken a deliberate move to dismantle the sacredness of the WCAG 2.0. Adjust it into a more relatable and enforceable collection of directives. With taking a cue from the much wider web usability guideline concept. As a result, the European Union published a 15-page Web Accessibility Directive in 2016. Requiring that any website and web-based mobile device application that provides services or public information adhere to standard web accessibility.
This ensures that every citizen of the European Union enjoys equal access to web-based services without any restriction. This guide is primarily for organizations and public bodies. On the other hand, a private company will benefit from web accessibility updates. When following these orders will avoid legal repercussions.
Fines, civil action, negative coverage, and other types of penalties, including private legal action by people with disabilities, are almost certain to be imposed on accessibility exclusionary sites. As a result, any institution, company, and body that uses the internet to communicate with the public and provide services to the public is constantly looking for the best web accessibility solutions in Europe.
Leading Accessibility Solutions in Europe
European leading accessibility solutions ensure all websites and software applications comply with international standards. Such as European EN 301 549 and the Web Content Accessibility Guidelines (WCAG) 2.1 level AA. Also noteworthy is the effort made by European Union member states in enacting local legislation.
Regulations
Thus, the accessibility standards might be higher for individual states than just being compliant with WCAG and EN301549. For instance, web accessibility solution in France would have to comply with the Référentiel Général d'Accessibilité pour les Administrations (RGAA). Also, web accessibility solutions in Spain are in the UNE 139803 guideline, from the Spanish Law Section 34 of 2002.
The requirements for other jurisdictions may vary, but the most important guideline that is unifying these states remains the European Union Directives of 2016. Thus, we have three leading web accessibility solutions in Europe to help brand owners. Rendering inclined internet services and web-based assistance. Making their web pages and applications friendlier to people living with a disability. Plus very easy to use in terms of general web layout.

Equally may be one of the best options to reach web accessibility standards. Their plugin offers a quick update of your website. To be sure your website is accessible to all this platform offers a unique procedure. Your website will be checked by the market and people living with different disabilities. Their mission is a very social one, improving websites for people who need them. An effective solution to your online accessibility barriers. This is how Equally.Ai can guarantee WCAG 2.1 AA compliance. Unlike most AI solutions that can only achieve 15-20% improvement without manual intervention. For an affordable price and that within 48 hours.
In general, Equally is a solution platform that we confidently share with you. Equally.AI for all your digital accessibility requirements. Unlike many of their competitors in the digital accessibility business, Equally are transparent in their pricing, today we can even offer you 3 months discount when you take the yearly subscription.

Since 2019, the EU Web Accessibility Directive has been going through a series of mandatory compliance. Brands have been looking for web accessibility solutions in Europe to help them timeously bring their websites to full compliance to avoid an expensive lawsuit, social and profit-inclined implications.
In France, the UK, and other commercial hubs in Europe, AccessiBe is at the frontline in helping brands solve their web accessibility issues. They understand the social philosophy behind making the web-accessible, and they know the business implication of not. Hence, they have fully embraced both the ADA and WCAG guidelines in helping brands surmount even the most technical web accessibility issues.
Artificial intelligence
They have invested handsomely in the world's best artificial intelligence. This is to champion fully automated support that will help bring your web-based platforms to full compliance. This with not only WCAG and ADA but also the EU directives. This solution with full automation is very easy to use You can scan and analyze your website within forty-eight hours and get it fully compliant with web accessibility directives.
User-friendly interface
This solution leaves every website with a user-friendly interface with trigger buttons that help each user adapt the site to suit the preferable interface. Also, it comes with an interesting profile setup that allows websites meet the accessibility need of all disabled persons. These profiles include ADHD-User Profile, Epilepsy User Profile, Blind Person User Profile, and Cognitive Disability profile. These features aren't common with just any web accessibility solutions in Europe.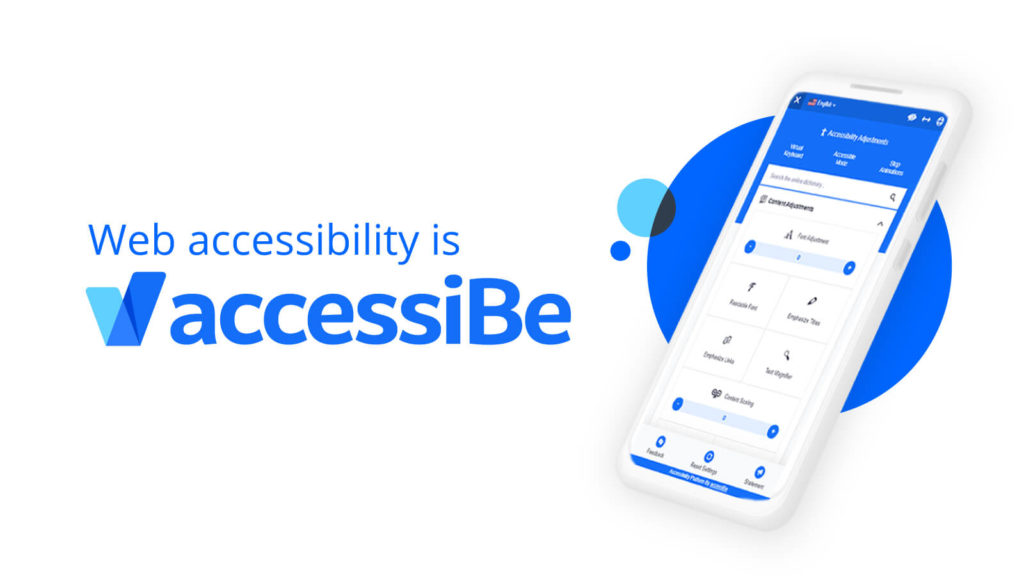 These profiles come with distinct adjustment features catering to a specific aspect of local guidelines across Europe. Thus, accessiBe remains one of the leading web accessibility Solutions in France and one of the most desirable web accessibility solutions in Spain and the UK. Furthermore, you can use it with other internet tools and very affordable as it cost just $490 yearly subscription or $49 monthly subscription. Today you can claim your exclusive Discount of Up to 20% with AccessiBe. Don't want to miss out on this deal? Click on the link or on the image on the right.


Websites owners in Spain, Germany, Denmark, Italy, France, and Greece are finding UserWay as their best web accessibility solution in helping them beat through the complex implementation of the EU directives and ADA and WCAG Guidelines. With close to ten thousand supported websites in Europe, Userway proves to be a trusted solution brand across Europe, especially in the United Kingdom, Poland, France, Spain, Greece, and Italy.
Compatibility
The all-encompassing approach of this solution is buried because it is compatible with major website creation platforms like Wix, WordPress, Shopify, GoDaddy, and many others peculiar to Europe. They offer a seven-day free trial where they intimate website owners about how critical their fully automated, artificial intelligence inclined, solution approach scans up and fix web accessibility issues.
Spotlight currently shines on this solution as one of the trending web accessibility solutions in France. Close to a hundred websites in France alone rely on this solution in bringing their web-based software application and website layout to full compliance with the latest accessibility standards of WCAG, ADA, and even the European Union. Thus, they are indisputably one of the best web accessibility solutions in Europe.
Social and economic benefits
UserWay gives website owners an accessibility edge to garner all the social and economic benefits of web accessibility. They fortify your website using layout remediation, color adjustment to other advanced features such as screen reader, dictionary, auto-play video, image alt, keyboard navigation, and many more.
This solution is one of the most inexpensive ways to implement web accessibility guidelines and stay constantly updated via the solution's regular scanner in Europe. You can improve on your font, enhance readability, integrate with other platforms, connect with a fully automated scanning widget, all for a price starting from $49 monthly.

With twenty-seven accessibility functions and over thirty language choices across the world, with half of the number covering languages from Europe alone, EqualWeb has distinguished itself as one of the leading web accessibility solutions in Europe. They provide a rich accessibility menu that is comprehensive, easy to use, and fully automated to cater to all specific directives of the EU and other important web accessibility guidelines across the world.
Comprehensive remediation plan
This solution helps you scan for accessibility errors, provide a comprehensive remediation plan and help you monitor your website as well as software applications for any possible future violations. Since it can be integrated with other web-building platforms, you will be able to provide a wholesome web-based information platform accessible by all.
With an AI-based engineering mechanism, you can use EqualWeb to create a better internet experience for a wide range of disabled audience of internet users. This is because every aspect of web accessibility is part of the adjustable optimization options to meet individual preferences. Think about screen reader, keyboard navigation, blink block, font sizing, text reader, and color adjustments.
It's More than Just Owning a Website
Owning a website or developing software applications is now more than just having them as extensions of your brand. They are twenty-first-century business and interaction necessities that require compliance with a twenty-first-century inclusiveness strategy. Interestingly, adequate web accessibility solutions spring up to provide an optimization strategy. A strategy that helps keep website and software applications fully compliant with these complex web accessibility guidelines and directives.
As a website owner in France, Spain, or the rest of Europe, you want the best web accessibility solution available. Equally.ai, AccessiBe, UserWay, and EqualWeb are the accessibility solutions you need to bring that twenty-first-century inclusiveness to your internet-based platforms.