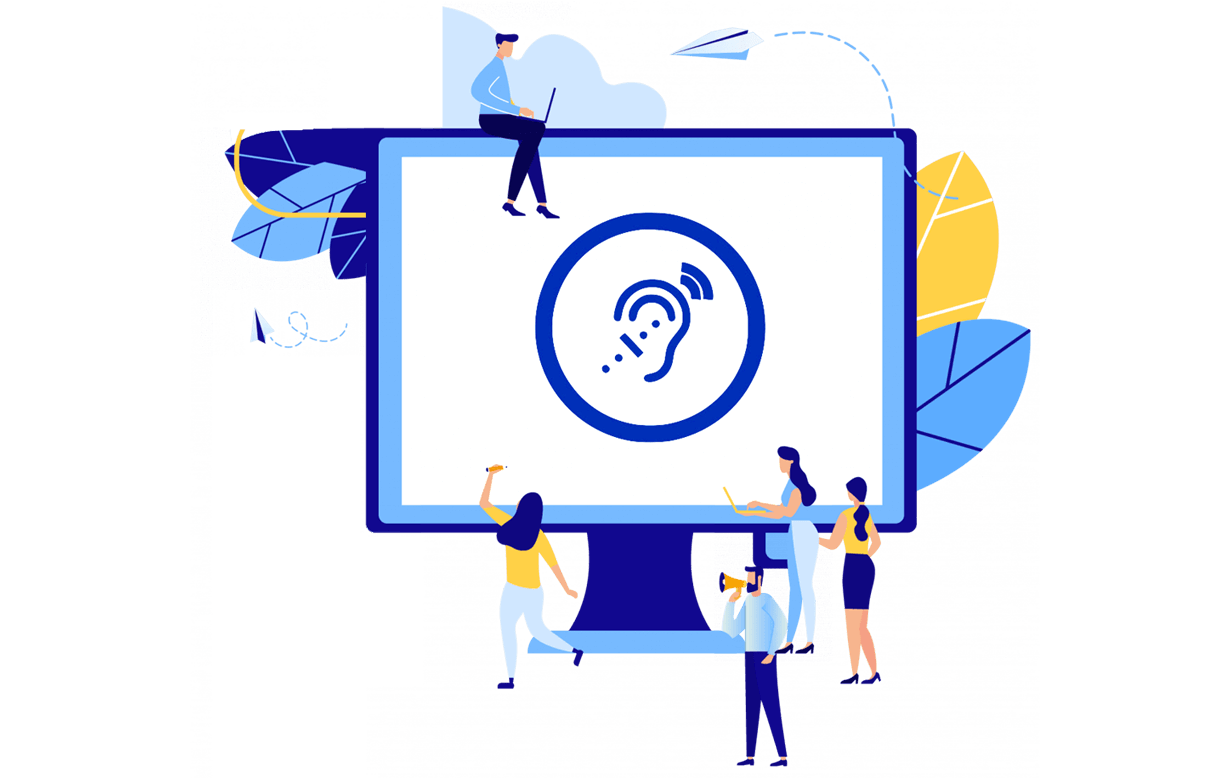 One of the principles is that not everyone uses the web the same way. While it is tempting to assume that the average person should interact successfully with the content on a given website, our collective reality, as humans, disputes that assumption.
People with different disabilities — including Auditory Disability, Visual, Physical, Speech, and Cognitive or Neurological disabilities— and these disabilities affect their preferences and needs. Today, about 1 billion people live with one type of disability or the other, which does not make them less human.
In the same way, disability does not make an individual less of themselves; it should not be a barrier to essential day-to-day tools, especially the internet. While disabilities such as visual and physical impairments are prominent and more recognized, there is one disability type that is even more prevalent but neglected, that is Auditory Disability.
What is Auditory Disability?
Audio or auditory disability is a prevalent type of disability that impedes people's interaction with the web. Auditory disabilities exist on a continuum: hearing impairment could be moderate, mild, severe, or profound hearing loss. Individuals with hearing impairments find it difficult to hear spoken words; some cannot listen to loud sounds, while others cannot hear at all.
The W3C Web Accessibility Initiative (WAI) gives three examples of auditory disabilities. These are:
Hard of hearing: a person is said to be 'hard of hearing' when they experience mild to severe hearing loss in one or both ears. People in this category communicate with spoken words. Usually, they rely on hearing aids, assistive technologies, and captioning.
Deafness: is substantial hearing loss in both ears. Deaf people can hear nothing or very little.
Deaf-blind: individuals that are deaf-blind have profound, irreversible hearing and visual impairments.
The risk of hearing loss exists for both children and adults. However, more adults have a hearing impairment, and its risk increases by age: about one-third of people aged 65 and above have some form of hearing impairment.
What is an auditory processing disorder (APD)?
People with an auditory processing disorder or hearing disorder struggle to understand and interpret the world because of problems in the way their brain processes sound. Although most adults with APD are diagnosed in childhood and adolescence, unrecognized symptoms can be living with language and communication difficulties. 

As you may know, the sound is created by vibrations that move invisibly through the air.  The listener's eardrums vibrate, triggering the motion of three tiny bones that activate the cochlear nerve. This is basically where the vibration ends. 
The listener assumes he hears from this point on is a collection of silent electrical stimuli delivered by neuronal wires. These electrical impulses are then translated by the brain into sounds, then into words, and then into coherent sentences. The majority of us do it quickly. But not everyone is capable of doing this and translate these electrical neuronal impulses into meaning.
More people suffer auditory impairments than the population of the US, UK, and Canada together
You probably have an idea of how many people live with HIV/AIDS. Can you give a statistic of people with visual impairment? Two hundred fifty-three million in the world, 32.2 million adult population in America. Now, what if I asked you to guesstimate the number of people suffering from auditory disabilities? Most likely, you do not have an idea. Why? Because hearing loss is not as popular as other disabilities. Meanwhile, as a business owner, you should not be ignorant of this huge population's plight.
According to WHO, over 5% of the global population or 466 million people live with some form of disabling hearing loss. To put it into context, that is more than the US, the UK, and Canada's population. Out of these 466 million, 432 million are adults why the remaining 34 million are children.
What does Auditory Disability mean for your business?
Does an audio-inaccessible website hurt your business? Yes, it does. Substantially. Imagine that 30 million potential customers (in America alone) cannot purchase your product or service because your website is not accessible to them. Meanwhile, 60% of people with hearing loss are either in the workforce or in education.
A possible implication of this is that they are people with medium to high purchasing power. Unfortunately, if your website is not accessible to 71% of them, leave your website out of disappointment or frustration. The future looks more worrisome if you want to stay in business. By 2050, estimations are that this figure will rise to a staggering 900 million, and that would mean a greater loss for businesses that operate inaccessible websites.
Common barriers for people with hearing impairment
The race to convert contents to visual and audio is increasing by the second. Very soon, 80% of online content would be visual, accompanied by audio. Although this means more interaction for the general masses, it connotes a wider gulf for hearing-impaired people. As a website owner who is after inclusion and, at the same time, wary of accessibility lawsuits, you should understand potential barriers that could prevent persons with auditory disabilities from assessing your web contents or services. Primarily, the challenge faced by individuals with audio disabilities is sound. Hence, the major barriers people with auditory disabilities face while interacting with the web would include:
Audio and multimedia content (including podcasts and videos with sounds) without captions or transcript.
Media players that don't display captions and do not allow for volume controls
Web applications and web-based services that use only voice interaction
Media players that do not have options for text size adjustment and colors for caption
How to make multimedia content more accessible to people with hearing impairment
In keeping with people's diverse needs, content in textual form alone is no longer enough. Neither provides information in mere visual or audio versions is sufficient to keep up with the wide range of abilities out there. The sure bet is to make textual, audio, and visual contents convertible to other forms to ensure equal access for all. This is even more important because disabilities are sometimes not mutually exclusive; an individual may be blind and deaf at the same time or present with other physical or cognitive impairments. Here are some easy ways to make your website accessible to people with auditory disabilities:
Provide transcripts for video and audio content
Transcripts are a good way to mitigate the barrier that content with sound poses to the hearing-impaired. Transcripts are text manuscripts that contain information in audio or video content in verbatim and sequence of recording. Aside from aiding website visitors with hearing loss, transcripts trump your website SEO advantage. What's more, it makes it much easier for people to take notes or save content in textual form for later use.
For best practice, provide a transcript for multimedia content, audio tracks in multimedia, and audio-only content. For most content on YouTube, Google's speech recognition software automatically provides transcription as soon as they are uploaded. Other than automatic transcriptions by Google, there are third-party platforms that help with transcription. Trint, for example, is an AI-powered speech-to-text technology.
The AI audio transcription software renders multimedia content into transcripts in 30 languages. Its editing feature allows you to edit multimedia content after instant transcription to confirm the accuracy and make necessary adjustments. Sonix is another automated transcription tool for multimedia content. The AI tool lets you create subtitles and captions in a short time. Sonix also supports several local and international languages.
Embed captions and subtitles
Captions and subtitles are the most effective ways to make multimedia content (that is, video content with audio) accessible to individuals with auditory disabilities. Captions are texts that appear on the video simultaneously with the sound. There are two types of captions: open and closed captions.
The main difference in both types is that open captions cannot be turned off while closed captions can be turned off. It would be a great idea to grant viewers the freedom to use captions or turn them off while interacting with your multimedia content.
Media players should display captions as well as allow for options to adjustment of captions' size and color
Sound should be of high-quality and distinct from background noise
Provide options for adjustment of audio or multimedia volume
Finally, providing information in sign language could be a good way to ensure accessibility for persons with profound hearing loss or deafness and whose primary language is language. These people may not benefit from audio adjustment and may not be able to read. Unfortunately, sign languages are not universal. There are variations according to the country.
To conclude
Although Audio disability is not a popular issue in the accessibility lawsuits diary, hearing impairments is a big concern for business owners. For one, there is a huge subset of the global population living with one auditory disability or the other, and, sooner or later, many of us may join the statistic as we age—one in three 65-year-olds has a form of hearing loss.
The majority of the people, including developers and website owners, especially have restricted website accessibility to how much screen readers can work on the website. Visual impairment is the only disability out there. This is a very narrow approach that is carelessly segregating millions of people with auditory disabilities and denying them equal access to what the rest of the population enjoys.
There is a need to change this narrative, and as a website owner, it begins with knowing that audio disabilities exist. After acknowledging this, the next thing is to eliminate all barriers for potential clients who may be hearing impaired.
The best way to ensure this teeming population's inclusion is by providing transcripts and captions for multimedia content. It is also important that multimedia content is designed to allow adjustment of sound or total removal of background noise.