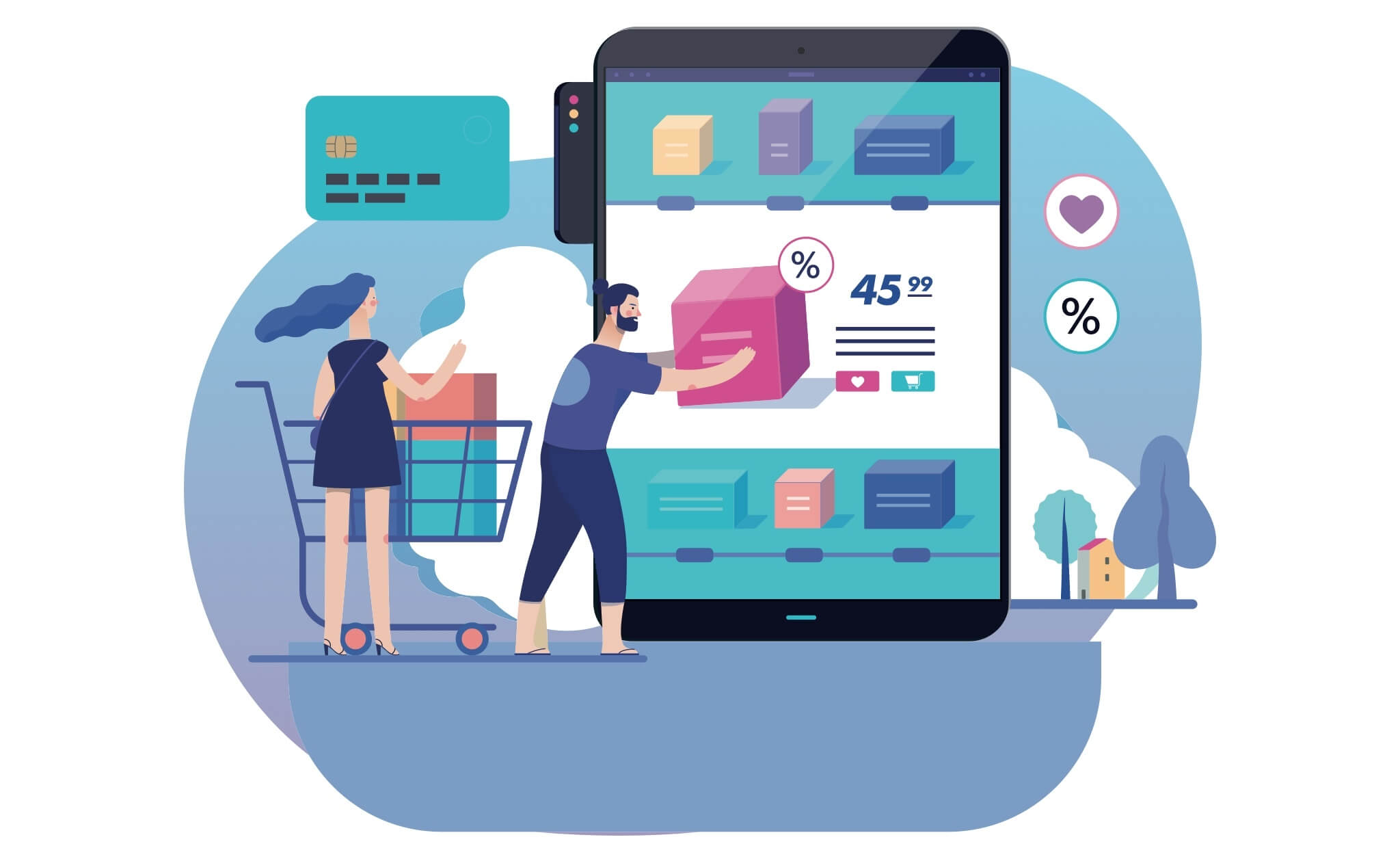 The Internet has revolutionized the way we carry out our daily tasks. Everything is just one touch away in the palms of our hands. Online shopping has been a norm for everyone now, and many sales transactions are done through e-commerce. Due to the Corona pandemic and countries been in complete lockdown, online shopping has increased tremendously, and this number is expected to grow even further in the future. When COVID-19 changed the global economy, Amazon.com Inc.'s profit from e-commerce saw an annual rise of 47.0 percent for the second quarter of 2020. Web accessibility for the consumer and retail sector is extremely important since a huge amount of revenue is generated online. This massive chunk of sales can be lost if websites are not accessible by people. Retail e-commerce sales worldwide are projected to grow to $6.54 trillion by the year 2023, which shows the value of accessibility. In this article, we focus on web accessibility in the consumer and retail sector.
Everyone uses different mediums to shop online, and it is the design of those web pages and mobile applications that create a significant impact on consumers. Stores should create their websites by ADA compliance to be accessed by everyone, including people with disabilities.
History of Consumer and Retail Sector
It all started in 1979 when Michael Aldrich, a British inventor, and entrepreneur, connected a modified domestic television with a real-time transaction of the processing computer through a telephone line. This laid the foundations of online shopping that we know today.
The consumer and retail sector further emerged online when Jef Bezoz launched Amazon as a bookstore in 1995. To safely carry out these transactions, PayPal came into existence in 1998. And a year later, one of the biggest e-commerce networks, Alibaba, was found.
Today this sector is so significant that in the 2nd quarter of this year, the UK was reported to carry out 31.4% of total retail sales through the Internet. Therefore, making web accessibility the key to this vast number of sales.
Models followed under this sector
There are various models followed under the consumer and retail sector. Websites from each model have to comply with the ADA requirements for web accessibility.
Business to Consumer (B2C)
This model includes intermediaries acting as brokers and direct sellers that may be manufacturers or some online store operators. Advertising websites that place ads with their content to derive traffic to those pages are also considered in the B2C category. Lastly, fee-charging sellers that offer their services or content to consumers with a subscription fee, such as Amazon Prime and Netflix, are also a part of this model.
Business to Business (B2B)
This model focuses on transactions carried out between two businesses. Usually, a large stock of raw material is sold and purchased to further process and sell these goods.
Consumer to Consumer (C2C)
This model has consumers at both ends, and it allows trading between them. Platforms like eBay are examples of such a model.
Consumer to Business (C2B)
In this model, consumers sell their services to businesses. A good example of this is the freelancing website Upwork.
Disabilities to focus on for web accessibility the consumer and retail sector
Imagine yourself as a disabled person ordering something online. You put all your time and effort into navigating and selecting your desired product if the website is designed correctly. Then at the end, you were unable to fill out the details because the webpage was not accessible. How frustrating would that be? Hence, web pages need to be designed by keeping the barriers in mind that people with disabilities experience.
The main focus of consumer and retail website owners should be on people who have visual disabilities. They should avoid displaying products in flashing images as this could be a limitation for people having low vision or who are color blind. Furthermore, the pages should be accessible by screen readers.
There may be a problem for people who have a hearing disability if there are videos or audio on the websites. To cater to this situation, video descriptions and subtitles should be included.
This refers to having difficulty in reading and understanding content. Websites should be made so that people with cognitive issues can easily understand what is being said, i.e., avoid using jargon and technical terms in product descriptions, etc. Besides, people with dyslexia need to be able to read the content.
Motor or mobility limitations include temporary or permanent injuries. The most common problem that these people come across is to navigate using a mouse. To make webpages accessible, they should be designed to allow moving around and carrying out tasks through the keyboard only—for example, using the tab key or arrow keys to navigate through products and using the enter key to select and proceed with the order.
Consequences of non-compliance
Achieving web accessibility can be costly but when compared to the consequences of non-compliance, working according to the guidelines is more feasible. A lawsuit can be filed against you if you fail to comply with the requirements. As seen in the past, the number of lawsuits on web accessibility has skyrocketed with each passing year in the consumer and retail sector.
Target corporation has set an example for people related to this industry. The National Federation of Blind (NFB) filed a lawsuit against it due to the violation of the ADA compliance act. Their website was not accessible by visually impaired users. As a result, the company had to pay $6 million in compensations.
Another example of non-compliance is the lawsuit against Domino's Pizza filed by a blind man named Robles. He knocked on the court's doors when he was unable to order food even after using a screen reading software. Later, the Supreme Court announced the case in favor of the visually impaired person.
How to achieve accessibility?
The first step towards achieving compliance requirements in the customer and retail sector is to act as a customer yourself. Do a self-audit of the website by putting yourself in the shoes of a person with disabilities. In this way, you can at least achieve the minimum level of web accessibility compliance.
Other than this, some standard practices to follow are listed below.
Use proper color contrast
Add text alternatives for audios and videos
Insert screen magnifier tool
Make content text reader accessible
Use proper blank space to make the content stand out
Make webpages keyboard accessible
Avoid designs that cause physical reactions and seizures
Create simple content that can be understood by a wide variety of users
Avoid jargons and technical terms
Use the legible font for content
Benefits of web accessibility
Complying with web accessibility is undoubtedly an extra cost. However, it is not just an expense but rather provides many benefits to the website owners.
The most significant advantage of web accessibility in the retail sector is the webpage becomes search engine optimized. Search engines like google rank these websites higher, which results in higher revenues for the company.
Moreover, this brings better reach as it is user-friendly, and disabled people can carry out transactions without any hindrances. Providing accessibility also displays a better corporate image as it shows that the company cares about every one of its customers. Lastly, it saves you from losing money through penalties caused by non-compliance.
Accessibility in Covid-19
Covid-19 has placed a lot of restrictions on our daily life. Under these circumstances, consumers moved towards the online alternative of shopping. The stakes of people with e-commerce websites have now increased, including persons with disabilities.
Online retail sales are shooting up every day. In May 2020, the online consumer and retail transactions hit a staggering $82.5 million, a 77% increase from last year's sales.
Following the trend, a lot of new retailers emerged on the Internet to carry out their businesses. These websites have been created in a hurry and lack web accessibility requirements. As a result, they are more prone to getting penalized through lawsuits. There are various platforms like Userway, AccessiBe, etc., that can resolve these issues by providing accessibility solutions.
News regarding this sector
The latest research shows that from 2018 until mid-2021, 74% of the top online retailers have received ADA-based lawsuits. This is because many new websites have been formed to carry out their physical businesses online, and they do not comply with the ADA law.
Another news for retailers is that they can increase their revenue by using Augmented Reality (AR) on their websites and mobile applications. This keeps the customer engaged and gives them the freedom to try things out before even buying. AR has shown great results so far and will surely be the norm in the future. However, developers have to keep an eye on accessibility laws to cover this feature also.
Conclusion
A lot of people make claims about providing web accessibility, but not everyone follows it. Providing this is a mandatory requirement and not just an additional feature.
The good idea is to ask your customers for feedback about their experience on the website. This will help you a lot in improving the website and shows that you care about them. Keep in mind that the feedback form or email should be designed so that it is also accessible by all.
With the widespread of technology, web accessibility has been significant like never before. Make great use of this knowledgeable content and benefit yourself as much as you can.