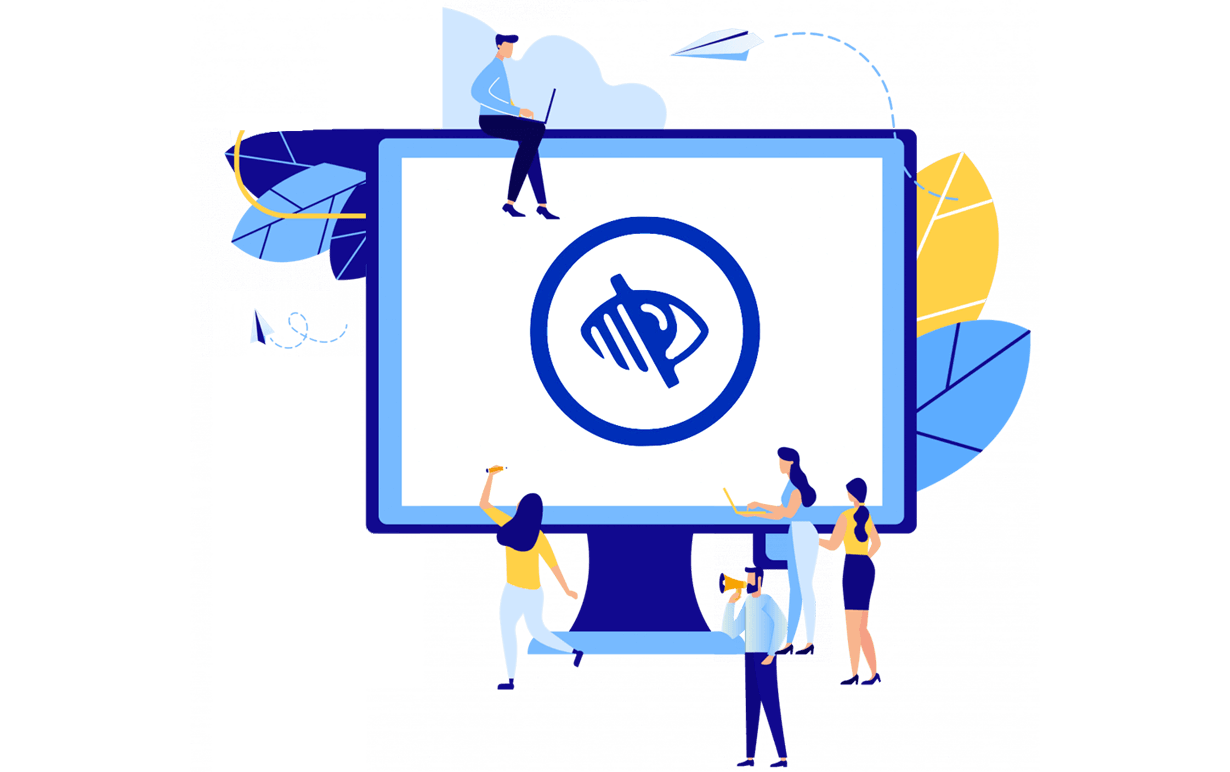 You can imagine that web accessibility can be challenging for people with visual disabilities. When a website only produces content in text, images, or videos without sound or the option for screen reading, the person with visual disabilities will not have access to this content. This means the person either needs the help of someone else or needs to make many arrangements to access the information. With easy-to-implement solutions, we can make the lives of people with visual disabilities a lot easier.
To turn this situation around, countries like the US, the UK, and Canada came up with various accessibility acts, such as the Canadian AODA compliance set up by the Ontario state government, to set ground rules. Every compliance code has to meet the general guidelines of Level AA by WCAG 2.0 (Web Content Accessibility Guidelines), which contains a set of technical requirements that can be implemented on your website.
What is a visual disability?
One of the important parts of full accessibility to the Internet is offering web accessibility solutions for people with visual disabilities. Centers for Disease Control and Prevention defines disability in general as:
"Any mind or body condition (impairment), which creates difficulty for the persons suffering from it, thereby preventing them from carrying out specific tasks (activity limitation) and limits their interaction with society (participation restrictions)."

Centers for Disease Control and Prevention
So basically, a disability has three components: impairment, activity limitation, and participation restrictions.
Having understood that, we can further define visual disability as a reduction in the ability or capacity to see objects (impairment) to an extent/degree, which causes a limitation in what they can do (activity limitation). It also restricts what they can do in society (participation restrictions). The cause of this condition can be genetics, illnesses, accidents, degenerative conditions, age, and trauma.
Types of visual impairment
There are different forms in which visual disability occurs; these include:
1. Refractive errors (blurred vision)
This is a common visual disorder; the eye can no longer focus on the object it captures because the outside world attracts attention, resulting in blurred vision. This disorder comes in the following forms.
Myopia (Nearsightedness) – objects can be seen clearly when closeby, but they are blurry when far away.
Hyperopia (Farsightedness) – objects are clear when they are far away, but they become blurry when closeby.
Presbyopia – occurs in people who are over 40 and are unable to read small prints or focus on objects close to them.
Astigmatism – This gives the person in question a blurred vision caused by cornea shape.
These situations can result from family history (genetics) and age.
2. Glaucoma
This is vision loss caused by the damaged optic nerve. It is also known as "sneak thief/stealer of sight" as they are not usually noticed until vision is lost. Unfortunately, vision loss resulting from Glaucoma cannot be corrected. However, if it is detected on time, the loss of vision can either be stopped or slowed down; hence it is vital to take a comprehensive eye examination as often as possible. Some persons are more susceptible than others, e.g., people over 60 or with a glaucoma family history.
3. Cataract
This occurs due to the eye lens becoming cloudy, leading to poor night vision, especially during driving due to bright lights' intensity from other cars. Commonly young children and adults experience this. Fortunately, the success rate of treatment is high and widely available.
The risk factors for this condition include:
Age (above 60)
Alcohol and smoking
Diabetes
Excess exposure to sunlight
Statistics of people suffering from visual disability
Based on the World Health Organization (WHO) statistics, about 1 billion people have vision impairment. These stats include:
826 million persons have near visual disability as a result of unaddressed presbyopia.
123.7 million persons are suffering from the refractive error.
65.2 million people have a cataract.
6.9 million people have Glaucoma.
4.2 million persons have corneal opacities.
3 million people have diabetic retinopathy.
2 million people have trachoma.
The prevalence of far-sighted vision in low-and middle-income geographic areas is four times higher than in high-income areas. However, near vision has 80% more majority in Eastern, Western, and Central sub-Saharan Africa; meanwhile, there are less than 10% of people living with this condition in high-income areas of Western Europe, North America, Australia, and Asia-Pacific.
Most common barriers faced by visually impaired people
Nowadays, essential policies are more targeted toward people with disabilities. This is because people start to see the importance of inclusion and accessibility. The challenges faced by visually impaired people can have a significant impact on their lives. Which can affect them from performing the same activities as non-disabled people. Common challenges faced by people with visual disabilities:
1. No alternative text for visual content
The alternative text refers to a word or phrase inserted or added as an attribute when writing an HTML (Hypertext Markup Language) file. The function is to describe the content and nature of the image to the website visitor. Usually, you can insert it in a blank box next to the image. Often web content with images doesn't have this description, and that is making it hard for a person with a visual disability to understand what's going on.
2. No navigate option within page contents
Most websites have a design for people who can see and easily navigate the web content pages. This is a significant web accessibility challenge for people who have visual disabilities.
3. Multimedia without audio description
Irrespective of the variety of multimedia material on the web page or the quantity of information the website holds, a person with visual disabilities would not be able to understand the content if there is no audio transcript provided.
4. Time limits
People with visual disabilities need, in some cases, more time to complete a web-based task than the average person without a disability.
Other common barriers include:
A keyboard cannot control all key elements
Unstructured content of the web
Excessive or complicated nature of the content
Inconsistent navigation
Unexpected actions such as sudden redirection to another page
Most Important Web Accessibility Features for People with Visual Disabilities.
The W3C WCAG 2.0 Guidelines enable web content to be operable, perceivable, robust, and understandable to people with disabilities, including visual disabilities. This means that every website should be designed for every user to sense, perceive, and use it easily. Essentially, web pages need to be informative enough in both design and content. Take the first step and update your website today.
Generally, the best online experiences are often visually attractive; most web pages, applications, and software have a focus on a beautiful design. For example, some websites use foreground or background colors or videos. How can we make it possible for visually disabled people to access the web and have the same experience?
Use of ALT text
We use Alternate texts (invisible image description) when we want to read out with screen reader technology. When uploading media, you can quickly fill in the ALT text to explain what the image shows.
Audio descriptions
Audio descriptions describe important visual information about the video. We may provide descriptions during a pause in the audio or make them in separate audio tracks and files.
Braille
Blind users who can read Braille would now be able to use Braille output displays to read text online. These displays translate small parts of the text on the website into Braille. We need Websites to have a good structure of content, and to write the text logically, so we can quickly translate it into Braille.
Text-to-Speech
It's also known as speech synthesis or output. It helps to convert text on a web page automatically to speech (synthesize voice) that is read out to the user. These are some of the innovations that have been made to ensure web accessibility for visually disabled people.
To conclude
People with visual disabilities often face barriers that restrict their interactions with web material, mainly because the web has generally a visual focus. Web accessibility standards have been put in place and are mandatory in certain parts of the world to allow visually impaired people to have access to all digital information. Noncompliance with the guidelines could lead to significant sanctions by the authorities responsible for their compliance in those countries. But it is not only necessary from a compliance standard; you are also missing out on many people who are unable to access all the information on your website. Website designers should take web accessibility into account when designing websites. Web Accessibility for people with visual disabilities.