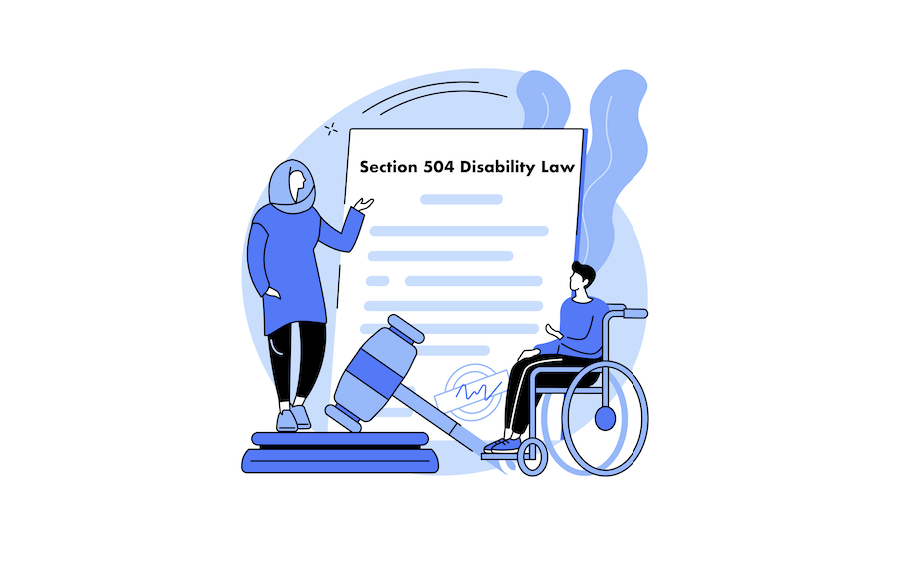 What is Section 504 disability Law?
Section 504 is a federal law that protects the rights of people with disabilities who participate in educational programs. Important to note, these programs receive federal funding from the US's education department.
Federal funding can come in the form of:
Grants
Financial Aid
Financial assistance coming government monies
Non-profit organizations or associations getting federal funding
Twelve enforcement offices and the headquarters in Washington D.C. are implementing the 504 disability law together with other civil rights. Their purpose is to protect recipients of these funds. For achieving that, they can rely on the regulation created by the US Department of Education.
Definition
Section 504 obliges school districts to enable a FAPE (Free Appropriate Public Education) to every person with a disability within the school's district jurisdiction. No matter the type or level of impairment.
As stated by Section 504, entitled to FAPE is anyone with an impairment, either mental or physical, that limits one or more significant life activities. It can also apply to someone who has this type of impairment in their medical history.
All educational programs funded by the ED (the US. department of education) must comply with Section 504. Local education agencies, public school districts, and higher educational institutions are qualified for this type of funding.
History of Section 504
The 504 disability law was created by the Chicago office for civil rights in the US department of education to define Section 504 of the Rehabilitation Act from 1973. However, on April 5, 1977, a disability rights protest called the 504 Sit-in began. Accessibility advocates occupied federal buildings across the country in an effort to hasten the implementation of long-delayed rules relating to Section 504 of the Rehabilitation Act.
Overall, the Rehabilitation Act was the most significant disability legislation in the United States prior to the enactment of the Americans With Disabilities Act in 1990.
What's the Relation to Web Accessibility?
According to the 504 disability law, discrimination towards disabled beneficiaries of federal financial assistance is strictly prohibited. Accessibility as a term refers to all facilities and forms of communication, like websites.
When an organization receives federal funds, it is obliged to make all ways of communication, including websites, accessible for everyone. Otherwise, this facility can face a lawsuit on the grounds of discrimination and negligence.
Conclusion
The 504 disability law obliges all institutions, organizations, and associations receiving federal funds to provide equal access to everyone, including people with disabilities.
Any higher education institution, school district, hospital, or mental institution, or non-profit, that is part of the financial program must have an accessible website and easy access to all information. Overall, those in charge of enforcing this rule must keep an eye out for violations of Section 504 and take appropriate action.