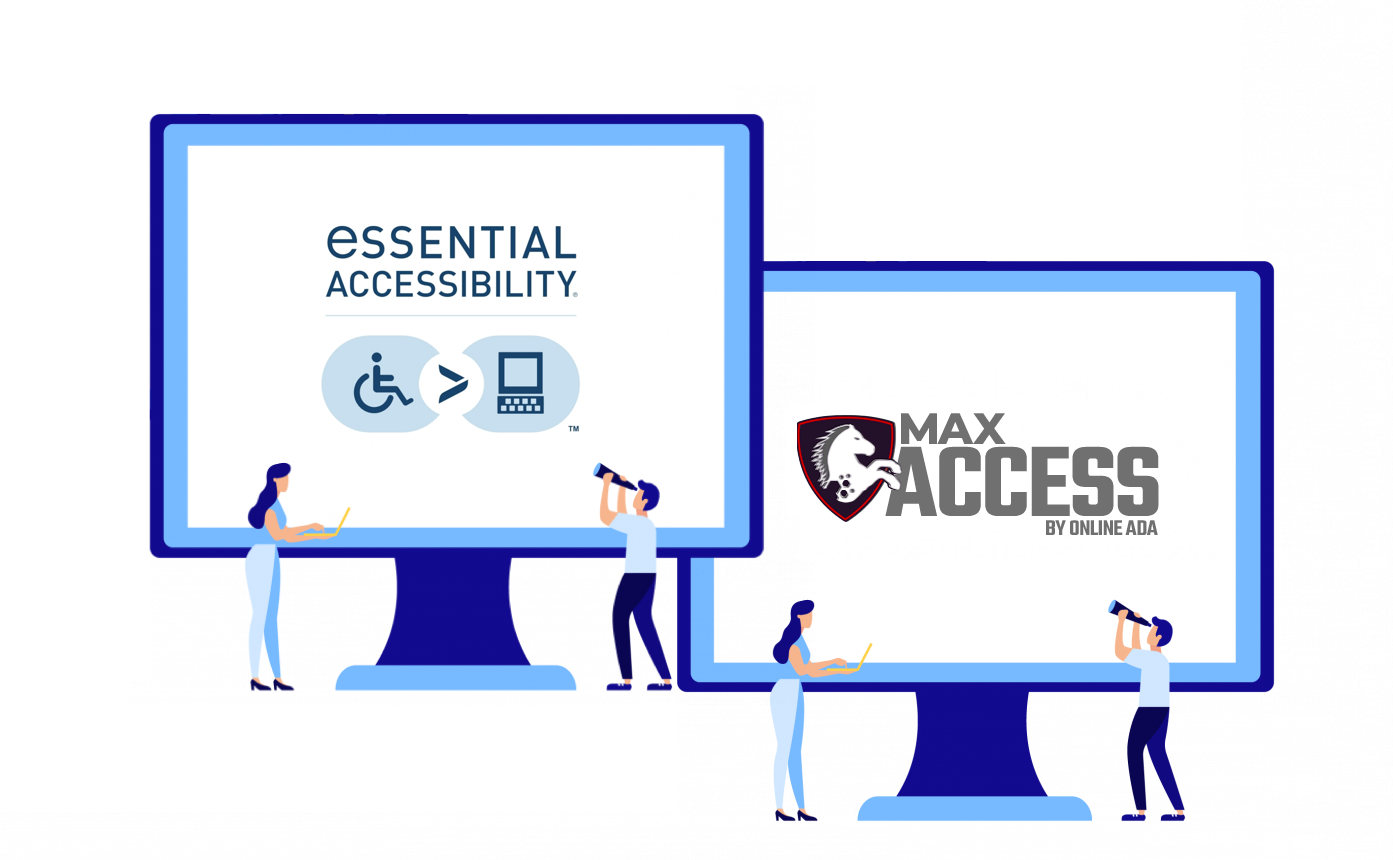 Enabling full web accessibility can get complicated. Brands with not-so-accessible websites lose potential customers. These users are more likely than not to opt for the next available website where they feel welcome. Clients may stand up to claim their rights by filing a lawsuit. This brings a huge loss to the company, in fact, a bigger loss this time, as the affected company might end up paying exorbitant fees as compensation. To foster inclusiveness there are web accessibility solutions that brands can utilize to achieve continuous compliance to various international regulations. While these tools are numerous, some have proven to be unique in their compliance testing accuracy and pricing. Amongst these unique tools are Essential Accessibility and OnlineADA's top solution known as Max Access. In this article, we will be talking about Max Access, but it is good to understand it is under the wing of OnlineADA. Let's explore the differences between the two top accessibility solutions.
What makes Essential Accessibility and Max Access unique?
For websites to meet all users' needs, they have to be built in compliance with the World Content Accessibility Guidelines (WCAG). While this is a universal standard, other acts such as Section 508, American w/ Disabilities Act (ADA), Accessible Canada Act (ACA), and Accessibility for Ontarians w/ Disabilities Act (AODA), are peculiar to particular regions or countries. However, depending on the target users or coverage, it is an indisputable fact that all websites must be fully accessible to all.
Achieving compliance requires a process that is structured and specialized capabilities. These can be effectively done when people and technology work together. Essential Accessibility provides this structured process to help companies achieve full website compliance. Besides, the accessibility-as-a-service platform helps manage, maintain, and support; client's digital accessibility programs and all digital assets they manage.
Features of Essential Accessibility
Eliminate barriers between websites and their prospective and existing users
Mitigate legal risks that arise from inaccessible websites
Effectively solve for all kinds of compliance
On the other hand, Max Access makes accessibility simple with its AI-powered and fully automated tool enabling website compliance with just a single line of code. This gets websites accessible in minutes. Moreover, the Max Access tool is completely customizable. Overall, it offers…
Features of Max Access
Cutting edge Artificial Intelligence
A mobile responsive website toolbar
Dashboard with detailed compliance reports
Integrated multilingual screen reader.
All these features that Essential Accessibility and Max Access offer shield websites away from litigations and for utmost brand protection.
Which Accessibility Solution has the Best Deal? Pricing of Essential Accessibility and Max Access
Everything comes with a price. This is true when you use web accessibility tools to stay compliant. However, you can request and schedule a customized demo with Essential Accessibility. This will expose you to learning how the digital accessibility platform can help build smarter web and mobile features to foster better product experiences to improve inclusion and protect websites from litigation. That said, there is no information available on pricing for Essential Accessibility tools.
Max Access also offers a free demo and in-depth walk-through to create a picture of what you're getting when setting it up on your website. Besides, it gives a 14-day free trial for your website to have the first-hand experience. This, you can access with no credit card required for an accessible website toolbar, automatic code fixes, and before and after compliance reports.
That said, based on the size of your website, there are paid plans you can subscribe for. These plans include; Typical, Large, Huge, and Mega for less than 1,000; 10,000; 100,000; and above 100,000 unique website pages respectively. Any of the plans mentioned above affords you:
Instant accessibility
Custom toolbar
Unlimited page views
Backend dashboard
Website code fixes
Compliance summary
Besides, a little added amount to any of the plans will unlock Max Access pro, which offers a detailed compliance report, alt-tag manager, ARIA manager, rebranding and white labeling, and usage statistics.
Do Essential Accessibility and Max Access Follow Regulatory Compliance?
Both Essential Accessibility and Max Access help websites to meet recognized and acceptable accessibility compliance standards. Their tools ensure compliance, in common, with the WCAG, Section 508 of the rehabilitation act, title III of ADA, and AODA. However, there's more to what these digital accessibility platforms offer.
Essential accessibility helps with the standard requirement for digital products known as the Voluntary Product Accessibility Template (VPAT). It is an industry-standard measure to follow to work with procurement organizations that don't take accessibility issues with levity.
Conversely, Max Access recognizes the European Union standard (EN 301 549), the Accessible Canada Act (ACA), and the Israeli Standard (IS 5568). The EU standard is used in Public/Government works in EU countries, and it has its requirements for both physical and digital technology. As a framework for developing accessibility standards in Canada, the ACA lays out the goals of enabling website accessibility. Besides, Israel standard governs websites in Israel in line with the WCAG 2.0 Level A.A
Which Accessibility Solutions uses Better Accessibility Technology?
Essential Accessibility uses software and people for compliance evaluation. It does this by automatically scanning for errors across the website in line with the WCAG 2.1 AA level. After that, it uses people with disabilities and assistive technologies to assess the site manually. Unfortunately, for Essential Accessibility, automated accessibility testing tools aren't enough. Though it enables quick evaluation of the most common issues, it can't equate to a 100% success criteria.
On the other hand, Max Access uses a fully automated AI-POWERED technology to make websites accessible with just a single line of code. Within minutes, the website is scanned, analyzed, and updated. It then rescans every 24 hours for any new content or site updates. That's not all. Max Access produces alt tags and descriptive captions on images and photos within seconds. This is done with its robust image recognition AI feature. In addition, the alt-tags and image captioning can be reviewed at the backend and boost search engine optimization. Online ADA offers manual auditing, remediation, and certification. It is one of their biggest services.
Comparing the two Platform Integrations
It pays to get an accessibility solution with easy-to-use tools. Not only that, integrating the tools with other platforms shouldn't be an issue. On that, Essential Accessibility and Max Access offer seamless integration with various websites and Content Management Systems (CMS).
Essential Accessibility Integrations
Essential accessibility comes with fully integrated accessibility. The platform can be integrated with:
Testing tools: Jest, Cypress, and Protractor
CMS platforms: Adobe, Sitecore, WordPress, and Optimizely
Mobile app environments: iOS, Android, and Xamarin
eCommerce solution: BigCommerce, Shopify, and Shopify plus
Max Access Integrations
Online ADA offers manual auditing, remediation, and certification. It is one of their biggest services.
Testing tools:
CMS platforms: Max Access works with all websites and can be integrated with WordPress, Shopify, Wix, and other highly rated platforms.
Mobile app environments: iOS and Android
eCommerce solution: BigCommerce, Shopify, and Shopify plus
Who Offers the Best Customer Service?
Pop-ups like, "Hello! Do you have any questions about digital accessibility compliance?" and "Hey, how can I help you with VPATs? Show how responsive the Essential Accessibility website is to visitors. They offer customer service online during every business hour. Besides, a form is available for customers and visitors to tell where help is needed. The company's contact address is equally available in case there's a need to visit.
On the other hand, Max Access provides FAQs on the website to solve customer concerns. The detailed demo also serves as a way of having their questions answered. In addition, the company offers customer service during office hours from Mondays through Fridays. Customers can also complete and send a form online if they have questions related to sales and support.
Comparing Essential Accessibility and Max Access: A Better Choice?
As an accessibility-as-a-service platform, Essential Accessibility offers automated scanning and manual evaluation of websites. Besides, help is offered through the litigation support team to handle complaints, lawsuits, and demand letters regarding the WCAG-related regulations.
With its UX and development process integration, the digital accessibility solution can work seamlessly with various platforms. What's more, you can always request a demo to know where your website is found wanting and proceed to stay accessible. However, should there be any further questions and/or complaints, you're most welcome every working day to be cared for, physically and online.
Similar benefits are up for grabs when you use Max Access. In addition, you can customize how the accessibility tool will look and work on your website. This will allow you to set desired parameters amongst the various options available without influencing your website accessibility. Finally, if you're skeptical about the paid plans, you can register for the 14-day free plan to feel the experience and gain access to real-time monitoring.
Overall, if you want to get a fully automated solution that starts working immediately, you might want to consider Max Access. Max Access presents more than fifty voice options in 27 languages with its advanced toolbar and screen-reader option.
Conversely, if you want an automated solution but with a touch of manual evaluation to stay compliant, Essential Accessibility is a better option. With this tool, you can even get compliance for your digital products amongst other digital properties including websites and mobile apps.