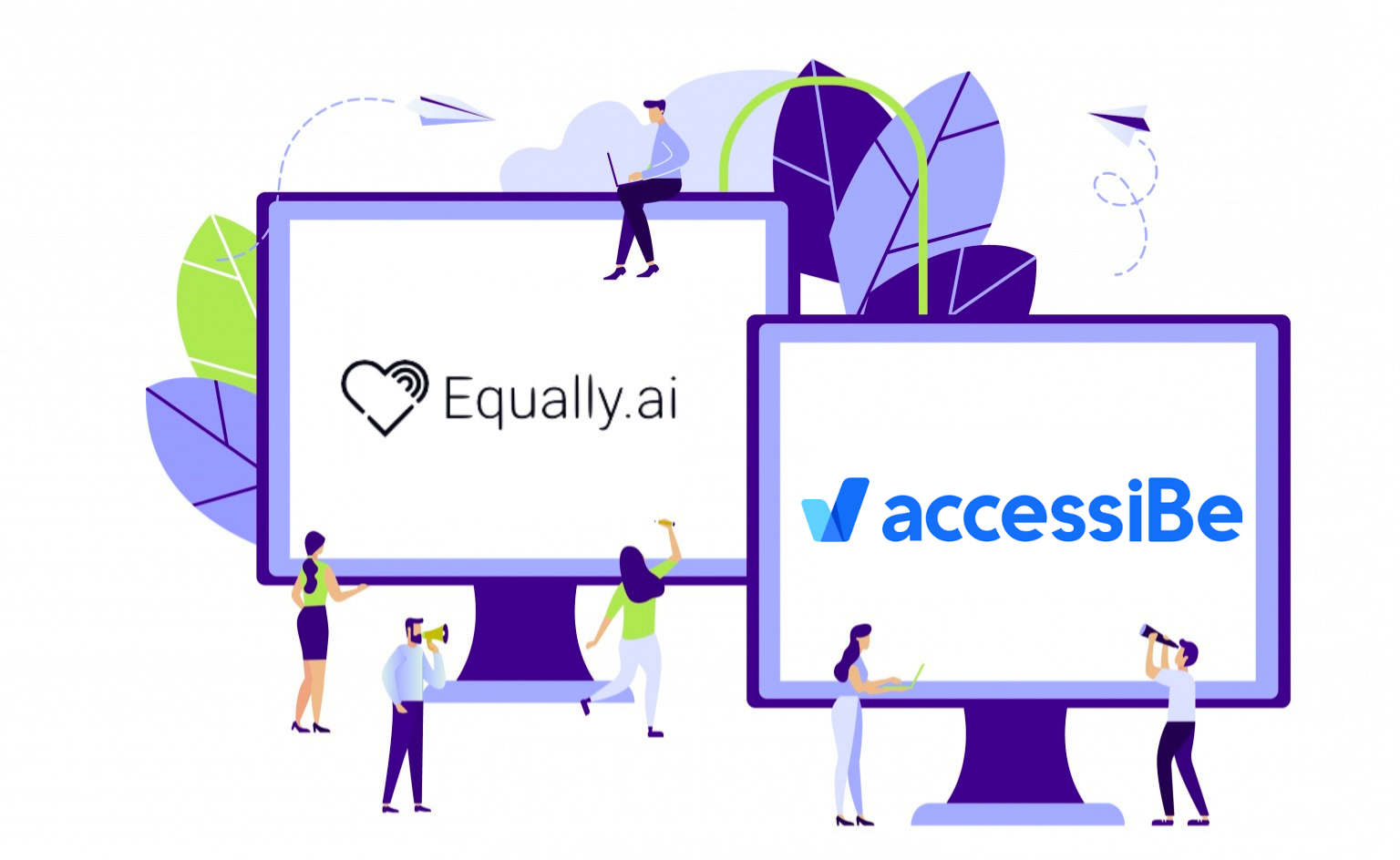 Equally vs AccessiBe Review – Which Platform is the Best Web Accessibility Solution?
In this review, we will be comparing Equally vs AccessiBe. Equally is a newer option, but one that is taking the digital accessibility world by storm. AccessiBe, on the other hand, is one of the more established accessibility solution providers on the market.
With the competition for digital accessibility becoming crucial in the online sphere, tools that can help websites achieve 100% compliance have grown important. There are hundreds, if not thousands of options to choose from. Our website is dedicated to helping you find the perfect accessibility solution for your website.
Now that we have introduced the companies, let us take a closer look at the features that they offer.
Equally vs AccessiBe: Whose Features are Better?
As we have already mentioned, Equally and AccessiBe are both premium accessibility solutions, but which has the better features?
Let's start with Equally. Here is a list of what this accessibility solution offers in terms of tools for battling compliance issues:
Link-skipping
Hotkeys meant for the blind or visually impaired
Animation, GIF, and image pausing when flashes appear
Emphasizing links (to aid the visually impaired)
Image hiding for users with ADHD and the like
Adjustments of the font sizes
ALT Tagging employing Image Recognition Technology
Adjustable navigation of keyboards
Implementing these accessibility solutions on your website/s will keep you compliant with WCAG, ADA, and Section 508 specifications.
But what about AccessiBe? This is what their accessibility solutions offer:
Screen readers
AI keyboard navigation for the motor and visually impaired
ESPs (Epilepsy-safe Profiles)
VIPs (Visually Impaired Profiles)
CDPs (Cognitive Disability Profiles)
ADHD-friendly Profiles
BUPs (Blind User Profiles)
As you can see, both companies have a wide array of disabilities covered via accessibility solutions. However, in our opinion at least, it seems that AccessiBe has focused on making what they offer more accessible as well. They offer an accessibility solution that's simple to understand. Also, their layout and definitions of each feature differ vastly from the rather complicated descriptions provided by Equally.
Apart from that, both companies cater to most disabilities and provide streamlined accessibility solutions to make users' lives easier.
Achieving Compliance: Equally vs AccessiBe – Which Platform is the Most Efficient Option?
When it comes to achieving full compliance with all ADA, Section 508, and WCAG regulations, AccessiBe and Equally offer their fair share of accessibility solutions.
Even though achieving 100% compliance isn't possible with just AI features, both companies offer manual remediation in one way or another. Full compliance will not be an issue with either accessibility solution.
First, let's take a look at how Equally handles compliance. The company has provided users with an "Accessibility Assistant", which is where AI meets manual remediation. Through this assistant of sorts, users gain access to a plethora of customization options. Also, they can access Intelligence Augmentation, which is the part of the process which allows a team of experts to manually complete remediation. This will provide complete compliance. Additionally, Equally's system provides scalability. This means that, no matter how many updates are made, your content will always stay up to date with En 301549, WCAG 2.1, Section 508, and ADA regulations.
Now, when it comes to AccessiBe and its accessibility solutions, they are not far behind. They too adhere to WCAG 2.1, as well as W3C specifications. However, the quality of the services provided by Equally is noticeable. Equally's a dedicated team of experts behind their Intelligence Augmentation feature gives them the edge over AccessiBe. That is at least when it comes to the compliance part of the business.
Equally vs AccessiBe: Which one is More Affordable, and Which Web Accessibility Solution Offers More for Your Money?
It is now time to get into pricing. Let's start with AccessiBe. This is their pricing layout:
Standard – $490/year
Large – $1,490/year
Huge – $1,990/year
Jumbo – $3,490/year
Their Standard option in particular is very affordable, with a load of pages that can be handled growing along with the price. And how about Equally?
Small – $479/year
Medium – $1,479/year
Large – $1,979/year
Unlimited – $3,479/year
This pricing structure is also affordable, but which one offers more bang for your buck?
Well, the Unlimited option at Equally is unlimited, with a million or more pages able to be handled. With AccessiBe, however, even the Jumbo option can handle only up to a million pages of content. This means that, when it comes to prices, Equally grades out as the more affordable yet efficient accessibility solution.
Client Care and Customer Service at Equally vs AccessiBe
While most of what Equally offers is more than impressive, their customer service falls a tad short. There is no phone service, which is universally considered the most important form of customer service. Apart from not having phone contact, they do offer a Live Chat option, as well as email.
Unfortunately, the same issues plague AccessiBe. They have neither phone nor email contact, so their situation is even direr. The only way to contact the dedicated team of experts at the company is through live chat or contact forms. That is not particularly impressive. Add to that user reviews which state that their support staff would take as long as 3 hours to respond on the Live Chat, and you will notice that it is not their stronger side.
When it comes to customer service, the decision is clear. Equally offers more options, and therefore ranks better than AccessiBe.
The Positives at Equally vs AccessiBe
To make our review more accessible, we have presented you with two charts, one of the positives, and one of the negatives of AccessiBe vs. Equally. This will facilitate easier cross-referencing. First, here are the positives:
| | |
| --- | --- |
| Equally | AccessiBe |
| Statements on Accessibility are provided | 24/7 compliance assured |
| Installation is very simple and streamlined | Although it enhances web accessibility, the application does not affect website speed or hinder any technical functioning. |
| Full compliance does not affect the performance of the website | Websites become ADA and WCAG compliant |
| Lots of options for customization | Litigation Support Package provided |
| Compliance is guaranteed around the clock, regardless of updates | Statements on accessibility provided |
| Provides ADA, Section 508, WCAG 2.1 AA and EN 301549 compliance | |
The Negatives at Equally vs AccessiBe
Next, let us get to the more negative aspects of the two companies:
| | |
| --- | --- |
| Equally | AccessiBe |
| Customer service does not entail support via phone | Although accessiBe touts its compliance solution, they do not provide it fully. Manual remediation is required to achieve 100% compliance. |
| No built-in dictionary provided | Customer service is not the most efficient |
| | No customer service via phone |
The Final Verdict: Making a Decision About Equally vs AccessiBe
Equally vs AccessiBe – Which one will it be? We have finally concluded our review. Both AccessiBe and Equally are capable of handling the vast majority of your accessibility needs. Which is the better accessibility solution, however?
Well, in this case, Equally and their more accessibility solution offering are taking the cake, simply because they offer more than AccessiBe. They offer everything that AccessiBe does, plus some additional and useful features. Among these is Intelligence Augmentation, where users of Equally can get a team of experts to handle manual remediation that will bring your website up to 100% compliance.
AccessiBe has its good sides, such as being incredibly easy to install and use, as well as providing ongoing compliance. This means that their system will keep in step with any updates that users might make. Unfortunately for them, Equally is a few steps ahead of the curve, so it is our pleasure to recommend the company and their digital accessibility solution.