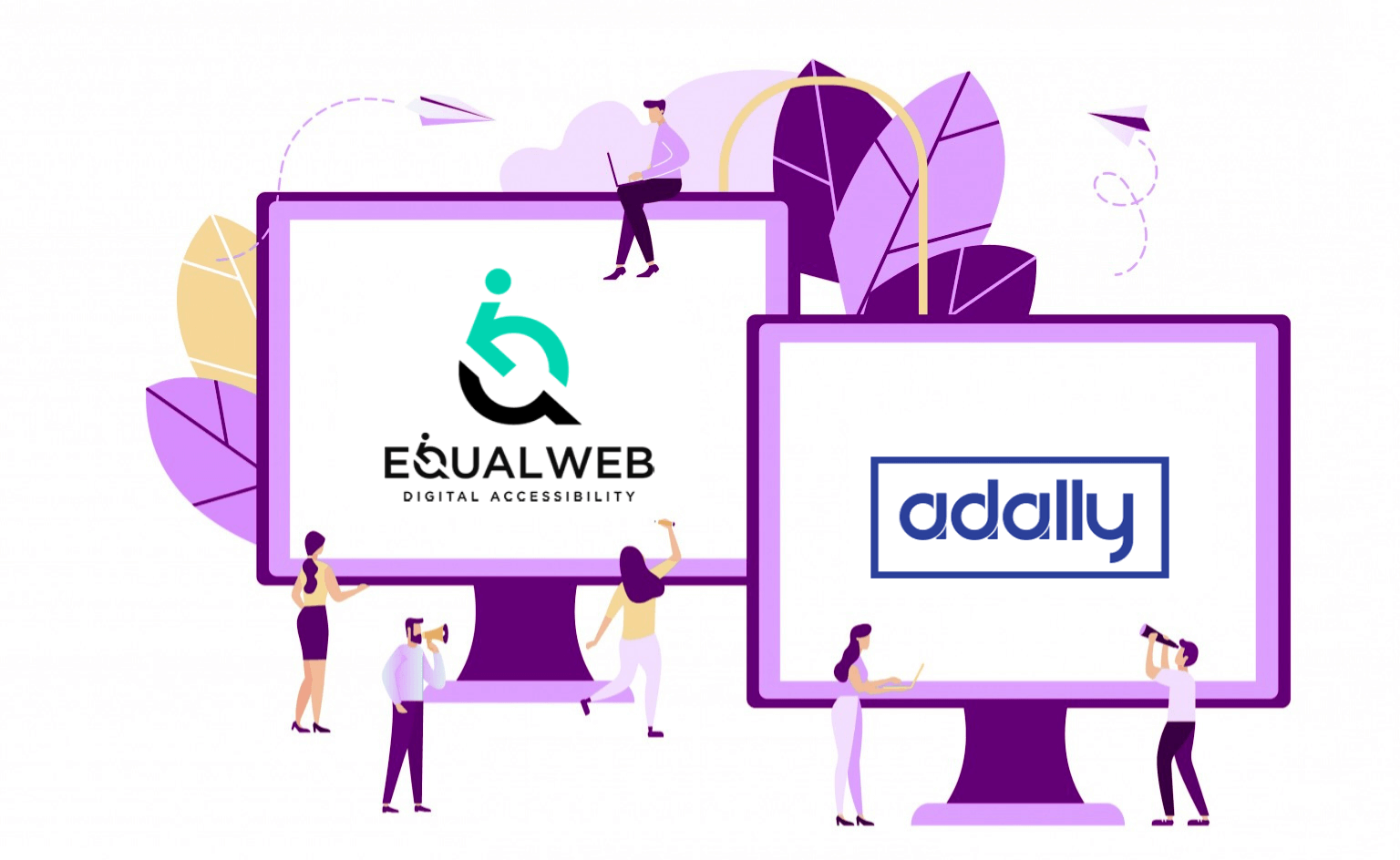 EqualWeb vs Adally review will examine which has the perfect tool for website owners to end their website's accessibility issues.
And while several tools come with huge promises, not many deliver. However, in an industry where performances are often exaggerated, Equalweb and Adally have proven to be different, matching their big promises with even more extensive performances.
For Equalweb, they offer game-changing services for websites that choose to embrace them. They have employed over two decades of field experience, working with people living with disabilities in designing an accessibility solution that uses highly efficient automated and manual optimization and remediation process. Interesting, therefore we are comparing web accessibility solutions such as EqualWeb vs Adally.
On the other hand, every website desirous to be scanned for basic accessibility issues can always rely on the free homepage scanning of Adally's Pseudo assistive technology platform. Furthermore, Adally also offers a comprehensive evaluation of websites and other web-based platforms using highly efficient digital accessibility technology.
Thus, these solutions' efficiency often poses the question of "Which is the best between Equalweb and Adally?". In determining this, certain features must be compared to help you make a choice. Continue comparing EqualWeb and Adally while continuing reading.
EqualWeb vs Adally: Comparing The Web Accessibility Technology
Most solutions either offer fully automated evaluation support to remediate accessibility issues or provide a manual intervention process where their team of experts works on the websites to optimize its accessibility rates. The automation process is fully supported by artificial intelligence to power accessibility solutions. However, no current AI-based solution can achieve a hundred percent compliance rate, with web accessibility guidelines, without any form of manual intervention.
Thus, leading web accessibility solutions have been embracing the complexity and shortcomings of both methods to provide optimal compliance results. On this note, Equalweb has embraced both manual intervention and automated options. With Equalweb, you get to choose whether you want your website accessibility issues to be resolved manually by Equalweb's experts or you wish to explore the cheaper automated option.
The automated scanner helps Equalweb users run a scan through their web pages without stress, and you can trust the solution to bring a full report of all accessibility issues found on your websites without stress. However, the manual option gives a more detailed and comprehensive accessibility audit that critically scrutinizes web structures, pages, layout, templates and designs, and content through the eyes and hands of experienced professionals. Thus, a truly accessible website becomes achievable.
Similarly, Adally also embraces both manual and automated options. Their automated testing tools scan through web pages to identify accessibility issues and gives pointer feedbacks to help you achieve an accessible website. They also have experts who conduct a more comprehensive audit where all web pages are critically scrutinized for error and guidelines violations. A detailed report is given on these errors and how to fix them. They also offer a bi-monthly automated scanning and manual audit to ensure your web-based platforms are never in violations of any accessibility guidelines and requirements.
Regulatory Compliance: Whose Compliance Is More Comprehensive?
While the universal web accessibility guidelines include the ADA Guidelines and the WCAG 2.1 Level AA Guidelines, it isn't alien to find countries having more homegrown guidelines that websites operational within such domains must follow. Adally's compliance solution is somewhat conservative on this note. Adally audits and considers breaches and violations of the ADA Guidelines and the WCAG 2.1 Level AA Guidelines only.
While this is sufficient, if this is all that you require in your country to comply with, certain business owners with web-based platforms may wish to have something more peculiar to the set of guidelines available in their countries. Thus, Equalweb seems a better option on this note, providing an accessibility solution that covers not just ADA and WCAG 2.1.
Aside from offering services that provide comprehensive auditing of web pages, Equalweb also puts certain countries' regulatory standards into contemplation. Thus, the European EN 301 549 Guidelines affecting all European Union states and other specific web accessibility guidelines of countries such as Canada, Australia, and China are all covered by Equalweb. Furthermore, the scanning and remediation processes are carried it without altering the codes of your web pages.
Accessibility Widget: Which Solution is Preferable?
Settling for an accessibility solution with tools that are easy to use and easy to integrate with other platforms is essential. These widgets and tools reflect immediate accessibility across your entire web page and make them more user-friendly. Also, these tools are very adaptive and compatible with other website-creating platforms.
The accessibility widgets in Adally include screen modification, cursor alterations, contrast adjustment, keyboard navigation, font alteration, and magnification. They also have other tools your websites may adopt for more user-friendly accessibility. These tools include image titles, animation and flashing object decline option, highlight ink, and header, as well as smart navigation.
These widgets are easy to install and activate and are usable on specific content management software such as SquareSpace, Shopify, Weebly, Wix, and WordPress. Interestingly, Adally offers some of these widget options for free to all web-based platforms. Although, more comprehensive versions of these widgets may be restricted to subscribed websites only.
Equalweb offers almost the same tools and widget options across content management software and browsers. They also offer some unique features such as Blink Blocking, voice command, and virtual keyboard. Equalweb also helps to surmount language barriers by providing a language adjustment tool that allows users worldwide to translate information to any of the selected languages Equalweb offers. Thus, Equalweb becomes a more exciting option for websites and business owners looking for added advantages solutions that offer aside just web accessibility guidelines compliance.
Customer Support
Providing customers with instant support when they need it is vital, and both Equalweb and Adally seem to be doing excellently in this regard. They offer 24/7 customer support to their users, and they embrace all forms of communication mediums necessary in providing the needed support.
Thus, you will find their customer service ready to attend to you via mails, address, phone call, and you could even book an appointment with any of the solutions to have a personal chat with their customer representatives. Sadly, both Adally and Equalweb don't have the live chat features as part of their customer support mediums.
Pricing: Which Is Favorable?
Equalweb offers free accessibility plan that is quite impressive. For a simple webpage, the free plan they offer could be enough to ensure compliance with web accessibility guidelines. The free plans cover features like highlight link and headers, text magnifiers, voice command keyboard navigation, color and font adjustment, image description, and online dashboard. Also, this free plan comes with 24/7 customer support and covers all basic accessibility requirements.
However, when you want a more comprehensive automated scanning and remediation, as well as manual auditing, for a more detailed accessibility check on your web pages, then you might have to subscribe to a plan. Subscribing to a plan gives you access to added accessibility features such as blink blocking, smart navigation, screen reader adjustment, automatic alternative text feature, and screen reader adjustment.
Pricing EqualWeb
For Equalweb, the prices start from $390 for small businesses, $490 for medium, and $1090 for websites with 500,000 visitors and over 10,000 web pages. They also have a $1690 plan for websites with one million visitors and over 100,000 web pages.
Pricing Adally
Adally, on the other hand, does not provide specific charging rates for their services. Like Equalweb, they offer a limited free plan covering almost all the features Equalweb's free plan covers. However, pricing for a more comprehensive accessibility auditing and monitoring is always tailored to each website's specifics, depending on certain factors.
These factors may range from whether such a website is facing a civil case, the rate of change the website is experiencing, the number of web pages, and a lot more. Their customer support is often there to give quotations when needed. Thus, it becomes difficult to assume an average price range for the services Adally renders.
Comparing Equalweb vs Adally: The Final Verdict
Choosing a web accessibility solution can take some time, comparing different options before you make the right choice is important. We are helping you in this process and writing this article in which we are comparing Equalweb with Adally. Comparing the two was quite tricky as both seem to be designed to meet the needs of different standards of web-based platforms. Thus, if you are looking for a pretty effective accessibility solution to meet the need of a website with very few web pages, Adally is perfect to meet your immediate need. You will get most of the basic accessibility compliance features for free.
However, Equalweb seems to be for websites and web-based platforms with several visitors and several pages where owners are looking at achieving total compliance with all ADA and WCAG 2.1 requirements and even other peculiar accessibility standards across the globe. Although Adally hasn't provided standard pricing for their comprehensive plans, there is no doubt that Equalweb is quite expensive.
Away from the price, the features and plans Equalweb offers easily give it up as a better Choice than Adally. They have quite impressive automated remediation, and they offer excellent manual auditing with experts on the job. They also offer multi-lingual features that allow information to be interpreted in most of the commonest languages in the world. Besides comparing EqualWeb with Adally, we've also compared UserWay with AccessiBe.