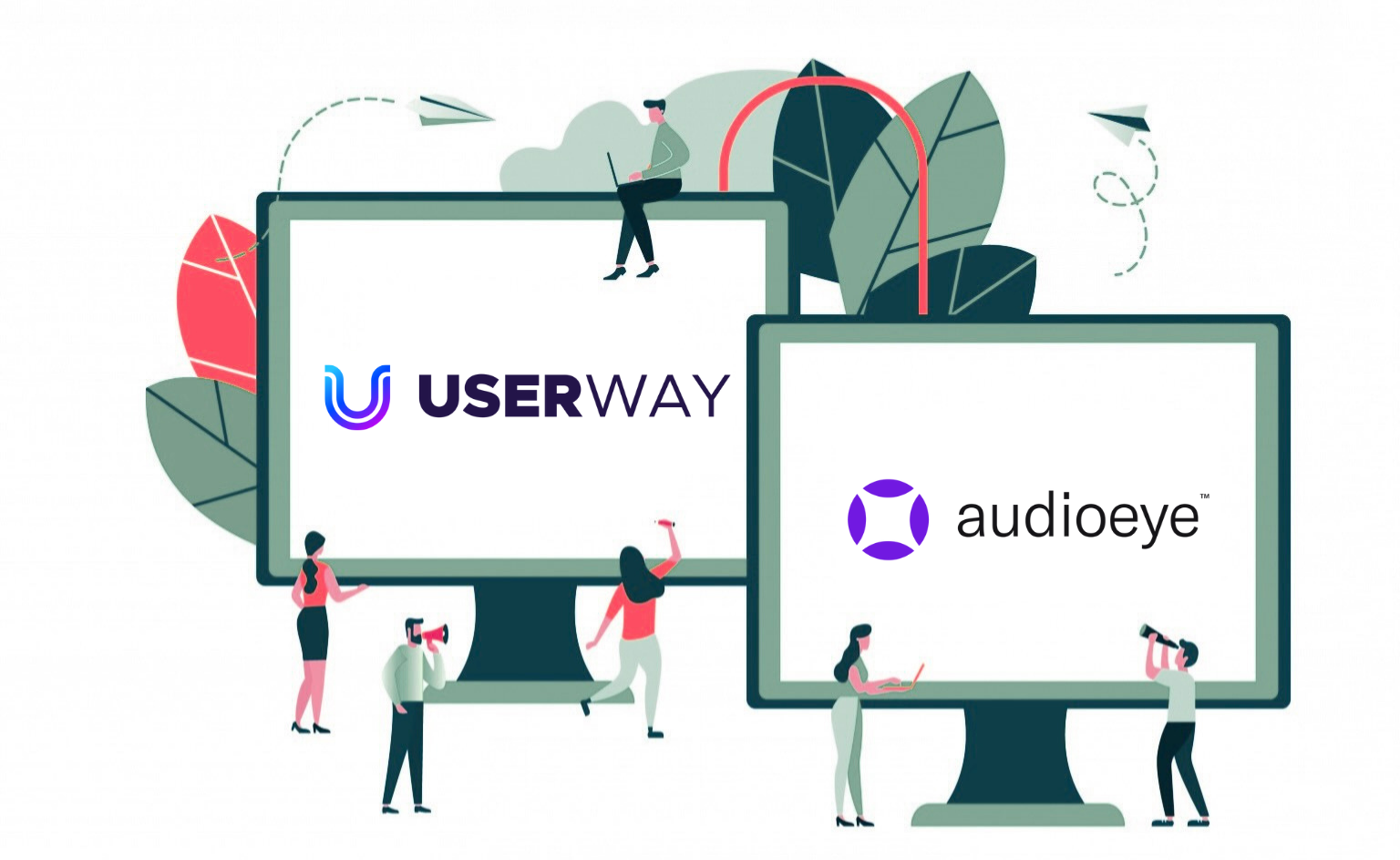 UserWay vs AudioEye review hopes to help users choose the right option for them.
Web accessibility is becoming an ever more relevant part of Internet life. More and more regulations that are looking to prevent discrimination online are springing up, and so do solution-providers. Therefore, we have provided you with this review in which we are exploring the best web solutions in the business.
Let us start by introducing UserWay first. What they offer are accessibility solutions that are compliant with the following regulations:
The company also has an accessibility widget to offer, which is run by AI. We will take a longer look at all the details regarding the company throughout the review For now let us introduce AudioEye as well.
Understanding digital accessibility is no trivial matter, AudioEye takes the issues related to it very seriously, and offers compliance with ADA and WCAG 2.1 regulations. The company used to be a research and development company ten years ago. They have since changed their purpose and now handle web accessibility issues. Through this change, they have grown into one of the most relevant solutions in the industry.
AudioEye also uses AI, but they do it for running accessibility scores, providing scores from 0 to 100. The algorithms used are very advanced and catch almost all errors. An example of the process is their page ranking system, providing scores for accessibility.
Now that we have established what the purpose of this review is, let us start exploring two of the best web accessibility solutions out there. The next segment we will be researching is the features that both companies offer.
Options and features: A rundown of AudioEye and UserWay capabilities
Tables are probably everybody's favorite way of comparing things, so we have kept it simple and put the two companies side-by-side to figure out whose features are superior:
| | | |
| --- | --- | --- |
| Features | AudioEye | UserWay |
| Accessibility training | ✔ | |
| Mobile accessibility | ✔ | |
| Accessibility services | ✔ | ✔ |
| Accessibility audit | ✔ | ✔ |
| Accessibility statement | | |
| Accessibility Scanner | ✔ | ✔ |
| Accessibility Widget | | ✔ |
| Content moderator | | ✔ |
| Automation | ✔ | ✔ |
Exploring the best digital accessibility solutions: How do they use AI at AudioEye and UserWay?
Automated technology is playing an ever bigger part in all parts of our everyday lives, so it is no surprise that digital accessibility solutions are also implementing some AI solutions. Let us start the comparison between AudioEye and UserWay offering with the latter.
What UserWay offers isn't full automation, but working together with the AI to find solutions to web accessibility issues. Their AI features don't solve issues themselves, but rather just point them out. The customer will then have to fix the problems indicated. On top of that, they do not offer regular, daily updates.
Moving on to the audits. It is not hard to gather that UserWay does not have the quickest or the cheapest solutions on the market from user testimonies. Some audits can take as long as 2 weeks (14 days) to complete, putting them far behind the competition in terms of efficiency. On top of all of this, the prices are insane, with audits of approximately 100 pages being as expensive as $20,000!
UserWay is neither the best nor the most cost-effective when it comes to AI features, so let us move on to AudioEye.
This is how the AudioEye system works: The company assigns accessibility scores based on tests run by their AI, which will then rank the levels of compliance from 0 to 100. Their AI is very advanced, and its algorithms indicate any problems that end-users might face. The company incurs service costs, which is how they make money. They charge per page to cover costs, hopefully making them accessible to everybody, even those with disabilities. What does their AI do, you might be asking yourself?
Well, here is a list of its functions:
Monitoring Websites: WCAG tests and scans are run via AI to hunt down issues with compliance. You can choose whether you'd like scans on a monthly, weekly, or daily basis.
Reports on Accessibility: The AI provides accessibility reports, through which the WCAG risks are brought to the client's attention.
Remediation of the Mobile app and PDF: AudioEye will make sure that your mobile apps and PDF are also accessible to those with disabilities.
Now that we have looked at how the system functions, here are some of the issues that it can help with:
CSS Foreground without a background detected
A nested table is found
The Form field label is empty
Any empty headers that are noticed
Improperly used list tags
No title for Frame
A visual field that is required doesn't have a necessary attribute
Links with no text are found
New windows are being opened without warning by Links
Documents not having language attributes
An alternative to a link image is redundant
No Alt text on an Image
No warning labels on downloadable documents
It is hard to say whose AI does more to improve Web Accessibility, but, if we had to make a decision, it would likely be AudioEye, simply because their AI is used in more ways than the UserWay one.
AudioEye vs UserWay: Comparing Compliance
If you are looking for "the strongest legal mitigation for ADA compliance and accessibility available today, UserWay claims to be the ideal choice for you on their homepage.
Even though this claim is rather bold, there is evidence to support it. The company makes sure to constantly stay up-to-date with WCAG 2.1 and ADA compliance requirements both.
You might not be clear on why compliance is of such importance, but it makes sure to protect your business or website from lawsuits related to accessibility.
The testimonials of users are provided on UserWay.org, where they indeed confirm that the service is quality, with very few compliance-related complaints to be found, and quite a few lawsuits having successfully been swatted away thanks to the high compliance standards at UserWay.
Now, what about AudioEye?
Well, all of their schemes offer compliance with EN 301549, Section 508, ADA, and WCAG AA 2.1 regulations. Check the pricing section to see what each of the four options at AudioEye provides.
There are options to achieve full accessibility or to take steps towards it. An important question to know the answer to is "Can you or your team resolve all the issues that are detected, or do you need AI assistance to do so?"
Choosing more manual options is OK if the answer was "I/We can handle this", but if you aren't able to, then one of the options where AI is more involved should suit you. Additionally, the volume of visitors to your website and your budget should also be important factors in your decision-making process.
Exploring pricing in AudioEye vs UserWay: Which company offers more for your money?
Pricing is always one of the biggest concerns when looking at any sort of tool that could help your business. Therefore, we are going to compare how the prices look at AudioEye and see if they offer more bang for your buck than UserWay.
Quite a few options are at your disposal when it comes to UserWay and its widget plans. Here are some of the possible options:
If you'd like the basic package, you can get it for $49 a month. It will handle all websites with no more than 100k visitors on the same monthly basis.
The standard account iteration is for those with a million or more views/pm, and costs around 107 dollars monthly.
If your website hosts over 10 million viewers, it will cost you $ 299/pm.
No matter which option you choose, a two-month subscription comes free of charge, if you subscribe to the package for a year, that is. Should you choose the medium or large options, you will even gain access to an account manager.
A multitude of other features are also provided by UserWay, like the following:
A page for modifications (This is where features can be disabled, enabled, or reordered).
Stats of users (These indicate which types of users are the most represented).
Branding that can be customized
White labels (Removal of UserWay's logo)
All of these cost $10/pm at the least. Now that we are done with UserWay, let us move on to AudioEye. Reasonably priced and offering top-notch service, AudioEye has something for everybody.
Four account options are in place:
The Simple Plan is for those with no more than 2K views/per month and is priced at $39/per month or 399 p/year.
Advanced plans cost approximately $99/pm or $999 p/year, and are meant for websites with traffic of around 20k views.
The Commercial option is for websites with 200k+ visitors a month and costs $599/pm or $5,999/year.
Finally, the Enterprise option's price is not fixed and depends upon what the client chooses in terms of custom options and designs.
All three of the "Managed" plans (Commerce, Advanced and Simple) also come with 30-day trials, free of charge.
When it comes to pricing, UserWay trumps AudioEye in almost all sections. It is more affordable and offers more per-user level. The one thing that AudioEye has over them is their Enterprise option, which is a luxury not provided by UserWay.
Comparing Client Care and Customer Services at AudioEye vs UserWay
Starting with UserWay, it is clear that customer service was not one of their priorities. They have a paltry two methods for contacting care staff, and one of them is very inefficient. Contact can be achieved through contact forms or the Live chat window, which is a little more efficient.
Their widget is a different story. It can be customized in quite a few different ways, and every tool works in the service of providing equal access to all Internet users, no matter whether they use keyboard-only options, screen readers, or suffer from any other disability.
Staying on top of the game is a priority for AudioEye, so they are sparing no expense to do so. Apart from their huge library of tutorials, invitations are sent to companies for live webinars, and where Enterprise and Managed customers can learn about the newest trends and get invaluable insight into the inner workings of the industry. If you need to report any digital accessibility issues, helpful staff is on hand 24/7 to help you with anything you need.
Positives and negatives in UserWay vs AudioEye:
UserWay positives:
Customize toolbars
An efficient and fast process for configuration
An accessibility widget that is state-of-the-art and automated
UserWay negatives:
They do not guarantee 100% compliance
No customer service through the phone
Only finds issues, doesn't solve them
Will require you to handle issues manually once they have been located
AudioEye positives:
Complementary tools for checking the remediation of web pages
Provides a warranty for Accessibility
Provides training in the use of legal trends, trends related to digital accessibility, and some of the freshest features on the market.
Offers 30-day trials free of charge
Combines manual solutions with machine learning to form a formidable combo
AudioEye negatives:
Live Chat is not available
The toolbar doesn't guarantee compliance
The final verdict
We have finally gotten to the end of our review, where we will provide our final assessment finding the best web solutions: Comparing UserWay vs AudioEye.
Our conclusion for this review is as follows.
While AudioEye doesn't provide the best customer service options, nor does it guarantee complete compliance, UserWay also has its bad sides.
They too don't guarantee full compliance, nor is there a phone option for Customer service. Additionally, extra work is required when handling issues manually, because the program only finds problems, it doesn't resolve them.
However, both have their good sides as well.
For instance, UserWay has a very complex toolbar that has many options for customization, as well. Their configuration process is also very quick and efficient. Finally, their accessibility widget is top of the range and has AI capabilities.
AudioEye also offers a ton of features that are new and can be tailored to your needs. They also provide an Accessibility warranty. Additionally, 30-day trials are offered completely free at the company. Finally, they too offer a mixture of manual and automated options.
It is never easy to choose which tool to used to improve your website, but if he had to pick, we would likely go with AudioEye, simply because they offer a per-user service that won't just find issues but will work with you to resolve them. UserWay's system doesn't do this, requiring you to do extra work manually, which is why AudioEye is the superior option in our humble opinion.