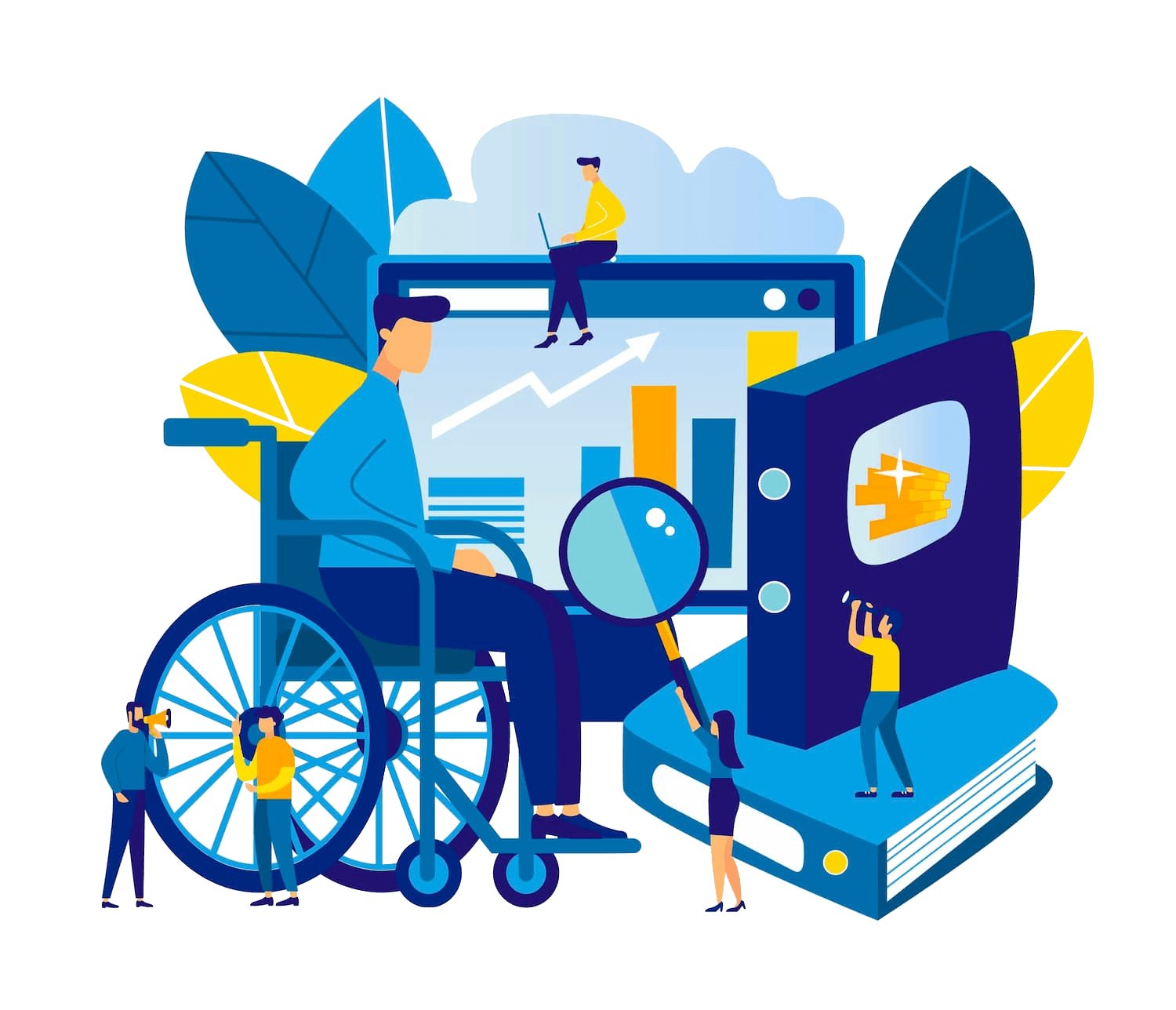 Unquestionably recent statistics have shown that one out of every four adults in the United States has a disability? That equates to 25% of the entire U.S. population having difficulties doing basic everyday chores. This involves using the internet and accessing its material. So what exactly does website accessibility imply? Websites and digital information must be accessible to persons with disabilities. In continuance, web accessibility also refers to the goal of eliminating as many obstacles as possible to make your digital information available to the public.
The Beginning of Web Accessibility
1. The History of Web Accessibility
The Rehabilitation Act of 1973 was a breakthrough moment in the history of persons with disabilities. This legislation established the foundation for online Accessibility. The legislation makes it illegal for government entities to discriminate against individuals with disabilities.
The Americans with Disabilities Act (ADA) was signed by President George H.W. Bush about 30 years ago. Title 3 of the legislation makes it illegal to discriminate against people with impairments in public places. Later, the Department of Justice (DOJ) acknowledged that websites are considered places of public accommodation.
Section 508 of the Rehabilitation Act was modified in 1998 to include digital Accessibility. The first Web Content Accessibility Guidelines (WCAG) were released a year later.
2. The First Case of Web Accessibility
A blind man named Juan Carlos Gil filed a lawsuit against Winn Dixie Stores Inc. in 2017. He brought the lawsuit because he was unable to access their Website using screen reader software. The court ruled in favor of the blind man because websites are regarded as places of public accommodation and must be accessible under Title 3 of the ADA. The business had to pay USD 250,000 to make its Website legally compliant. The Gil vs. Winn Dixie case established a precedent for future lawsuits involving website accessibility.
Explanation of Web Accessibility
Laws and their International Applicability
The World Wide Web Consortium (W3C) maintains a policy list. Each nation has its own set of rules regarding website accessibility. Section 508 of the Rehabilitation Act (as modified) and the Americans with Disabilities Act (ADA) are in effect in the United States. While the European Union has EN 301 549 and the United Kingdom has Accessibility rules as its set of legislation to address website accessibility.
Consequences of Noncompliance
Negligence and refusal to comply with these laws will result in a lawsuit against you. With a significant rise in the number of cases filed in recent years. Specifically, 11,053 lawsuits for Tier 3 violations in 2019. These statistics demonstrate the importance of adhering to website accessibility standards.
Policies and Procedures
In 1999, the World Wide Online Consortium (W3C) published the first web accessibility guidelines. The initial version of the Web Content Accessibility Guidelines (WCAG 1.0) had 14 standards. They addressed the fundamentals to gain Accessibility.
Below are the 4 principles for WCAG 2.0, in 2008 when it was first created:
Perceivable implies that the material must be seen and that nothing is overlooked.
The term "operable" refers to the ability of users to utilize the Website in a variety of ways.
Understandable means that visitors must comprehend the information on the web page and have no problems.
Robust implies that the material can be used by a wide variety of users, including assistive technology.
Finally, the 2018 version of WCAG 2.1, which can be named as the most recent version of the Guidelines, is recommended by the W3C. These standards categorize Accessibility into three categories, each of which is more stringent than the preceding.
The first level is level A, which is the most fundamental and has the fewest prerequisites. The next level of Accessibility is A.A., a medium degree of Accessibility that is sufficient to accomplish Accessibility. AAA is the most complicated and challenging level to complete, and it is not very practical. It is suggested that at least level A.A. of the WCAG accessibility rankings be achieved.
Types of Disabilities
The following are some of the most prevalent disabilities that create obstacles to online content access.
This is the most frequent impairment experienced by individuals when using the internet. Complete blindness, poor vision, color blindness, and other forms of visual impairment are all examples of visual impairment. This kind of impairment affects about 2.2 billion individuals worldwide.
According to WHO, almost 2.5 billion individuals will have some degree of hearing loss by 2025. This demonstrates the extent of the effect that this disability will have in the future. Hearing impairment makes it harder to use websites that include audio and video content.
Injuries that affect mobility or motor function may be momentary or permanent. As a consequence, using a mouse or keyboard to interact with the computer becomes challenging. Aside from unexpected accidents, this disability may also be caused by old age.
Cognitive impairment is a neurological condition that causes a person to have difficulty thinking and comprehending the content of the internet. This impairment has no relation to age and may develop at any stage of life.
Obtaining Web Accessibility
How can Accessibility be achieved?
Obtaining the WCAG AA rating is not the most challenging task. The implementation may be accomplished by concentrating on each disability and implementing the alternatives listed below.
Provide alt text for pictures for individuals who are blind or visually impaired. This may assist them in comprehending what is shown on the screen while utilizing screen reader software. Create your Website in such a way that a screen magnifier may zoom in up to 200 percent without disrupting the web page's information.
Individuals with hearing impairments may benefit from subtitles and captions to the audio and videos on the website. They can read the material and comprehend what is being stated.
Making your Website's keyboard the only one that can be used can assist you in catering to individuals with motor impairments. Because using a mouse under these conditions may be extremely difficult, a website that is only accessible by keyboard could address most of the issue.
Finally, individuals with cognitive impairment must include information that is simple to comprehend and free of jargon. Use appropriate color contrast to prevent users from having seizures while engaging. Leave a lot of white space to make it simpler for them to browse.
Web Accessibility Recommendations
With pictures, use alt text.
Add captions to videos.
Utilize assistive technology such as screen magnifiers.
Check to see whether your Website can be viewed only via the keyboard.
Use adaptive techniques such as raising the size of the text in headers.
Mobile devices should be used to test websites.
Include a transcript in the material.
Use appropriate color contrast.
Have enough white space in your material to make it simpler to access.
Use PDFs that are readily available for your material.
Check to see whether all of the forms on the Website are accessible.
Market entry of accessibility solutions
Because many lawsuits are being filed and individuals are losing money in fines, accessibility-providing websites have joined the market. They will test your Website and offer a solution to make it WCAG compliant. Using these services may also assist you in making your Website accessible.
AccessiBe is an example of a solution provider in this category. It was established in 2018 and has since been the preferred option of many website owners. It is now one of the top accessibility providers globally, intending to make the internet accessible by 2025.
UserWay is another excellent supplier of automated accessibility solutions. This service provider is preferred by over 980,000 people worldwide.
Web Accessibility Assessment for all Websites
The key thing to keep in mind is to detect accessibility problems as soon as possible. Perform a self-evaluation as if you were a website user. Find themes by carefully analyzing each webpage. However, this may not be the greatest practice and will take a significant amount of time. For assessment, you may also utilize automated tools and websites. These are pre-written programs that process a large number of web pages at once. The only disadvantage is that the verification procedure must be repeated. The best approach to test is to utilize both techniques at the same time. Going hybrid will ensure that the assessment is completed correctly and in all aspects.
Outcomes
1. Advantages
Compliance with accessibility regulations not only protects you from litigation but also offers many additional advantages. The most important benefit is that the Website does not crash due to a sluggish connection and works well on tablets and mobile devices.
Other benefits include lower maintenance costs since your Website will already be in an ideal location and cheaper upgrading it. Making your Website accessible boosts its rating and helps with SEO. Corporate Social Responsibility (CSR) is also accomplished via Accessibility, which improves brand image.
2. Brands Taking a Stand for Accessibility
Apple, Microsoft, and Facebook, among others, have all expressed concern about Accessibility.
In the year 2000, Microsoft introduced its on-screen keyboard. They also included a text-to-speech option to make their U.I. more accessible. Apple, on the other hand, launched VoiceOver, a screen reading function, in 2005. To gain access, they have also incorporated accessibility features in their products, such as watches.
Bottomline
To conclude this guide, we must acknowledge how technology has become more than essential in the current era. It has brought people closer like never. The significance of achieving accessibility has been of supreme importance. This does not mean you have to attain absolute accessibility. Just be practical, follow the guidelines, comply with the laws, and you are good to go