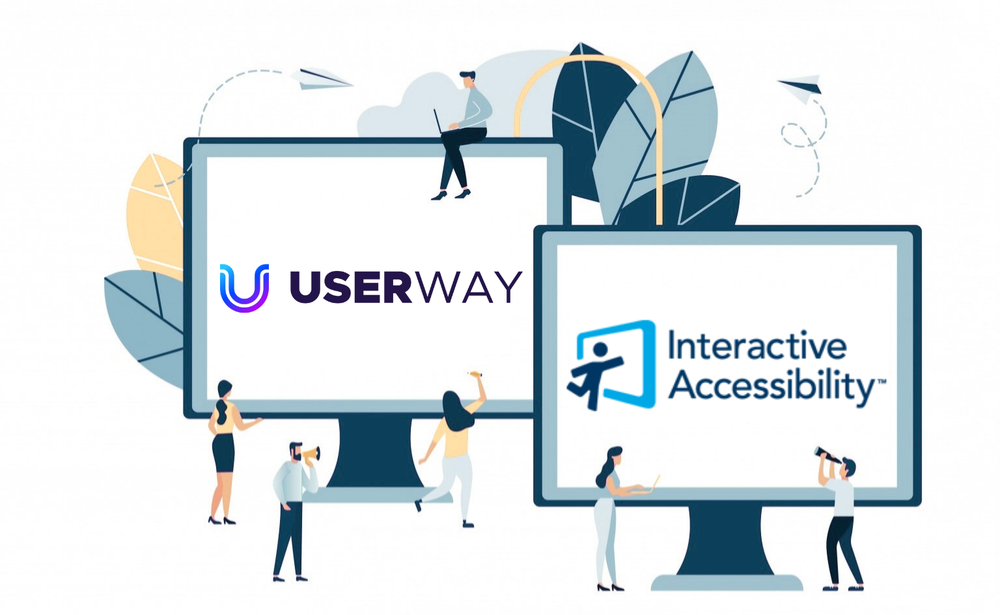 Two top web accessibility tools, Interactive Accessibility vs UserWay
Our reviews provide you with straightforward, side-by-side comparisons for some of the top web accessibility solutions on the market. In this review, we will be comparing Interactive Accessibility vs UserWay.
Interactive Accessibility provides tools for your digital accessibility needs with both a manual and an automated option, supported by AI. This will keep your website compliant and up to date with all regulations.
In addition, their outstanding customer support, which is available 24/7, with the training provided to your staff, quickly places them as one of the superior options out there.
However, on that same prestige category, we may also find UserWay. Their streamlined, AI-powered accessibility widget, is fully customizable and bursting with features. On top of that, the audits they offer are excellent.
One key difference is that they do not solve web accessibility issues. They merely suggest solutions, that will provide your development team with much more insight into all manner of digital accessibility issues.
Interactive Accessibility vs UserWay review compares the two in relationship to
Features
Prices
Mobile Accessibility
Widgets
Process
Pros and Cons
Now passing the introductions, let us dive deeper into the minutia of these two top-of-the-line accessibility solutions.
Interactive Accessibility vs UserWay: An overview
Experience is common in all segments of Interactive Accessibility, but especially in the quality of their digital accessibility solutions. Their offering leans more towards manual options, but a healthy dose of automation is in place to ease the process.
Their process is separated into three phases:
The assessment phase
A Remediation phase
Integration
Every one of these phases does its part to make your website compliant with all Section 508, ADA, and WCAG specifications.
Now that you have learned a little more about the company, let us compare Interactive Accessibility and UserWay.
Like most digital accessibility software solutions, UserWay offers to make your website compliant with
FERPA
GDPR
CVAA
ATAG
HIPA
AODA
EN301-549
WCAG 2.1
ADA, and other legal regulations. 
Its automated web accessibility widget is a particular highlight, but we will get to that in the next section.
Comparing Interactive Accessibility and UserWay's manual and AI features
The easiest way to compare the characteristics is by putting them side by side. The graph below shows who offers what features.
| | | |
| --- | --- | --- |
| Features | Interactive Accessibility | UserWay |
| Accessibility training | ✔️ | |
| Mobile accessibility | ✔️ | |
| Accessibility services | ✔️ | |
| Accessibility audit | ✔️ | ✔️ |
| Accessibility statement | | |
| Accessibility Scanner | | ✔️ |
| Accessibility Widget | | ✔️ |
| Content moderator | ✔️ | ✔️ |
| Automation | | |
Obviously, it will be impossible to go through all of them in one review. Therefore in the Interactive Accessibility vs UserWay comparison review, we will focus on the important ones.  
First stop, Accessibility Training.
Accessibility Training: Who's got it?
Having your staff trained on digital accessibility is critical, so we are pleased to inform you that Interactive Accessibility provides this sort of training. Offering both live and online training solutions, Interactive Accessibility, may cover your training needs. Furthermore, this will give you the ability to conduct your accessibility checks in-house.
Moreover, Interactive Accessibility truly has one of the best training programs in the industry, whereas, UserWay does not offer this service. Next, let us discuss Mobile Accessibility.
Mobile Accessibility
Furthermore, people spend more time on their mobile devices, therefore in our Interactive Accessibility vs UserWay review, we focus on that.
Interactive Accessibility helps efficiently integrate the specifications for mobile accessibility. This significantly improves the experience.
However, the first thing you need to do to reach compliance levels is a mobile accessibility audit. This process will locate all violations of industry standards, helping you get up to date. Meanwhile, Interactive Accessibility scores points, unfortunately, UserWay lacks in offering mobile accessibility. 
Interactive Accessibility vs UserWay: Audits
Interactive Accessibility vs UserWay review examines, whose Accessibility Audit process is superior?
The Interactive Accessibility Audit
Interactive Accessibility's process entails auditing your website. It checks if it supports the needs of people with disabilities. Obviously, always in line with the standards and regulations.
Their experts will seek out gaps in the accessibility of your website and provide you with complex page-level findings through a report. The report will also show an actual level of compliance. In addition, recommendations on digital accessibility solutions will be added to the audit.
In continuance, a progress chart, provided by Interactive Accessibility, will show you which parts of the website should be prioritized and how to improve on them. Lastly, the audit will run a final check to ensure everything is running flawlessly.
On the other hand, Userway does things a bit differently.
UserWay's Accessibility Audit
UserWay Widget might be free, but the company's Accessibility audits are their money-maker. In fact, prices range from $1,850 to $9850 per audit, which we discuss in more depth below.
In brief, this feature examines even the tiniest of details on your webpage and all are done, including the reporting, from UserWays' experts.
Undoubtedly, both options are more than enticing, but, in our opinion, Interactive Accessibility has just slightly more to offer.
They provide everything that UserWay does, but they edge the race out through their progress chart. A feature almost unique to the audit process as a whole. Throughout our Interactive Accessibility vs UserWay review, we discussed unique features of Interactive Accessibility. Therefore, it is only fair to do the same for UserWay. 
Accessibility Scanner and UserWay Accessibility Widget particularly are extremely two amazing features worth highlighting. Let's start with the Userway Accessibility Scanner first.
The UserWay Accessibility Scanner: What is it?
Seeing as it can get tiring keeping up with accessibility standards manually, UserWay offers a much more efficient solution. Their Scanner tool monitors accessibility in real-time and warns about violations the moment they occur.
Thanks to the strength of the programs' infrastructure, completing complex scans in a matter of minutes will be no problem. According to UserWay, their monitoring instrument can complete 30,000 scans of 15,000 pages in less than 60 minutes, which is, frankly, astounding. Each violation will be tagged, and a suggestion on how to resolve the issues will be provided.
This tool is something everybody should want in their digital accessibility arsenal, meaning that UserWay gets a big plus thanks to it. Now, let us get into the minutia regarding the UserWay Accessibility Widget.
UserWay: What is the Accessibility Widget, and how does it work?
The widget provided by UserWay works on JavaScript, CSS, and HTML, along with all other relevant CMS platforms. It has a built-in screen reader, an instrument that reads aloud the information on its website for those with hearing disabilities. This screen reader can be set at a pace that suits the user, but this isn't where the fun stops.
They also have a contrast option, where those with seeing impairments can increase the size of the contents to prevent their eyes from having to strain themselves. All customization options are available, with bolding, line-spacing, and font changes all included to facilitate use by the visually impaired ultimately. That versatility is why the widget is hailed as "Secure, scalable, lightweight yet powerful."
Dyslexia is also a disability that needs tending to, and UsairWays' offering does just that. Their UDF (UserWay Dyslexia Friendly Font) will improve the user experience for those who have dyslexia by providing distinctive symbols, such as having less symmetry and differentiating between "d" and "b" (lowercase) by putting a tail on the "d." Also, they distinguish "O" from "zero" by placing a dash through the zero to prevent confusion. This option supports all Roman and Latin-based languages. This feature is a big feather in the cap of UserWay. Interactive Accessibility, on the other hand, has no such feature.
Now that we have discussed some of the premier features of the two companies' exclusive features, let us get to the automation process.
Comparing Interactive Accessibility vs Userway: The automation process
UserWay's offering is automated to a point, but it cannot be classed as entirely automated. Additionally, unlike AccessiBe and others, the automated features do not remedy issues, but instead, just detect them and inform them. The client will then have to handle the resolution of these problems. Additionally, the company does not offer updates daily.
The negatives just keep rolling in, and they pertain to the audits not being quick enough at UserWay. Some reports take as long as 14 days to complete, which is excessive compared to the competition.
Logically, the larger the number of pages to be covered, the longer the audit will take. On top of all that, the service itself is exorbitantly expensive, with a 100-page audit costing as much as 20,000$.
Interactive Accessibility does have some automation as part of its process. Still, it does not specify where or how to take advantage of it, so we'll take this information with the slightest pinch of salt.
The brand might be working hard on resolving these issues, but they exist nonetheless. Therefore, when it comes to comparison, it isn't clear whether it's better to have this secretive tool that you don't know anything about, like Interactive Accessibility, or to have an over-expensive and under-efficient one, so we shall leave that decision up to you. Next, we shall be getting into the pricing of the two companies.
Comparing prices of UserWay and Interactive Accessibility
When we are talking about pricing at UserWay, many widget plans are available depending on your needs and traffic on your website. The options are extensive, medium or small, as well as there being a custom plan option.
Here is a layout of the options available:
The basic version, for no more than 100k visitors per month, costs $49 every month.
$107 is the price of the middle option, which caters to those bringing in a million views or more.
For those hosting in excess of 10 million viewers, the price is $299/month.
Whichever option you decide you want, you will receive a two-month subscription free if you commit to the year-long package, that is. Both the large and the medium business schemes will give you access to an account manager.
Other features are also part of what UserWay has to offer, such as:
White label – Removal of UserWay logo
Customizable branding
User stats – To figure out what features are the most well-represented
The Modification page – Where reordering or disabling features from the accessibility menu is possible
Each one of these costs at least $10/pm.
Now that we have gotten through UserWay and what they offer, it's time for the dissection of Interactive Accessibility. Unfortunately, we can not provide any information on this since Interactive Accessibility provides only fully customized subscription plans, according to individual needs. You may request a quote here. Now it is time to move on to the compliance part of this review. 
Compliance at UserWay and Interactive Accessibility
Being up to regulations when it comes to compliance is vital in the Accessibility industry. That is something of which UserWay is very proud because they claim on their homepage that they have "the strongest legal mitigation for ADA accessibility and compliance" in the whole business.
A bold claim, no doubt, but one that is backed up by the evidence. They are, as they say, fully and constantly up to date with both ADA and WCAG 2.1 compliance, even though these requirements are sometimes nation-specific.
If you wonder why compliance is so crucial, it will shield your company from potential accessibility-specific lawsuits. The user testimonials included on UserWay.org, the company's proprietary website, also corroborate that the service is top-notch and that it takes care of clients' compliance requirements to the fullest of their abilities, with many lawsuits having been put down thanks to UserWays' compliance regulations.
Now, to Interactive Accessibility. Well, like their competitors, they are also fully compliant with ADA, Section 508, and WCAG 2.0 compliance requirements, so there are no worries about either company. The testimonies of users are positive on their website, so we are pretty much stuck in a dead-lock when the question "Whose compliance is superior?" arises.
Therefore, we will move on to Customer Support, and leave you to make up your mind yourself.

Comparing Client Care and Customer Services at Interactive Accessibility and UserWay
Let's start with UserWay, whose client care service is, to put it mildly, not the most impressive. They barely have customer service at all, seeing as the only two ways of contacting the care staff is via a form that needs to be filled out and is not efficient at all, or through a Live Chat window.
Their widget, however, can be personalized in a multitude of ways, with each tool being designed to promote equal-access opportunities for accessing content, no matter what disability the user suffers from.
Interactive Accessibility, on the other hand, has a client care service that is highly promising, even if it has not been thoroughly developed as of yet. Their team might be small, but they are in the trenches with the users, guiding them step-by-step through the process and providing valuable and essential information and feedback along the way. All of this is done while complying with all the pertinent regulations is even more impressive.
Therefore, we believe that Interactive Accessibility edges out UserWay in this particular category.
Finally, we have kept the pro and con comparison for the end.
Comparing Interactive Accessibility and UserWay: The positives and the negatives
Finally, we are getting to the end of our review. We have chosen to end with a side-by-side comparison of some of the best and worst things about UserWay and Interactive Accessibility. We'll start with the former:
UserWay positives:
An automated, top-of-the-range accessibility widget
Toolbars that can be customized
A configuration process that is quick and efficient
UserWay negatives:
100% Compliance is not guaranteed
No customer service through the phone
It doesn't resolve issues, it only points them out, so staying compliant around the clock while using UserWay is wishful thinking to say the least.
Since it only recommends solutions and doesn't implement them, you will be kept busy manually handling these issues.
Those were the pros and cons of UserWay. Now, let us get into Interactive Accessibility:
Positives of Interactive Accessibility:
The company provides training in accessibility for your employees
Interactive Accessibility has plans to put policies in place that will guarantee compliance in an ongoing fashion
They offer automated solutions free of charge
A detailed, manual way of approaching accessibility
Negatives of Interactive Accessibility:
Live chat is not provided
The statement about Conformance doesn't apply to any pages that aren't mentioned in the claim.
Their accessibility audit can cover not all sorts of web pages.