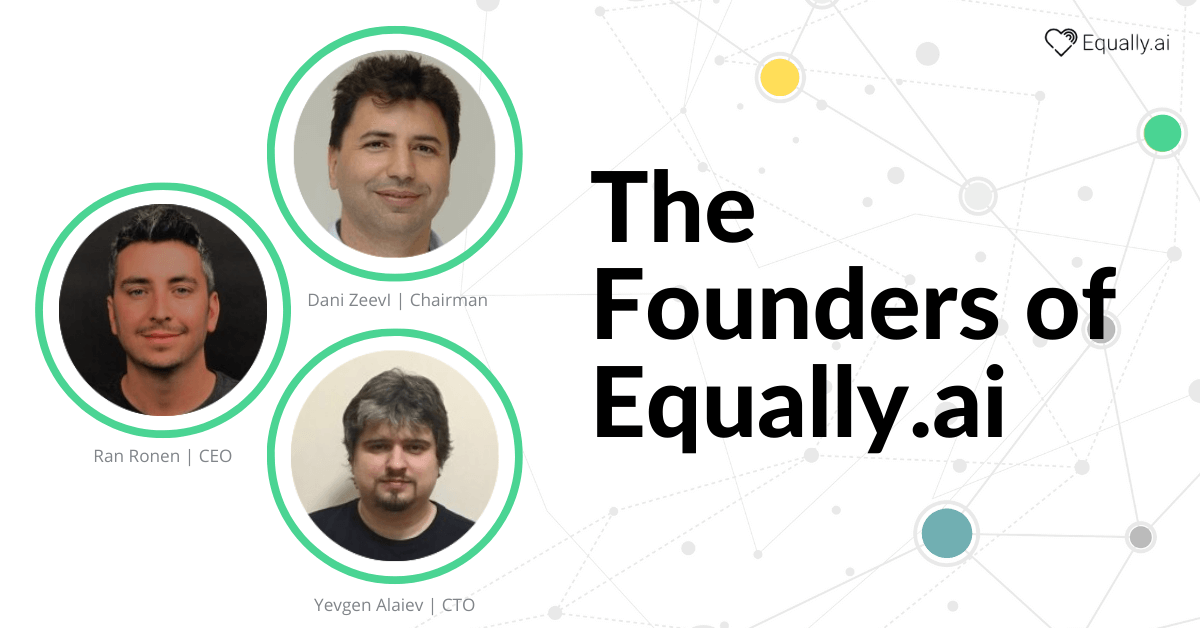 "Equally AI is built in collaboration with the community of people with disabilities"

Founder Ran Ronen, Yevgen Alaiev, and Dani Zeevi talk about their company Equally AI and its unique association with people with disabilities in this exclusive Q&A
Ten years ago, Ran Ronen started his Media-Tech company Offpista. As the years passed, he wanted to use all his abilities to make an impact: "I felt success isn't enough if only I benefit from it. I wanted to use everything I learned to create something good that will make a difference." The internet was such a big part of my life and I wanted that experience for everyone. That is when Equally AI came into his mind and the desire of building the best product in the world for people living with disabilities, with a primary focus on blind people.
Ran, How did Equally AI come to life?
"I established my professional career in the world of technology and every so often I would understand that not everyone had the same experience with technology as I did. This made me interested in accessibility because I saw how much it helped me with everyday tasks and it made me wonder how others could use it and how it could make their lives simpler, or even just more interesting. With the help of my good friend Yevgen the possibility of me forging our own accessibility company started to become real. Yevgen, CTO of Equally AI, had the same vision and together we decided to create a unique Accessibility Solution – research showed them that there was a major gap in options in the market and they saw the opportunity to build innovative software that could help people with disabilities. Dani Zeevi, who is a tech veteran joined the company and together they formed Equally AI."
"On January 1, 2020, Equally AI was founded. With a clear vision of what we wanted to accomplish, and as time showed an uncertain future since a pandemic was about to be unleashed, we never gave up on our dream. Months of developing and raising funds started. My partners and I started the development process ourselves, very lightly with the infrastructure and the features until we hired developers to take the product to the next level. After a year and a half of product development, we are here today – the 10th of August 2021 celebrating the launch of Equally AI."
Dani, what was the vision?
"There is huge growth in demand for web accessibility solutions because of two main reasons. Risk of lawsuits (e.g. Dominos pizza) and accessibility awareness by website owners as they start to understand more and more the significance of web accessibility. The vision was to build a personalized experience so people with disabilities enjoy the web like everyone else."
What is Equally AI's mission today?
Yevgen: "Equally AI's goal is to take accessibility to the next level and start talking about personalization instead of accessibility. How can we make the Worldwide Web personalized in the best way for everyone? Providing the best experience for everyone and for every disability like no other company in the world is providing. Through our technology, we may reach higher levels. A strong need to make a difference. Even though I am the CTO, I am very involved in all the aspects of the business, but my main focus lies on the end-users of my product: People with Disabilities."
"Every website that Equally AI has made accessible is shared with the Equally AI community to get feedback about the usability for people with disabilities."
What are the goals for the future?
Ran: "I'm focused on giving users with disabilities the best possible user experience – not just what "compliance" or "regulatory bodies," ask for because I truly believe that this product will change the way everyone experiences the internet. The majority of websites out there belong to small to medium-sized businesses and so we're focused on making it easy to improve their websites so that they can align with the needs of the community. People living with a disability that use our solution can provide feedback which allows us to constantly improve our solution in order to deliver a better product. Equally AI gets a lot of assistance, support, and backing from the blind community in order to build a solution that really fits their needs."
What is Equally AI in your words?
Dani: "The core of the company is a technology solution for people with disabilities. Focus on building a good solution that will provide the best service for the customers is the primary goal. But in addition, Equally.AI builds a great user experience for each person with a disability. Equally AI focuses on providing the Best Customer Service and supports possible, as well as maintaining the fully automated solution accessible to all."
Why is Equally.AI different?
Yevgen: "Equally AI is a unique platform solution because we started interviewing people with disabilities from the beginning. That helped us to learn how people with specific disabilities are using the web, what possible barriers they encounter, and how they are accessing the Internet. Through my process, we were trying to fully understand how Equally AI could improve everyone's lives. Through that knowledge, the team managed to eliminate a lot of those barriers and build a solution that will provide the ultimate experience for people with disabilities with a focus on people with full blindness who use screen readers. Another unique aspect about Equally AI: Every website that has been made accessible by our technology is shared with the Equally AI community to get feedback about the usability for people with disabilities. We at Equally AI are constantly improving our solution in order to deliver a better product."
We read you work together with people with disabilities to make your solution accessible for all, can you tell us more about this?
Ran: "Equally AI works together with people with disabilities, for example, we partnered with Migdal Or (Lighthouse), one of Israel's national organizations for the blind and visually impaired. This gave us the opportunity to understand the needs of the community and the types of solutions that would be most beneficial for their everyday use. They are an organization that focuses on improving the lives of people living with disabilities. It means a lot that they offered their support because they believe in technology companies such as Equally AI and they stand behind Equally AI's vision."

"Equally AI is built together with the disability community"