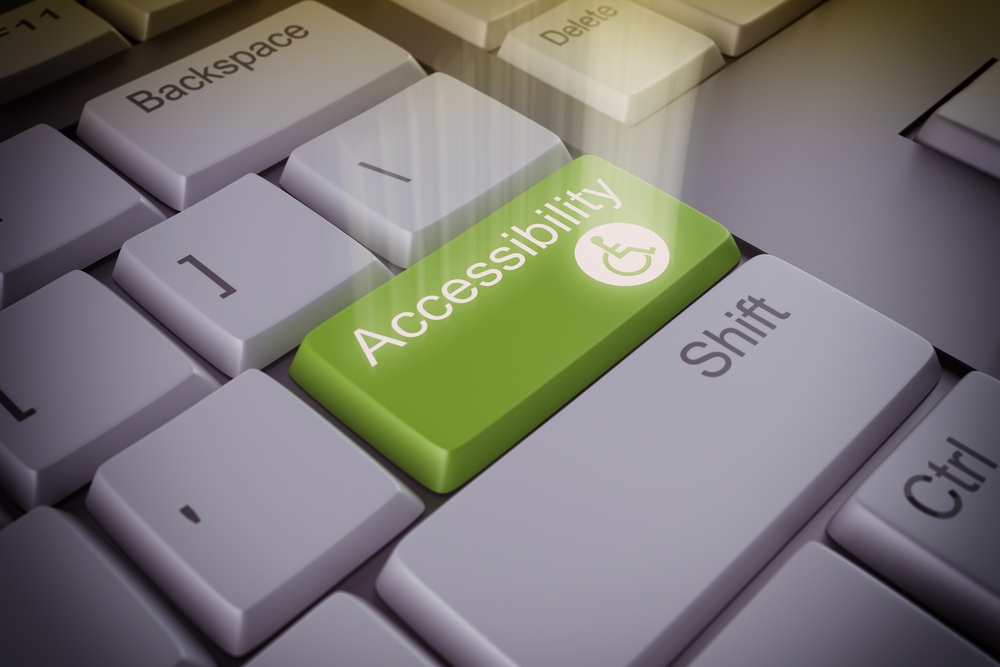 Active participation in today's digitally oriented-society is often taken for granted. And it's not just the visually impaired who have trouble navigating our highly digitalized, screen-oriented world. Millions of people are affected by how websites are presented every day.
If we know that technology can improve the lives of all people on this planet, the question is, why doesn't this apply to web accessibility? Let's explore what it is, why it's important, and why every website on the Internet should be accessible to all.
What It Is
Web accessibility, or eAccessibility, is the practice of providing and enabling websites, digital tools, and technologies for people with disabilities. These features are developed and designed so that no barriers exist that prevent access to websites by people with situational, physical, and socio-economic limitations.
But it's not just that. We've all encountered these issues: a slow-loading website, poorly designed font, or navigating a mobile user-unfriendly website. Web accessibility tools are there to aid the understanding, contribution, perception, navigation, and, last but not least, the interaction of people with a website. In fact, it should be a vital part of the user experience on each and every website.
Everyone in the digital world should have web accessibility in mind when creating a certain web experience. Ideally, web accessibility is and will be an integral part of website development; it should be built during development and design, not integrated later on as an afterthought. We can surely say that, from what we've seen so far, with the inclusivity movement gaining popularity, web accessibility should be prioritized by every website on the internet so no human is ever left out. 
Disability Types
Before we get into the "why," we must understand what these disabilities are and what limitations people with disabilities face each day while trying to take part in societal activities.
Visual – blindness, color blindness, and low vision.

Hearing – deafness and hearing impairments.

Cognitive – attention and learning disabilities and logic: dyslexia, photosensitive epilepsy, ADHD, etc.

Neurological – disorders and conditions that involve the central and peripheral nervous system: epilepsy, Parkinson's disease, Alzheimer's disease, etc.

Motor – limited fine motor control, difficulty or inability to use hands, and muscle slowness.
Why It's Important
First of all, let's look at some numbers. The last report on disabilities from the World Health Organization (WHO) from 2011 suggests that 15 percent of the world population has some sort of disability, a number that most probably increased over the last decade due to the increase in chronic health conditions and overall population aging. If you were wondering, 15 percent translates to roughly 1 billion people that cope with a disability. 
There's no doubt that people with disabilities should have equal access to information, but how can we remove or at least reduce the barriers they face each day? Technology. Fortunately, the fast nature of technological advancement can help tremendously and ensure that every single person, regardless of physical or mental capabilities and age, can access and freely use the internet, ultimately allowing a pleasant web experience.
Web accessibility touches on all aspects of a website: it's a design and development component that should be an integral part of each website element. In fact, accessibility overlaps with device independence, mobile-friendly design, usability, search engine optimization (SEO), and more. Fun fact: accessible websites get more traffic, better search results, lower maintenance costs, an increase in audience reach, and lastly, showcase corporate social responsibility (CSR). 
We can conclude that designing an accessible website doesn't only give an impeccable user experience for those with disabilities. It also improves the overall user experience for all website users, plus it gives you better results. Now that we've reviewed the "why," let's look at some of the main principles of web accessibility, so you may consider improving your own website or remaking it entirely. 
The Main Principles of Accessibility
The four main principles of web accessibility serve as a guideline for content production, otherwise known by the acronym P.O.U.R. It describes functional accessibility.
Perceivable – refers to the data and all user-interface elements that must be presented in an adequate manner. Nothing should be left undetectable or invisible. For most web users, this principle revolves around the visual aspect of the website, but for those with certain disabilities, touch and sound need to be used instead.

Operable – refers to buttons, controls, and navigation and their operability. A user must be able to operate these interface elements by recognizing them and later by clicking, swiping, tapping, or rolling. For those with disabilities, these types of interactions aren't possible, so voice control and commands are utilized, along with other assistive devices (eye trackers, head wands, etc.).

Understandable – means that the technology should be straightforward, with consistent formats and overall presentation, with expected usage and design patterns.

Robust – refers to the content's ability and reliability to properly function on various technologies, such as assistive devices.
In case there's a lack of one of these principles, the website will automatically be inaccessible to end users with disabilities.
The Main Components of Accessibility
We've already said that web accessibility covers each element of a certain website, and these components should be complementary and interconnected. This creates available and functional digital content, which benefits all users, especially those with disabilities. The mentioned components include:
Content

is the information found on a web app or web page. It includes images, text, and sound, but also the script, code, and markup of a website.

Authoring tools

represent the software used to create websites: code editors, content management systems, etc.

User agents

include web and mobile browsers, plug-ins, media players, assistive technology, and other software.

Evaluation tools

include all tools that can help in reviewing the effectiveness of accessibility features.
What You Can Do – Final Thoughts
After reviewing each significant factor of web accessibility and explaining why it's important, we're getting to the taking action part of this article. Making a website accessible to all is not just an ethical thing to do but rather a necessity, as some standards and regulations exist, although they vary in different countries (WCAG, ADA, Section 508, EAA, etc.). To avoid legal issues, you should adapt to the accessibility guidelines. So, the question is, how to make your website accessible?
We've mentioned evaluation tools, which can be a great starting point for making your website accessible to all. In fact, Best Website Accessibility, in particular, can be of great use. It compares, analyzes, and points out where to begin building your inclusive, accessible, and extraordinary digital journey for users. If we know that 97.4 percent of the top 1 million websites have significant accessibility issues, then the accessibility revolution should begin with you. Be among the first to restart the inclusivity initiative. Make your website and all digital content available and accessible to each individual out there.