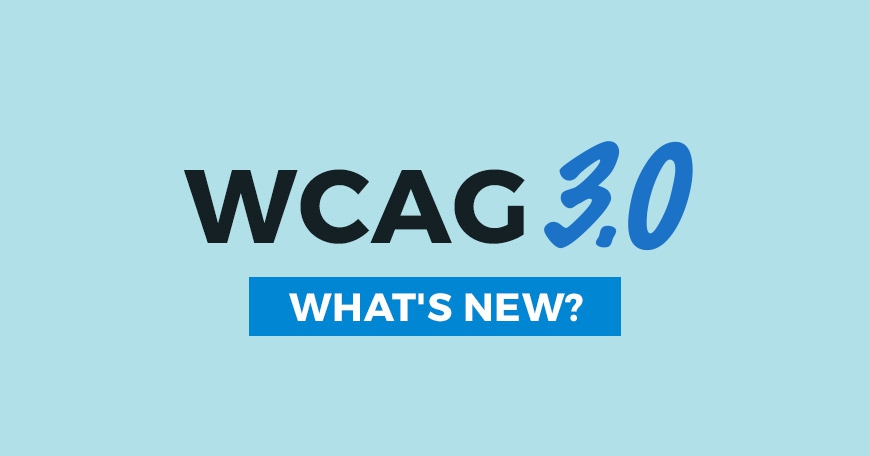 If you want to know when WCAG 3.0 release date is, you came to the right place.
Web Content Accessibility Guidelines (WCAG) have been around since 1995. They're considered a benchmark when it comes to measuring the accessibility of web content.
The story starts with WCAG 1.0 as a standard recommendation for the world wide web (W3C). The first version consisted of 14 guidelines including the provision of equivalent alternatives to audio or visual content, never relying on just color, clarifying natural language use, designing for device independence, providing context information, and others.
In December 2008, WCAG 2.0 came to replace its predecessor as a web accessibility standard.
The second version of the guidelines consisted of 12 recommendations organized under four guiding principles – a website has to be perceivable, operable, understandable, and robust. For each guideline, a testable success criterion was established. The principles and success criteria never change, no matter what innovations occur in the realm of web content development.
Fast forward to the end of 2021, WCAG 3.0 was announced. A working draft got released on December 7, 2021. And while the third update of the guidelines isn't supposed to be finalized before 2023, it's a good idea to check out what's going to happen as far as better accessibility is concerned.
Web Content Accessibility Guidelines 3.0 (WCAG): What's New?
Currently, the criteria used to assess accessibility are provided with a pass or fail grade. Under WCAG 3.0, this model will be replaced by score-based outcomes for each of the elements being examined.
The change aims to give website owners and developers more flexibility as far as ensuring accessibility is concerned.
There are a few additional important changes worthy of being mentioned.
For a start, each guideline is going to contain various outcomes.  Each outcome could have critical errors, which will occur whenever someone cannot complete a process they intend to go through with. If a critical error were to happen, the lowest possible score would be obtained for that criterion.
It's also important for developers to understand the fact that compliance with WCAG 2.0 guidelines does not automatically mean compliance with the WCAG 3.0 guidelines. While more flexible, WCAG 3.0 is quite dramatically different from what the previous sets of recommendations used to contain.
Here's a brief overview of what's being recommended in terms of accessibility:
WCAG 3.0 will be a parallel standard with WCAG version 2.2 and developers will be free to decide which one they'll comply with
Functional categories are being introduced and they are based on which disability group is the content being made accessible for (vision impairment, hearing and auditory, learning disabilities, etc.)
Three conformance levels will be awarded based on the score – bronze, silver, and gold
8 new success criteria including focus appearance, fixed reference points, dragging, pointer target spacing, findable help, hidden controls, accessible authentication, and redundant entry. These are a part of a total set of 38 success criteria
Holistic tests, necessitating real-world use of assistive technology will be used to determine which conformance level the particular web development is going to get awarded
How WCAG 3.0 Will Impact Web Developers and Accessibility
Now that the theory is out of the way, it's important to look at the practical implications of WCAG 3.0 as far as accessibility is concerned.
It's important to understand the fact that the current working draft isn't complete yet. With a potential WCAG 3.0 timeline update, some other changes could also be anticipated. Hence, the conclusions being drawn here are based on the December 2021 version of the guidelines.
With WCAG 3.0, additional accessibility requirements are going to be added from the Authoring Tool Accessibility Guidelines and User Agent Accessibility Guidelines. In a sense, this will be a comprehensive, all-encompassing standard in a way that WCAG 1.0 and WCAG 2.0 were not.
This being said, website owners who have ensured compliance with WCAG 2.1 will probably meet the criteria for a favorable rating under the new guidelines. Still, checking the document close to its official publishing date will be important to get a clear idea about what's new and whether profound alterations of web content are going to be required.
Essentially, website owners will have to pay attention to the more precise focus on concrete disabilities and how accessibility is being guaranteed for people with those. Also, web developments should potentially become more scalable than they've been in the past. Keeping in mind emerging technologies like augmented and virtual reality, for example, could be a good way to continue ensuring compliance as guidelines evolve to meet new realities.
When Will It Be Released and How to Get Ready?
As already pointed out, WCAG 3.0 is anticipated for an official launch in 2023. With previous versions, however, there were significant details before drafts got finalized. Hence, experts predict that a postponement could be anticipated once again.
The same experts, however, suggest that major changes aren't the be anticipated between now and the release date – no matter when it gets scheduled.
If you're a website owner and your project already meets the WCAG 2.1 criteria, you probably don't have anything to worry about. Chances are that you've already done enough to perform well under the new set of guidelines.
Still, WCAG 2.0 is becoming outdated as it doesn't account for many changes in technology and the way that people use the web. Because of these technological advancements, an update has been much-needed for some time already.
The inclusion of more disability groups is definitely to benefit accessibility. Part of this all-encompassing change has to do with the nature of new technology and the fact that it can be usable by people with varying degrees of impairment. By addressing these people's needs, developers can make their projects more inclusive and standardized with a set of recommendations that are vast and concrete at the same time.