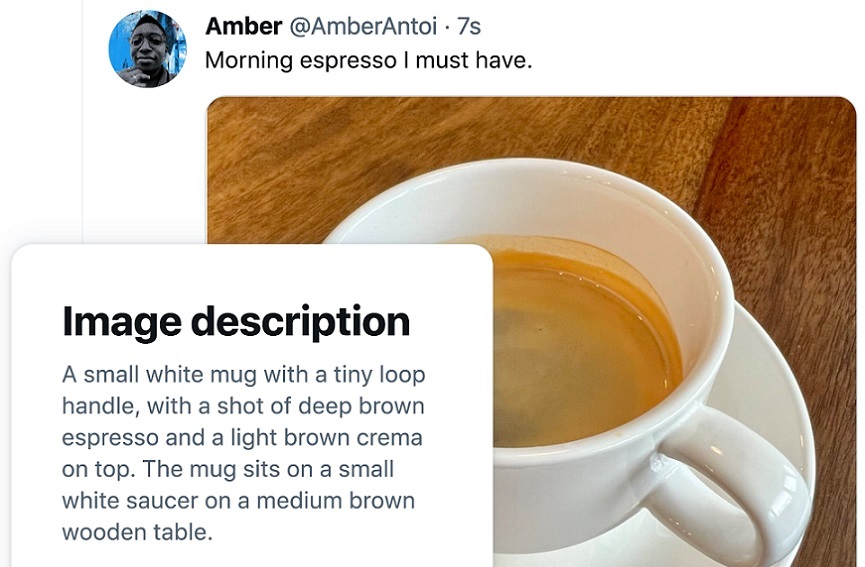 What is an ALT Text
An alternative text or an image description is an accurate description of a picture included in a website's content.
A good alt text ensures that people who are visually impaired can still have an understanding of how the supposed image relates to your content, and in cases where pictures don't load, people can have an idea about what the image is about
What is a Twitter ALT Text Badge?
The Twitter ALT text badge is a feature that shows users an accurate description of images sent as tweets. With Twitter's alt text option, users can provide descriptions of images to assist people who use screen readers or speech-to-text software to better understand the image, thus facilitating a better user experience. Before now, you couldn't tell if images had alt text or not unless you were using a screen reader. Therefore, you would have to retweet and hope that the content was accessible to people with disabilities or blindness.
There are some new Twitter features that can cause controversy – for instance, the edit button, which is supposedly in the works – but we can agree that simple, yet important accessibility features are welcome.
Twitter ALT Text Test
The conversation about Twitter ALT texts started in March when a test was rolled out to select Twitter users, and the test was designed to encourage more people to use alt text. If you had access to the feature, you could maneuver to your settings, tap "Accessibility," and then scroll to the "Images" header where you could turn on a reminder that would prompt you to add alt text before sending a tweet with an image.
They mentioned through their Twitter account that throughout the month, they "fixed bugs and gathered feedback from the limited release group".
The Misuse of Twitter ALT Text Badges
In its announcement thread, Twitter hinted that there was an ongoing discussion about the disadvantages of misused alt text. There have been instances where Twitter users will use alt text as a caption or write jokes for anyone who might click the ALT badge. When image descriptions are misused in this manner, it becomes confusing for users who genuinely need the alt text for context. However, when more people use accessibility features as intended, it makes it more obvious how to write a good alt text.
How to Write a Good ALT TEXT on Twitter
There's a lot of debate around what makes up a well-written image description. For example, if you see a photo of a man eating a bowl of rice, you most likely don't need to know what color the bowl is, or whether it has carrots in it. It may be important, however, to explain that he's mid-bite, or that he's staring hungrily at the food.
The goal of an ALT text as mentioned earlier is to aid people with disabilities to understand what an image is about in order to include them in conversations.
The Launch of the Twitter ALT Badge
In April, Twitter rolled out two additions to its alt text feature. Images with alt text will contain an "ALT" badge in the corner of the image. When you hover over the badge or tap on it, you'll see the image description written by the user.
On their Twitter Accessibility account, they mentioned that
"If you forget to add image descriptions, turning on the reminder will be a big favor to your future self. And to everyone on Twitter. Actually, if everyone turns it on, everyone would be helping everyone."
They also added that,
"there's a debate about whether bad or inaccurate image descriptions are better than having no descriptions at all. Our recommendation is to always write great image descriptions."
How the Posting Habits of Non-Disabled People Affect People With Disabilities
Social media accessibility expert Alexa Heinrich is of the opinion that this feature is a step in the right direction because it makes the presence of alt text more apparent, prompting users to learn about the accessibility practice.
"One, it makes it more obvious who's writing alt text and who isn't. Second, the feature is a great learning tool for anyone who wants to get better at writing alt text because now you can easily see what others are writing,"
she tweeted.
Users who don't have disabilities often don't consider how their social media posting habits – including certain meme formats, can negatively affect disabled users' experience online and prevent them from participating in conversations.
In July, NASA released the first images from the James Webb Space Telescope, and some Twitter users marveled at how detailed NASA's image descriptions were. The level of detail in the description of a galaxy cluster photo makes sense for something so intricate, massive, and mind-blowing, but in all likelihood, you may not meet Twitter's 1,000-character limit if you are not on NASA's social media team.
Conclusion
Twitter is constantly looking for ways to make its platform accessible to more people. They recently identified a bug that causes the ALT badge not to display, and according to them, it will be fixed on the 4th of August, 2022. Here's a lineup of some of the things that are being considered for the month of August:
"Limited release:

– Image description reminder

In progress:

– Accessibility settings updates

Up next:

– Closed captions toggle

Exploring:

– Spaces live captioning

– Closed captions customization

– Profile photo descriptions

– Image description OCR"
Twitter has also rolled out accessibility features like auto-captions for videos over the last year. Spaces will soon include live captioning, closed caption customization, text recognition for alt text, and alt text for profile images, according to the platform's accessibility-focused account.